Salma Hayek Confirms What We Suspected All Along About Harvey Weinstein's On-Set Behavior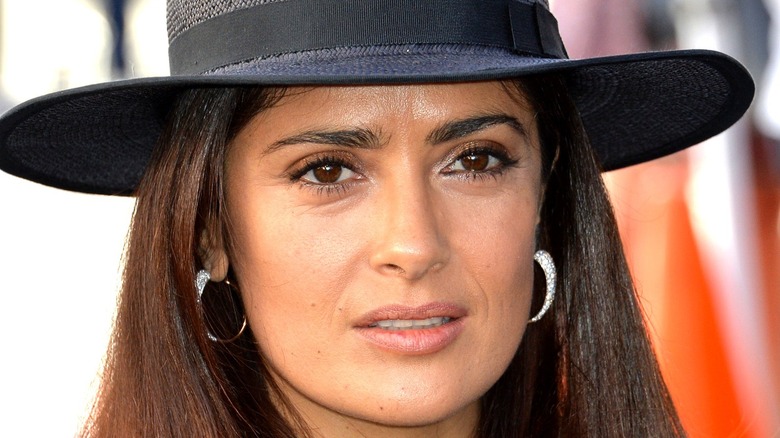 Featureflash Photo Agency/Shutterstock
It's no secret that disgraced movie mogul Harvey Weinstein was a complete and total monster, with nearly a dozen sexual assault cases filed against him and countless allegations of abuse. His terrifying grip over the film industry and horrible treatment of female actors that he employed has been detailed extensively in the media, and now former Miramax star Salma Hayek is sharing more of her story. 
In a new interview with The Guardian, Hayek described Weinstein's bullying on set, and her own response to the abuse: "I would shake [afterwards] and it did depress me, but there was a cartoon aspect about the whole thing."
Hayek sat down with The Guardian ahead of the "Eternals" release and rehashed her Weinstein drama after the newspaper's reporter shared their own experience with the now-imprisoned film honcho. In 2017, Hayek came forward and hurled a number of accusations at Weinstein — who founded Miramax Films with his brother and produced "Frida" (2002) — in a New York Times opinion piece. Describing all the times she denied Weinstein's advances, Hayek said, "No to me taking a shower with him. No to letting him watch me take a shower. No to letting him give me a massage ... No to letting him give me oral sex. No to my getting naked with another woman. No no no no no ... And with every refusal came Harvey's Machiavellian rage."
Weinstein said he didn't hire Hayek to 'look ugly'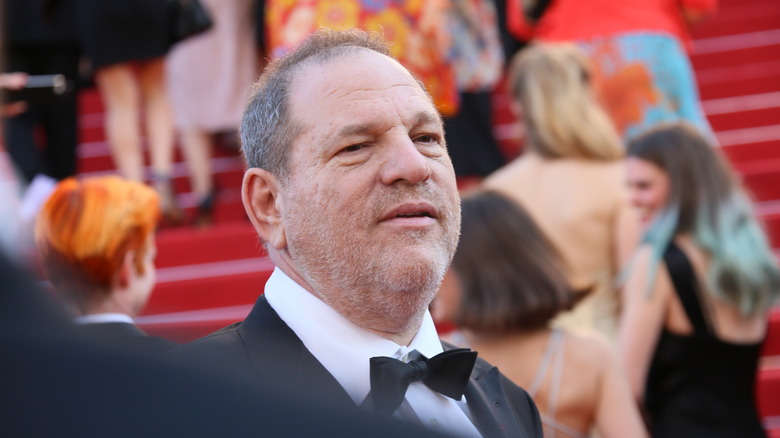 Denis Makarenko/Shutterstock
As she has claimed in the past, most of Salma Hayek's abuse and torment came during the filming of her acclaimed biopic "Frida," which covered the life of surrealist Mexican artist Frida Kahlo. 
"[Weinstein] would call me up [during the making of Frida] and scream, 'Why do you have a [monobrow] and moustache? I didn't hire you to look ugly!'" Hayek recalled to The Guardian. "I was like, 'But didn't you ever look at a picture of Frida Kahlo?' If a man was playing Cyrano de Bergerac, he wouldn't say, 'What's with the nose?'"
Asked how she was able to avoid so many of Weinstein's sexual assault attempts, Hayek said it was because she "was very strong" and refused to be taken advantage of. "I didn't just say no," Hayek remembered. "He never saw me weak. It's not that I'm not afraid, but you're not going to see it. I can be almost intimidating in my calm strength, you know?" Hayek further claimed that Weinstein wasn't the only Hollywood big shot with despicable habits. "Not the first or last," she said. "We're girls! ... So you learn to be brave. It's not easy, but you have to." The "Eternals" star alleged that many of these on-set movie monsters are still likely working in the industry today. "I'm sure," she told The Guardian, though she declined to name any specific names.
Weinstein, 69, is serving a 23-year prison sentence after being found guilty in 2020 of first-degree criminal sexual act and third-degree rape (via CNN). He's currently facing 10 charges of sexual assault in California.