The Tragic Reason Tiger King's Joe Exotic Is Asking For Early Prison Release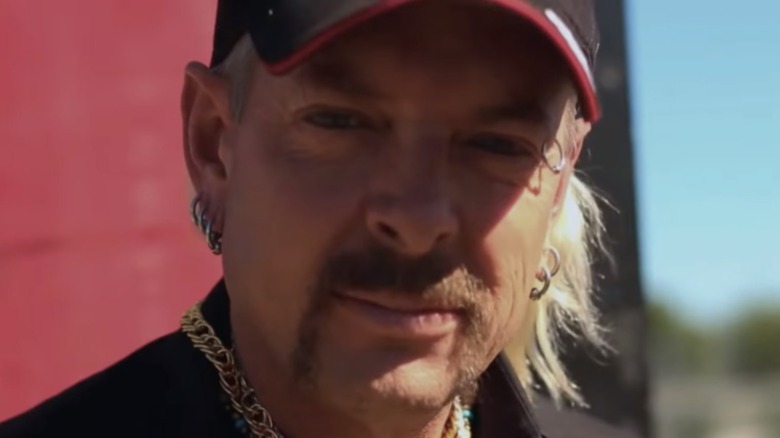 Netflix
When the inaugural season of "Tiger King" hit Netflix in early 2020, no one really knew what to make of it. Some were confused, others were intrigued, and many were just too concerned about the raging COVID-19 pandemic to care. Nevertheless, the chaotic docuseries about the world of big cat breeding took the world by storm, creating an online community at a time when enjoying the comforts of a physical one was hardly possible. As a result, the show became a massive hit for the streaming service and launched the man at its center — Joe Exotic — into pop culture superstardom.
From 1999 to 2018, Joe Exotic ran the Greater Wynnewood Exotic Animal Park: a shelter-turned-tourist attraction that hosted several varieties of big cats up until its closure in 2020. Its existence garnered him a bit of attention, but it wasn't until the release of "Tiger King" that he became something of a small screen icon. Folks donned their best blond mullets and horseshoe mustaches to dress as him for Halloween, his hatred for his longtime rival Carole Baskin generated countless memes, and Netflix subscribers begged for more content covering Exotic's wild world.
Something that took a bit longer to reach the public consciousness is the fact that Joe Exotic is currently in prison and has been since 2020. However, he recently made it known that he's seeking an early release, and the reason for such a move is quite tragic.
Exotic has been diagnosed with cancer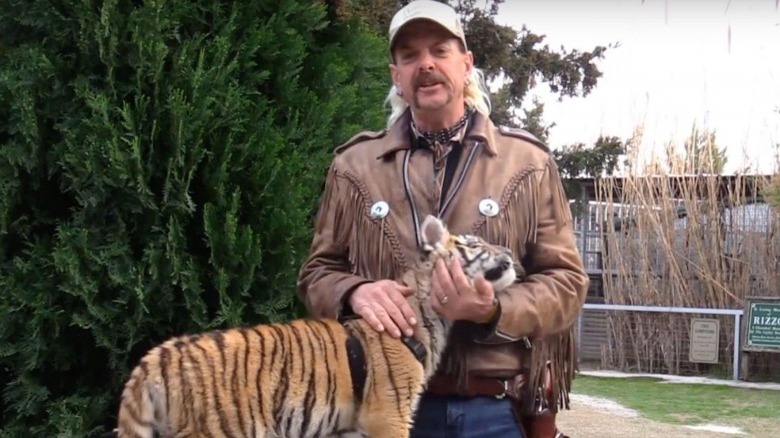 Netflix
Aside from several wildlife violations, Joe Exotic's 2020 imprisonment came as a result of his bitter feud with Carole Baskin. According to The Washington Post, he'd plotted with two other men — one of which being an undercover FBI agent — to kill Baskin, amounting to his 22-year sentence. Even though he has hardly served any of his time at this point, Exotic made an Instagram post on November 3, 2021, that revealed he's been diagnosed with "aggressive cancer" and hopes to get out early (via Deadline).
"Right now I don't want anyone's pity and I'm sure Carole Will have her own party over this!" he writes, asking the world to be his voice and lobby for his release from prison. Exotic goes on to maintain his innocence and claims that he has proof that would make it impossible for the district attorney to "drag this out." Near the end of his report, he explains that he wants to go home so he can get the necessary treatment and recover, or on a far less optimistic note, enjoy what life he has left with his loved ones at his side.
Joe Exotic also mentions in his announcement that he's awaiting more test results, but at any rate, hopefully, the "Tiger King" star will eventually make a full recovery.