Highschool Of The Dead Season 2 - Will It Ever Happen?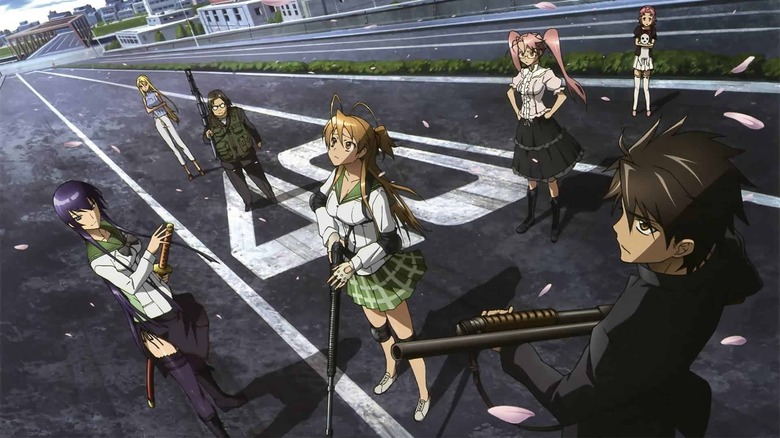 Madhouse
"Highschool of the Dead" is a popular anime series based on the manga by Daisuke Sato and Shoji Sato. Created by the renowned studio Madhouse, the anime dropped in the Summer 2010 season. It focuses on what would happen if a large section of the population suddenly turned into the undead. Known as "The Outbreak" within the series, the plague destroys most of society and the zombies are almost always referred to as "Them." However, in typical zombie apocalypse fashion, these ravenous corpses aren't always the biggest threat, with other survivors often proving to be far more dangerous. It may not be the easiest anime to get into, especially if gory violence and fan service aren't your thing, but the show proved very popular with horror fans and still has a big following to this day.
Despite being more than a decade old, "Highschool of the Dead" has retained its position in the top 100 most popular anime shows on My Anime List and has more than 1.4 million members on the website. Its legacy is down to the fact that it managed to stand out in the saturated zombie subgenre, as Anime News Network noted in its review of the show. "Other recent zombie works in Western entertainment have tried to play it ironic, or postmodernist, or just plain silly, but this one goes for straight-up horror — and pulls it off admirably." Fans have been pining for a second season ever since, but there have been conflicting reports over whether it will ever happen. Here's what we know.
Why hasn't Highschool of the Dead Season 2 happened yet?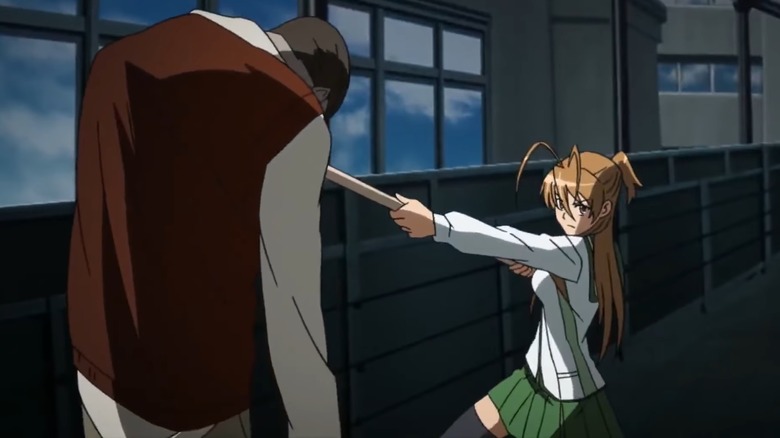 Madhouse
At the time of this writing, there is no official release date for "Highschool of the Dead" Season 2. A second season has not been greenlit, despite the fact that the first season didn't adapt all of the manga. There are seven volumes of the "Highschool of the Dead" manga (as well as two collected English language omnibus editions that package volumes one through four and volumes five through seven, respectively). Season 1 adapted the first four volumes, so there are still three volumes left to work with. 
Sadly, the chances of any further volumes coming out are slim to none, because Daisuke Sato, the creator and writer of "Highschool of the Dead," passed away due to complications from ischemic heart disease in 2017. There have been calls for the series to continue on without the original creator, especially from fans in the West, who may not be aware of Daisuke Sato's death. However, illustrator Shoji Sato has indicated that this is unlikely to happen. "Although it pains my heart, too, that the series went on hiatus, just thinking about Daisuke Sato makes me think that I cannot carelessly get involved," Shoji Sato told Comic Natalie (via Anime News Network) when asked about "Highschool of the Dead."
These sentiments have been echoed by the editor of "Triage X," which is also illustrated by Shoji Sato. "It's common overseas for comics and novels to be created by multiple collaborators," they said. "But for 'Highschool of the Dead,' [Daisuke Sato] was the one and only, so I'd like overseas fans to understand that nobody else could write it easily." Hopes were raised when Sato shared some new "Highschool of the Dead" artwork in 2021, with some fans taking it as a hint that he might be ready to continue the series, but nothing came of it.
What could be explored in Highschool of the Dead Season 2?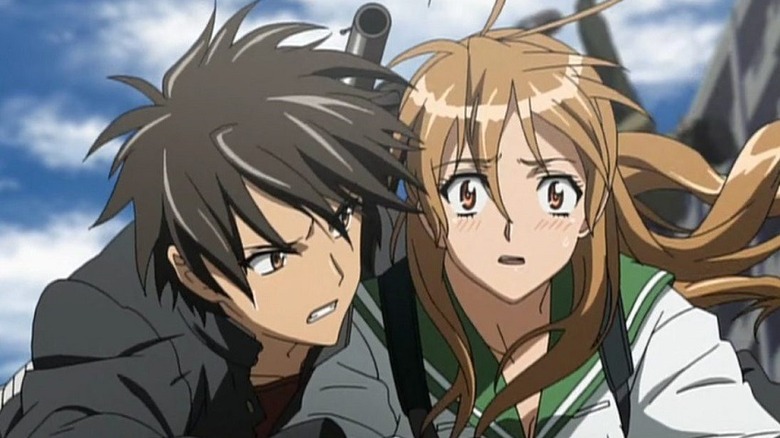 Madhouse
Manga spoilers ahead.
The plot of "Highschool of the Dead," much like other works in the zombie subgenre, follows an intrepid band of survivors as they make their way in a hostile world. The classmates of "Highschool of the Dead" are generally good people, but, as mentioned earlier, not everybody is keen on helping humanity rise above its more bestial aspects. Things got pretty heated in the 12th and final episode of Season 1, with a giant horde of zombies breaching the mansion our gang were holed up in. Some of the survivors managed to make it to a vehicle and they headed for a mall to take refuge.
Those who are familiar with the manga will know what happens next. If Season 2 goes ahead, it will presumably adapt the remaining volumes. But what happens in the fifth, sixth, and seventh volumes? Takashi and the gang join forces with the people who have managed to survive the apocalypse inside the mall, though a power struggle quickly threatens the safe haven. Our survivors opt to leave the mall before it's too late, but before they can depart, the defenses are breached by zombies. They manage to escape again and take refuge in a police station. It's a great place to restock before moving on, though they decide against leaving town until Rei and Takashi's parents have been located.
This would be the main thrust of a second season, though — with only three volumes to work from — the creators may choose to add some story of their own, especially since the original story has no ending. Answers could be provided as to what happened before "The Outbreak" and if there's any chance for a return to normality.
Could there be a Highschool of the Dead reboot?
If the main issue preventing "Highschool of the Dead" Season 2 from being made is that there are only three volumes of the manga left to adapt and there won't be any more due to the death of the creator, then a reboot could be the answer. Telling the complete story from start to finish would be a great way to honor Daisuke Sato's work and legacy without the need to pad things out with anime-only storylines. There are lots of fans in favor of a reboot, with some seeing this as the perfect opportunity to tone down (or outright remove) the fan service side of the show.
"HOTD is a good anime but it's nearly ruined because of the horrible sexualization of its female characters. I just try to ignore that but it's hard because of how overwhelming the imagery is," Redditor u/GroveHere wrote. "I really want a reboot of the series where the characters are fixed, I think it would instantly make it one of the best anime series." Other users agreed, though some argued that the fan service aspect of the show is what makes it stand out in the crowded zombie subgenre. In its review of the show, Inverse said: "Who ever thought zombie gore and titillation could mesh so well?"
One thing that every fan can agree on is that if Season 2 isn't happening, then a reboot is definitely the next best thing. Unfortunately, there's been no news on any potential reboot as of yet, despite the fact that fans are still clamoring for more "Highschool of the Dead." Hopefully, the success of more recent zombie shows like "Zom 100: Bucket List Of The Dead" will act as a catalyst.
Who would star in Highschool of the Dead Season 2?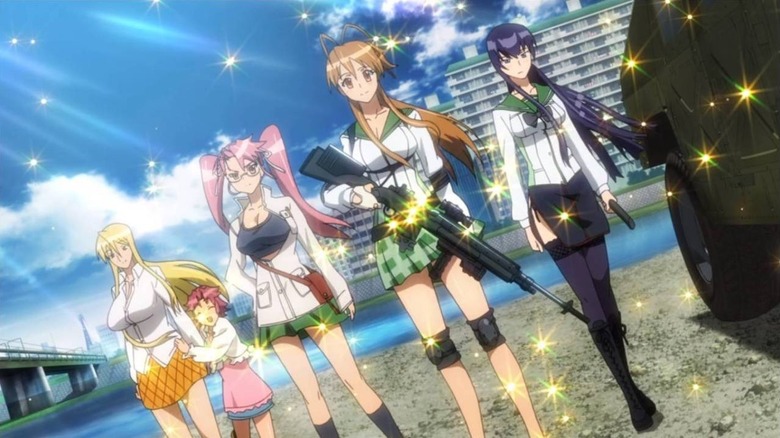 Madhouse
While Season 2 of "Highschool of the Dead" is hypothetical at this point, the characters that could appear are a bit more pinned down, on account of the manga and the cast of the anime. In the English dub of Season 1, Leraldo Anzaldua stars as Takashi Komuro, Jessica Boone is Rei Miyamoto, Taylor Hannah is Saeko Busujima, Maggie Flecknoe is Saya Takagi, Mark X. Laskowski is Kohta Hirano, Monica Rial is Shizuka Marikawa, and Brittney Karbowski is Alice Maresato. All of these voice actors are still active and many of them have worked on some huge shows in recent years. Therefore, there's nothing to say the cast of Season 1 wouldn't reprise their roles in a second season, should it ever get the green light.
The creators of the anime would also need to cast some new voice actors to take on characters who have yet to be seen in the anime. If Season 2 does go ahead, then Asami Nakaoka would inevitably be a big character. A police officer who initially seems incapable of leading, Asami is in charge of the survivors in the mall. She has trouble maintaining her authority at first, but she comes into her own and becomes a valued member of Takashi's group. Another important character who is yet to appear in the anime is Rei's mother Kiriko, a gang member-turned-cop who is definitely not to be trifled with. We know from the manga that she's still alive out there, somewhere.
Where can you watch Highschool of the Dead Season 1?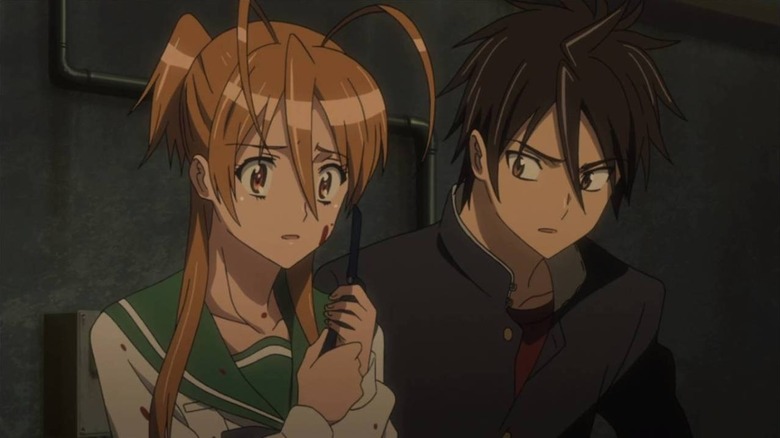 Madhouse
If you've never seen the first season of "Highschool of the Dead," or if you simply want to re-watch it as you continue to wait for some news on a second season, then you can stream it online in the United States. It might surprise you to learn that this classic anime isn't available to watch on Crunchyroll, which has become the first port of call for anime fans in the West. Lovers of this show have taken to the comments section on Crunchyroll's "Highschool of the Dead" page to vent their frustrations about its absence. "I hate that there are no episodes of this anime on here because I really like it," said user LifeFlame, while SaiyanPrdigy said that it was "truly despicable" to not have this beloved anime on the streaming service. They added: "Not sure what your subscribers are funding if you can't acquire the content we crave."
So where can you watch "Highschool of the Dead" these days? Luckily, Hulu has both the original version of the show as well as the dubbed version. If you're not already a subscriber, then plans start at $7.99 a month. If you don't mind contending with some ads, then you can get get Hulu, Disney+, and ESPN+ in a bundle that costs $12.99 a month. Hulu with zero ads will set you back $14.99 a month, though there's an option for a 30-day free trial, which should be more than enough time to consume "Highschool of the Dead."