The Bones Storyline That Makes No Sense To Fans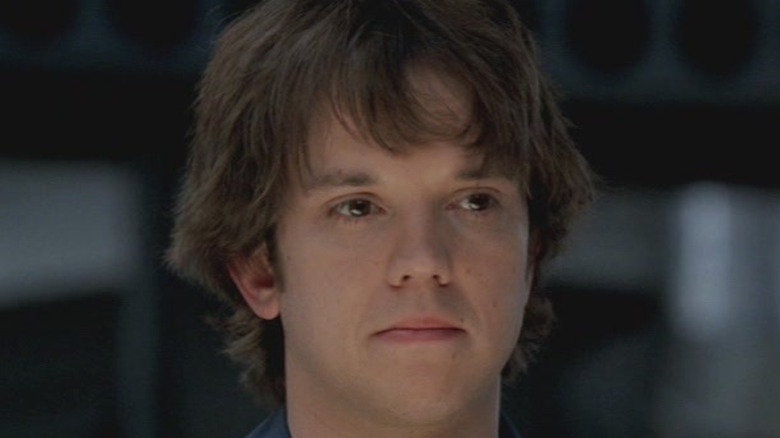 Fox
For 12 seasons, Fox medical drama "Bones" explored the day-to-day highs and lows of forensic anthropology. Merging true crime with professional medicine, the show received praise from fans for its riveting portrayal of the forensic landscape (via TV Guide). "Bones" follows Dr. Temperance "Bones" Brennan (Emily Deschanel) as she teams up with FBI agent Seeley Booth (David Boreanaz) to examine grisly murders and bring criminals to justice. During this time, the two characters often collaborate with an eccentric group of employees at the Jeffersonian Institute Medico-Legal Lab. Both Brennan and Booth develop friendships with the talented medical team, including forensic artist Angela Montenegro (Michaela Conlin), coroner Dr. Camille Saroyan (Tamara Taylor), entomologist Dr. Jack Hodgins (T.J. Thyne), and psychologist Dr. Lance Sweets (John Francis Daley).
While performing her forensic investigations, Bones is frequently aided by a rotation of interns. During the first three seasons, talented graduate student Zack Addy (Eric Millegan) grows close with his mentor and the rest of the Jeffersonian group. Often awkward and frank, he also exhibits a kindness and passion for his job that endears him to the other doctors. By the second season, he earns his doctorate in forensic anthropology and officially joins the staff. While on the series, Millegan's earnest and sincere character became a fan-favorite. However, a shocking twist in the third season completely changed the way many fans viewed Dr. Addy. Even today, the heartbreaking storyline raises questions for viewers – and remains a plot point that numerous fans argue makes no sense.
Fans don't understand how Zack could become a serial killer's apprentice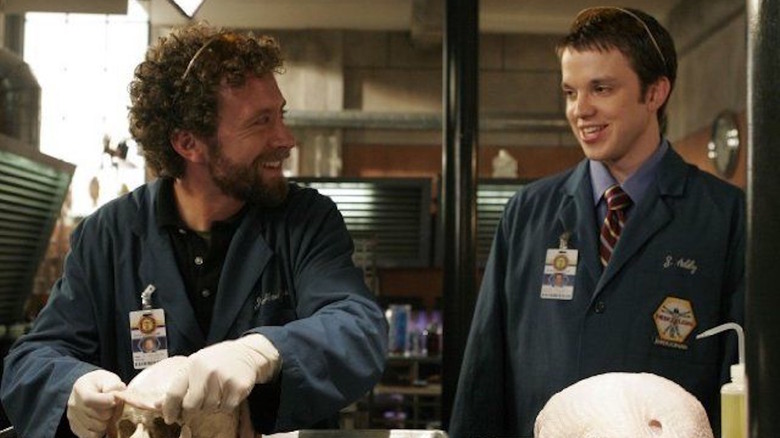 Fox
In the Season 3 finale of "Bones," Brennan and Booth shockingly discover that Zack has secretly been aiding the serial killer Gormogon. During this time, the two leads had been working tirelessly to uncover the efforts of the cruel cannibalistic murderer, only to disturbingly stumble upon the revelation that Zack had been his apprentice. Soon after, Zack is placed in a psychiatric facility after pleading insanity. 
For many fans, the narrative's reveal lacked internal logic, particularly because Zack had consistently demonstrated a deep warmth and compassion for his peers. His sudden transformation into a devious and heartless apprentice felt random and wholly out of character. Reddit u/Apprehensive_Lack418 wrote, "I cannot see how this character who has a soft spot for his family, was really affected by the death of a child and expresses sadness and loneliness that he cannot connect with neurotypical people became a serial killer's apprentice." Moreover, the plot point's hurried introduction marred any kind of well-earned resolution, leaving viewers confused. In a 2008 interview with TV Guide, even actor Millegan distanced himself from the storyline, saying, "It wasn't my choice. It was a creative decision to shake things up and make a good season finale."
While "Bones" gained a reputation for taking narrative risks, Zack's curtailed arc on the series remains a sore point for fans who had been hoping to witness a more compelling character evolution for the beloved young doctor.