The Couple On That '70s Show Who Couldn't Stand Each Other In Real Life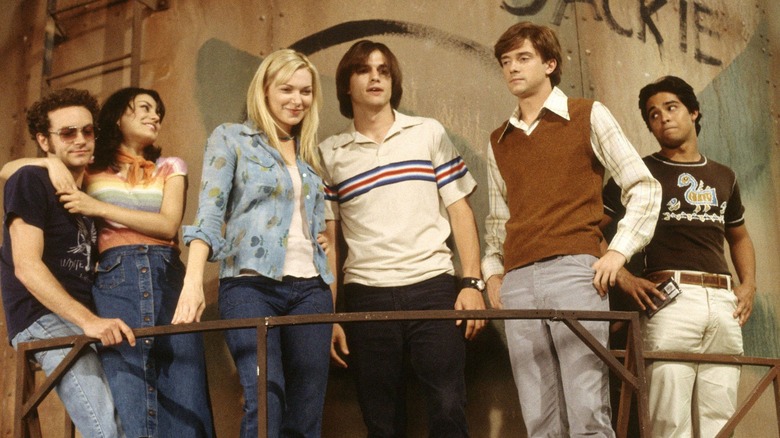 Fox
"That '70s Show" featured an array of young actors who would become household names thanks to their roles on the Fox sitcom. The program launched the careers of Topher Grace, Ashton Kutcher, and Mila Kunis and remains a popular option for cable networks and syndicated channels years after it came to a close (and in spite of a nearly universally reviled final season). Interest in "That '70s Show" has remained high enough that Netflix recently greenlit a sequel series called "That '90's Show" (per The Hollywood Reporter), which will follow the adventures of Eric Forman (Grace) and Donna Pinciotti (Laura Prepon)'s daughter, Leia, in their hometown of Point Place, Wisconsin.
But interestingly enough, it seems that two of the actors who starred on the show didn't get along while they were filming it. That can be considered ironic since their characters dated on the series. Which "That '70s Show" couple allegedly couldn't stand one another back when they were filming the show?
Ashton Kutcher and Mila Kunis' hate turned to love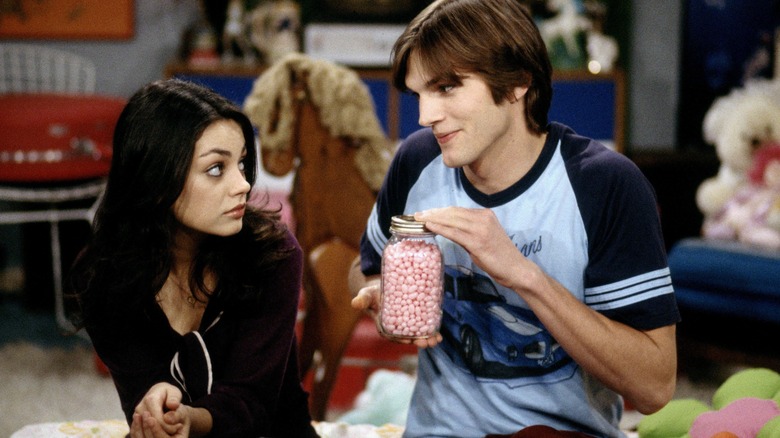 Fox
Believe it or not, according to a 2014 Radar Online article, Ashton Kutcher and Mila Kunis couldn't stand each other when they were filming "That '70s Show." Since their characters — Michael Kelso and Jackie Burkhart, respectively — were involved in an on-again/off-again romantic entanglement throughout the series' run and they later began dating in real life, the news is definitely ironic. Kunis and Kutcher married in 2015 and they have two children together (per People).
Both actors have disputed the notion that they didn't get along back then. But according to later accounts by Kunis and Kutcher, there definitely wasn't a mutual attraction at first.  "I say this not as a joke, but Ashton literally did my chemistry homework," Kunis said during an interview on NBC's "Sunday Sitdown With Willie Geist" (via YouTube) in 2018. "I thought he was fine, he was a nice guy, we worked together and sometimes he'd drop me off at home." Kunis later told People that she had a crush on Kutcher back then and that the prospect of kissing him for the first time — in front of a live studio audience during an episode — made her "nervous."
Kutcher's recollection of their youthful connection is similar. "We've known each other for 20 years," he told Howard Stern in 2017 (via US Magazine). "I was 19, she was like 14. I did her chemistry homework for her. I think I was her first kiss, like, on the show. We have our first kiss memorialized on a TV show."