Is Dr. Liesl Obrecht Leaving General Hospital For Good?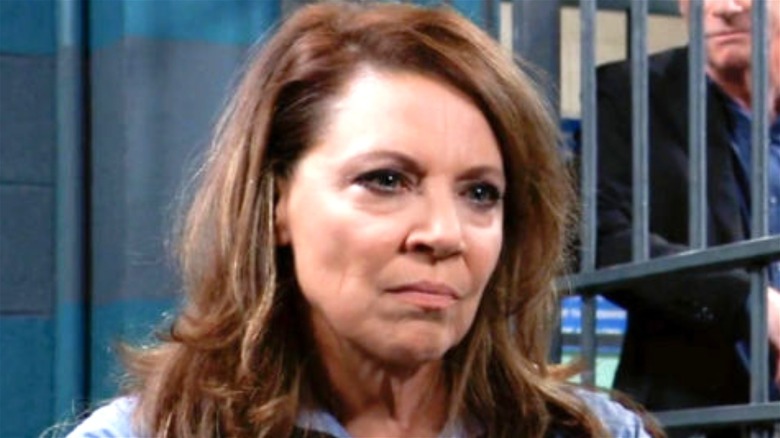 ABC
Spoilers ahead for recent episodes of "General Hospital."
Dr. Liesl Obrecht (Kathleen Gati) has been a complicated villain ever since she stepped foot onto the "General Hospital" scene back in 2012. She's never hesitated to do the wrong thing, but often, her sins are committed in the name of her children. Interestingly, Obrecht wasn't intended to be a regular character on "General Hospital." According to Soap Opera News, the role was expanded into a contract part due to Gati's impressive performance, and Obrecht was revealed to be the biological mother of Dr. Britt Westbourne (Kelly Thiebaud) through an affair with legendary baddie Cesar Faison (Anders Hove).
Obrecht went on to menace Faison's ultimate obsession, WSB agent Anna Devane (Finola Hughes), and interfered in Robin Scorpio's (Kimberly McCullough) relationship with Patrick Drake (Jason Thompson) so Britt could win Patrick's favor. But recent events have made the doctor more sympathetic, including the death of her son, Nathan West (Ryan Paevey), and a relationship with similarly shady lawyer Scott Baldwin (Kin Shriner).
Now, the bad guys are coming after her. On the October 29 episode of "General Hospital," Obrecht — who had been taken from a plane while trying to flee the country with Baldwin and was subsequently drugged by Victor Cassadine (Charles Shaughnessy) — awoke handcuffed on the floor of a laboratory. It turned out Peter August (Wes Ramsey), whom Obrecht attempted to kill in 2020 as revenge for Nathan's murder, had kidnapped her in the hope she would "condition" Peter's ex-lover, Maxie Jones (Kirsten Storms), into taking him back (via Soap Dirt). She rejected his demand and was shot with an arrow instead. Does this mean Obrecht (and, by extension, Gati) is leaving the soap?
General Hospital fans can expect Dr. Obrecht to stick around
Though Kathleen Gati took a break from the role of Dr. Liesl Obrecht from April to September 2020, it's not clear if a similar hiatus is in the cards for her in 2021. The actress filmed a movie titled "Swag Town" that's now in post-production, but her IMDb page doesn't indicate that any other roles are lined up for Gati aside from Obrecht.
Obrecht has a lot of unfinished storyline threads left on her plate. There's the matter of Scott Baldwin, who still loves her and is still out there. There's also the matter of her complicated relationship with Victor, who has long been obsessed with her. Given that there is unfinished business between those two, it's unlikely "General Hospital" will allow it to go unexplored by killing off Gati's character.
On the November 1 episode of "General Hospital" (via Soaps.com), Britt found her mother lying on the ground, handcuffed and pierced with a bolt. She pulled the arrow free, dressed her mother's wound. During this scene, Britt encouraged Obrecht to hold on despite complaining about the pain as the mother and daughter hashed out their complicated feelings, plus Britt's concerns about her own messy love life. The situation turned into a standoff between Britt, Jason, Peter, and Jason's brainwashed twin brother, Drew Cain (Cameron Mathison). As of press time, it appears that Obrecht should survive her wounds but Peter has the upper hand. Keep tuning in to see how things turn out.