The Terrorism Documentary Gaining Traction On Hulu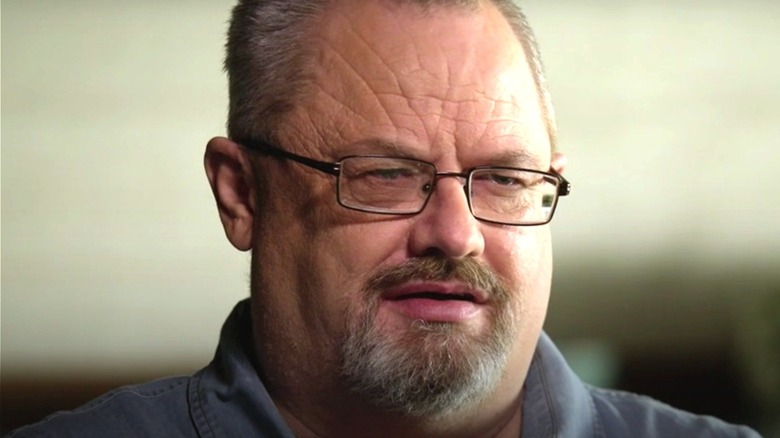 Hulu
The highly-contentious 2016 U.S. presidential election spawned a heightened interest in documentary series about American extremist subcultures. Conspiracy groups that follow the words of QAnon have been the subject of many nonfiction retellings, whether it's through a traditional TV format like "60 Minutes," an HBO Max docuseries, or the endless list of available podcasts on the subject. 
In fact, streaming platforms like Netflix, Hulu, and more have become a bit of a hub for this kind of content — with HBO Max, for example, hosting documentary projects like "Four Hours At The Capitol," about the insurrection at the U.S. Capitol Building following the 2020 election, or "Homegrown: The Counter-Terror Dilemma" about Islamic extremism in the U.S. People who do not find themselves in alignment with more extreme political groups seem to have a heightened interest in what turns someone into such a devout follower of certain ideas. 
Now a new Hulu documentary is taking an inside look into a prevented act of domestic terrorism, another subject that has been popular since the January 6, 2021 insurrection. The past few decades in the U.S. have seen an increase in mass shootings, particularly in schools and other public locations, that open up a dialogue about domestic acts of terrorism and the public response. But this new documentary special blends a story of small-town militia groups with the tale of an unlikely hero who helps the FBI prevent what would have been one of the worst acts of domestic terrorism in U.S. history. 
Hulu's The Informant recounts the story of a tragic close call
Hulu released a special called "The Informant: Fear and Faith in the Heartland" about the unconventional hero that is Dan Day. The story is told through a series of interviews from ABC News' George Stephanopoulos who speaks to Day, his family, and those who were nearly victims of an act of domestic terrorism in Garden City, Kansas, just a day after the 2016 election. 
To sum up the story, Day is a husband, a father of two, and a staunch defendant of the Second Amendment. He attends a local barbecue that he soon realizes is a recruitment gathering for the Three Percenters, a local militia who were involved in the insurrection at the Capitol and the failed plot to kidnap the governor of Michigan (via Washington Post). Day is approached by the FBI and becomes an informant, infiltrating himself into the militia to garner knowledge and even wear a wire. He ends up saving residents of a local apartment complex, many of whom are Somali immigrants, from an act of violence planned by an inner circle of the group. 
"The Informant" is essentially an extended news cast (it runs about 70 minutes long) featuring firsthand interviews with those directly involved. It's no cinematic masterpiece by any means, but it's an easy watch for those who are interested in true, thought-provoking stories about the world around us.