Exclusive Clip: Get A Sneak Peek At The Electrical Life Of Louis Wain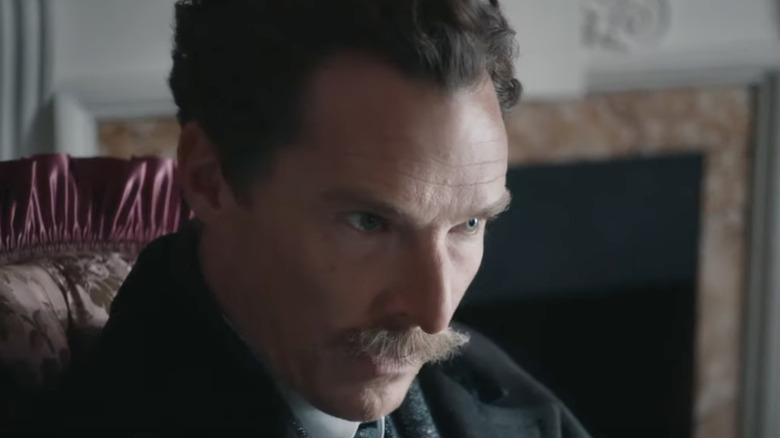 Amazon Studios/YouTube
If you're a cat person, Amazon has the movie for you — and it boasts a seriously stacked cast of beloved British actors.
Directed by Will Sharpe and starring "Doctor Strange" himself, Benedict Cumberbatch, "The Electrical Life of Louis Wain" tells the real-life story of, well, eccentric artist Louis Wain (Cumberbatch), who earned notoriety and fame in the 1880s for his drawings. However, Wain had a very specific focus — the artist focused specifically on cats, and his work ended up everywhere from newspapers to postcards to children's books. Though this might not sound like the most captivating focus for a movie, Wain's life was as fascinating as it was tragic, especially as the film depicts his wife Emily's ("The Crown" star Claire Foy) illness and the couple's saddest moments.
Fans of biopics, dry British humor, and feline friends will definitely love "The Electrical Life of Louis Wain," and luckily for them, Looper scored an exclusive clip of the film ahead of its release on Amazon Prime Video on November 5, 2021. Here's a sneak peek at "The Electrical Life of Louis Wain."
This clip from The Electrical Life of Louis Wain will make you chuckle
In this clip, Cumberbatch's Wain seems to be the subject of some sort of gentle intervention, as his many sisters sit him down to ask about his latest professional gambit. As Dr. Elphick (Julian Barrett) comes to call on Louis, saying that his sisters are concerned about his health, Louis reveals that he has "sent many colorful missives" to different publications and has been offered work in New York City. His sisters, including Claire ("Sex Education" standout Aimee Lou Wood), express their worries about him traveling so far, but Louis seems supremely unconcerned. Talking at a breakneck pace, Louis acknowledges that, financially, the Wains are in rather dire straits — and as he noted previously, the New York job will pay him well.
"What's more," Louis says, "the people in America are lightyears behind in their attitutes towards cats," and as he rambles on, he says that it's not just about his artwork, but about enlightening the American public about cats. "I've never seen an American smile in my life," Louis says, after opining about his desire to make Americans smile. "You have never seen an American," his sister Caroline (Andrea Riseborough) responds, curtly correcting him.
If you like what you saw here, don't miss "The Electrical Life of Louis Wain" on November 5, 2021 on Amazon Prime Video.