This Study Might Make You Think Twice About Showing Your Kids SpongeBob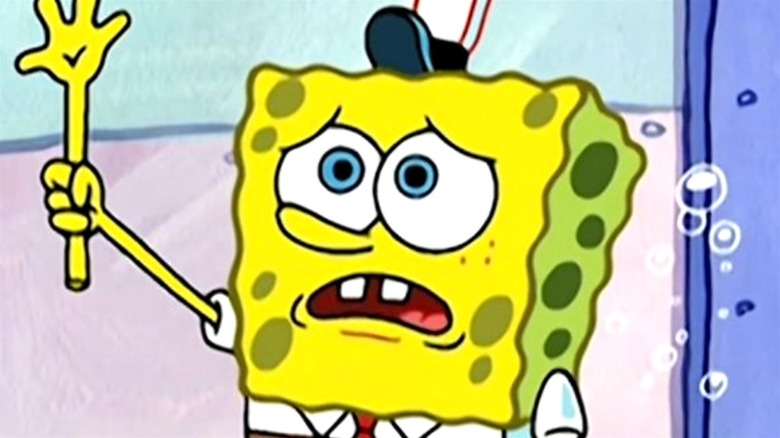 Nickelodeon
The decade of the 1990s couldn't have gone any better for Nickelodeon. Live-action efforts such as "Kenan & Kel" and "All That" proved to be massive hits, and animated works like "Hey Arnold!" and "Rocko's Modern Life" found themselves on the fast track to legendary status. However, it wasn't until the near-turn of the century that Nick picked up its true flagship title, courtesy of former marine biologist Stephen Hillenburg. He called the project "SpongeBob SquarePants," and no one could have possibly known just how popular and influential it would soon become.
Since its premiere on Nickelodeon in May of 1999, "SpongeBob SquarePants" has grown into a worldwide phenomenon. Not only is it a merchandising juggernaut, meme factory, spin-off springboard, and cinematic force, but it's still chugging along after all these years on the small screen — currently enjoying its 13th season. At this point, "SpongeBob" has been around for so long that multiple generations of TV viewers have enjoyed the adventures of the little yellow sponge (voiced by Tom Kenny) and the rest of his Bikini Bottom pals.
There's no denying the place "SpongeBob SquarePants" holds in popular culture and has for years. However, a scientific study has shown that allowing it to retain that spot isn't in the best interest of younger audiences.
Is SpongeBob bad for children?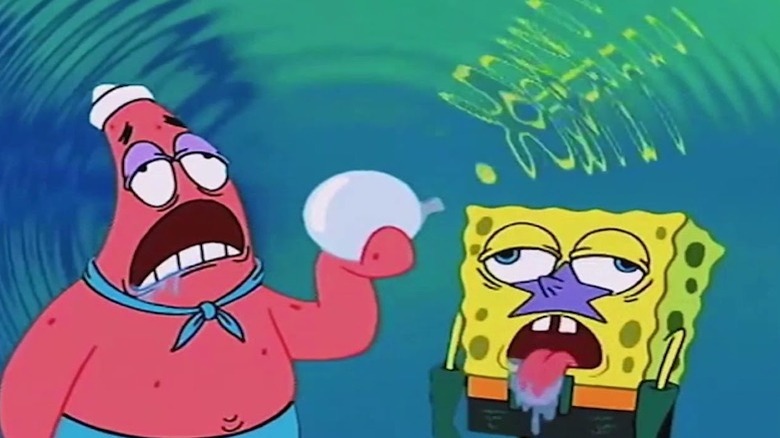 Nickelodeon
Much of the appeal of "SpongeBob SquarePants" stems from the fact that it's a goofy, fun show that doesn't overstay its welcome. Each episode clocks in at around 11 minutes and doesn't ask much of its fans in terms of continuity, storyline, etc. While this sounds harmless on the surface, according to Angeline Lillard and Jennifer Peterson of the University of Virginia's department of psychology (via The Los Angeles Times), that's far from the case. As indicated by the results of an experiment they conducted in 2011, "SpongeBob SquarePants" is a negative influence on developing minds.
Overall, the researchers wanted to analyze the immediate effects of fast-paced television on kids' brain functions like working memory, attention, delay of gratification, and problem-solving — building on previous work concerning the effects of television in general on the mind. To set up their study, they sorted 60 four-year-olds into three groups: one that watched nine minutes of fast-paced TV ("SpongeBob"), another that watched nine minutes of a slower-paced PBS program, and a third that sat and drew for nine minutes.
Following their respective activities, the researchers asked each group to participate in four different tests that assessed their mental faculties. As one could imagine, the "SpongeBob" group scored significantly lower, indicating that their choice of entertainment left an undesirable impression on their brains. Unsurprisingly, Nickelodeon strongly disagreed with Lillard and Peterson's methodology and conclusions, telling CNN as much the same year the experiment took place. 
At the end of the day, whether or not you allow your children to watch "SpongeBob SquarePants" is entirely your call. This study does raise important questions concerning the entertainment we put in front of our youth, though it does make bold claims that could use some further examination. Nevertheless, it stands to reason that SpongeBob isn't going away anytime soon, no matter what it might do to the minds of its young viewers.