This Forgotten Comedy Was Arnold Schwarzenegger's Biggest Paycheck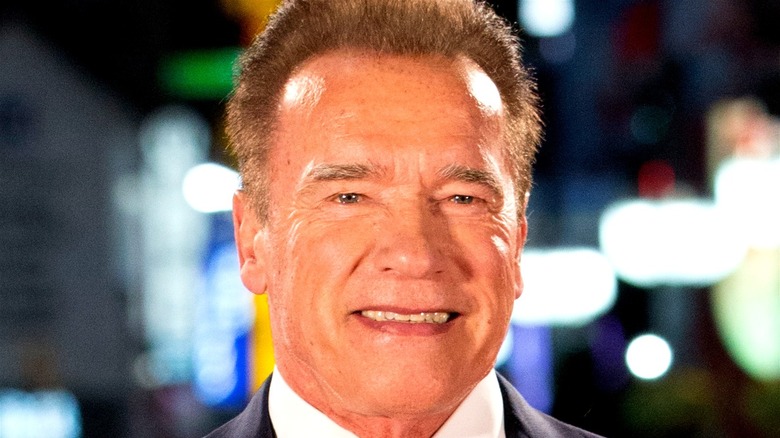 Yuichi Yamazaki/Getty
Actor-producer (and former Governor of California) Arnold Schwarzenegger has enjoyed many large paydays during his acting career. For example, he raked in $29 million to appear in "Terminator 3: Rise of the Machines" (per Slate). However, Schwarzenegger would have made big bucks even if the film never made it to the big screen because, according to Slate, the actor had a $29.25 million "pay or play" fee with the studio. Since Schwarzenegger arrived in America from his native Austria with only $27,000 to his name — and made only $75,000 to star in his first major motion picture, "The Terminator" (per Men's Health) — one could say he's come a long way.
But even this didn't amount to the biggest film industry financial haul for "The Governator." The movie he earned the most cash from was a late-1980s comedy that has largely been forgotten, though it will soon see a sequel. What's the name of the comedy that had Schwarzenegger rolling in dough?
'Twins' made Arnold Schwarzenegger a mint
The 1988 comedy film "Twins," which paired Arnold Schwarzenegger with the diminutive director-actor Danny DeVito — the two played fraternal twins resulting from genetic experimentation who are unexpectedly reunited after being raised separately — made $216 million worldwide (per Deadline). But Schwarzenegger didn't even draw a paycheck to appear in it at first. 
How could "Twins" have provided the star with so much capital if he didn't take a salary? Per a 2019 Business Insider interview with the actor, after appearing in a string of blockbuster successes like "Commando," "Predator," and the "Conan" film series, no studio would bankroll a comedy for him when he was a guaranteed action film success. Schwarzenegger came up with a creative solution for this issue. Per a 2014 interview on ID10T with Chris Hardwick, he, DeVito, and director Ivan Reitman all agreed to forego salaries in return for 40% of the film's box office gross. Because the movie was so successful, all three men made a lot of cash, and Schwarzenegger proved he could open a comedy — a fact that further hits, like "Kindergarten Cop," went on to cement.
Fans of "Twins" recently received some exciting news: Schwarzenegger and DeVito will reunite with director Reitman for the forthcoming "Triplets," a sequel to "Twins," which will feature comic Tracy Morgan as a heretofore unmentioned third Benedict brother. Per Deadline, the film will begin shooting in Boston, Massachusetts in January 2022.