The Zack Snyder Prequel Thriller Dominating Netflix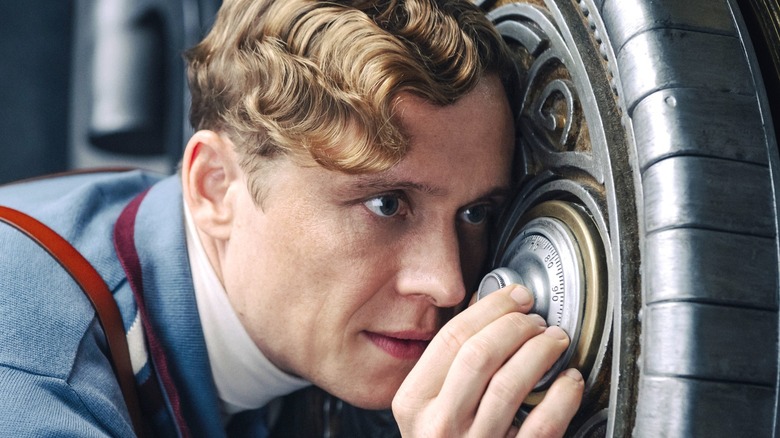 Stanislav Honzik/Netflix
Remember "Army of the Dead," writer-director Zack Snyder's zombie heist movie that was a Netflix hit in the spring? Sure you do. It stars Dave Bautista as a guy who's hired to put a team together and rob the vault at a Las Vegas casino during a zombie virus outbreak. It's a fun genre-blending movie that's a bit too long.
Netflix executives had so much faith in "Army in the Dead" when they gave it the green light that they also greenlit a prequel to be made almost simultaneously with the main movie. It's a pretty unique deal, especially considering how different the prequel is from the original. Zombies are only on the periphery of the prequel.
The prequel is the origin story of a supporting character from "Army of the Dead." Its plot isn't directly connected to "Army of the Dead," but rather shows how the character came to be a master safecracker who earned a spot on Scott Ward's (Bautista) heist crew. It has a different tone, with much less horror and a lot more comedy.
The film is "Army of Thieves," which stars Matthias Schweighöfer as German safecracker Ludwig Dieter. The film is a hit in its own right; it's currently sitting in the #1 spot on Netflix's daily Top 10 chart.
Army of Thieves is a fun prequel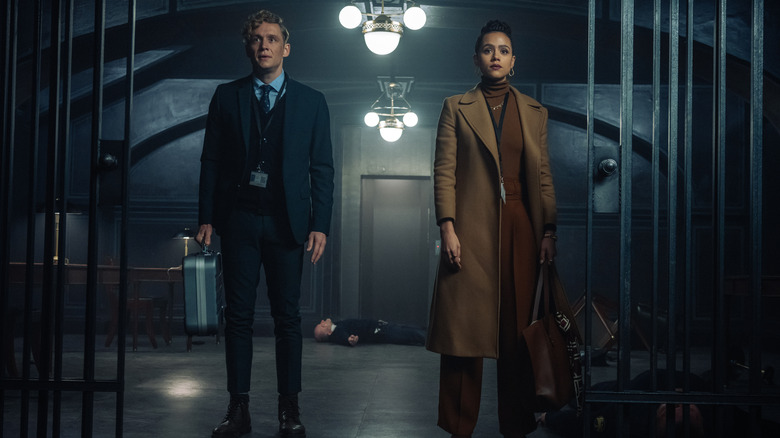 Stanislav Honzik/Netflix
"Army of Thieves" starts with Sebastian Schlencht-Wöhnert living a boring life in the German city of Potsdam. He works as a bank teller, and in his free time he makes YouTube videos about safecracking, his hobby. One day, he gets a fateful comment on one of his videos inviting him to a mysterious event. It turns out to be an underground safecracking competition, which he easily wins. He meets the person who invited him, a wanted international jewel thief named Gwendoline (Nathalie Emmanuel). She wants to work with Sebastian because he's an expert on the mythical safes of legendary locksmith Hans Wagner. She inducts him into her crew of thieves, and they set out to rob three of Wagner's safes, which all belong to shady billionaire Bly Tanaka (Hiroyuki Sanada). Over the course of the mission, Sebastian and Gwendoline fall in love, and Sebastian becomes "Ludwig Dieter."
In addition to starring, Schweighöfer is also the film's director. The script is written by Shay Hatten, who co-wrote the screenplay to "Army of the Dead" with Zack Snyder and Joby Harold. Snyder produces. The score is by legendary composer Hans Zimmer and Steve Mazzaro. The supporting cast includes Ruby O. Fee as Korina Dominguez, Gwendoline's team's computer hacker; Guz Khan as getaway driver Rolph; Stuart Martin as Brad Cage, the team's gunman and Gwendoline's longtime boyfriend; and Jonathan Cohen as Delacroix, the Interpol agent who's been after Gwendoline for years.
Like "Army of the Dead," "Army of Thieves" is longer than it needs to be, clocking in at over two hours, but it's fun and currently has slightly higher critical and audience scores on Rotten Tomatoes than its predecessor, 70-67% and 78-75%, respectively.
Presumably, we'll see Dieter again in the third film in the budding franchise, "Planet of the Dead."