The Thomas Scene On The Bold And The Beautiful That Went Too Far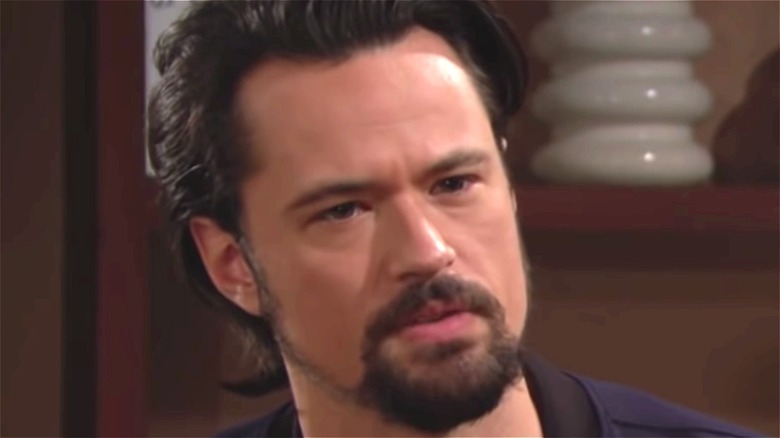 CBS
Legacy character Thomas Forrester (currently played by Matthew Atkinson) has had a colorful presence during his nearly 10-year reign as an antihero on "The Bold and the Beautiful." The designer has been involved in one eyebrow-raising incident after another after he was aged up from a teenager to an adult in 2002.
There have been many memorably questionable things Thomas has done over the years. He's been stranded on an island with his stepmother, Brooke Logan (Katherine Kelly Lang), and wasn't entirely sure if the two of them had sex or not after they consumed poisoned berries which caused them to hallucinate (via TV Guide). Thomas also knew that Hope's Annika Noelle) presumed-dead daughter with Liam Spencer (Scott Clifton) was actually alive. The baby had been switched for a dead child, then adopted to Thomas' sister, Steffy Forrester (Jacqueline MacInnes Wood), on the black market. He also intentionally ran Emma Barber (Nia Sioux) off the road and killed her to prevent the young designer from telling Hope the truth about her daughter. Oh, and he fell in love with a mannequin constructed to look like Hope and spent days talking to it as if it were the real McCoy.
Among the many, many transgressions that Thomas committed, though, there is one incident that took things too far for fans of the show. Which scene pushed the envelope and made viewers uncomfortable?
Did Thomas take advantage of Caroline?
In a 2015 arc, fashion designer and philanthropist Caroline Forrester (Linsey Godfrey) breaks up with Thomas (then played Pierson Fodé) after briefly dating. He can't get over his obsession with Hope, and she isn't willing to wait for him to work it out of his system. Now single, she pursues Rick Forrester (Jacob Young), but he is interested in the fetching actress Maya Avant (Karla Mosley) and refuses to be wooed by her no matter what machinations she tries. Though Caroline and Thomas are definitely on the outs, they have a controversial one-night stand that has far-reaching consequences for both characters.
During the encounter, Caroline is impaired by a combination of alcohol and the side effects of her anti-anxiety medication when they have sex. The following morning, she immediately calls what Thomas did rape, but he insists it was a consensual act. Viewers are shown the night's events through her bleary vision, which casts doubt on his claim.
This incident was upsetting enough to warrant some mainstream press attention. In a 2016 TVLine interview, "The Bold and the Beautiful" head writer Bradley Bell tried to defend the plotline. "I certainly left it up to interpretation," he told the website. "Unlike other soap plots in the past where it was plain to see that a person has been violated, this was left up to the interpretation of the characters and the viewer."
Some fans, such as the folks posting to the Primetimer TV Forums, saw the scene in a different way. "I'm disgusted that [those in charge] have now completely walked back that Thomas raped Caroline. We saw it, and it was awful," said user Kitty Redstone in a 2016 post. Many other forum users also declared their disgust with the plot twist.
Thomas and Caroline's night together has consequences
Caroline finds out she was pregnant soon after her sexual encounter with Thomas, and she gives birth to her son, Douglas, in late 2016. There is some confusion as to whether or not Thomas or Ridge Forrester (Thorsten Kaye), Thomas' father and Caroline's most recent boyfriend, is Douglas' biological father, but a paternity test links the baby to the younger Forrester. Co-parenting Douglas pushes Thomas and Caroline back together. Eventually, they leave town together to raise their son in 2017. (By this point, "The Bold and the Beautiful" had rewritten the storyline to remove any ambiguity and affirmed the act between Thomas and Caroline was consensual.)
But it's not long before tragedy strikes in 2019. Caroline dies offscreen due to a blood clot. A grieving Thomas and Douglas return to Los Angeles together. The soap plays Caroline's death ambiguously and never reveals whether or not her passing is a tragic matter of fate or murder. Considering some of Thomas' subsequent behavior — all of which is later forgiven when it is discovered he had a brain tumor after the 2020 mannequin obsession storyline — one is left to wonder.
Douglas is roughly three years old when Caroline dies, and he now considers his adoptive mother Hope more of a maternal role model than his biological mother. That's one tragic coda to a truly twisted storyline.