Sheila Is Back With A Big Secret On The Bold And Beautiful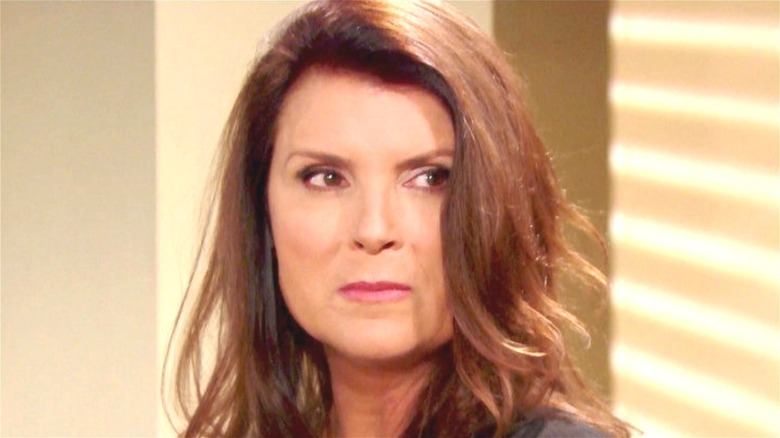 CBS
Ahh, Sheila Carter. Played by Kimberlin Brown, the popular soap villainess has bounced between CBS' two flagship soap operas, "The Young and the Restless" and "The Bold and the Beautiful." Sheila's legendary bad-girl behavior has included everything from swapping her stillborn child with Lauren Baldwin's (Tracey E. Bregman) healthy newborn to steal the man who impregnated them both, to straight-up murder. She even underwent drastic cosmetic surgery just to make her face over into an exact copy of Lauren's in the hope of killing her.
But Sheila's also tried to better her reputation and life, briefly settling down into a happy marriage with psychiatrist James Warwick (Ian Buchanan). She even tried to marry Forrester Creations patriarch Eric (John McCook), albeit while lying about her own identity after faking her own death.
After a long absence from "B&B" and Los Angeles (Sheila was last seen waiting tables at Il Giardino in 2018), the actress and character are both back on the show, and she's hiding a pretty shocking secret. What's Sheila up to this time around?
She has biological ties to one very familiar (and handsome) face on the canvas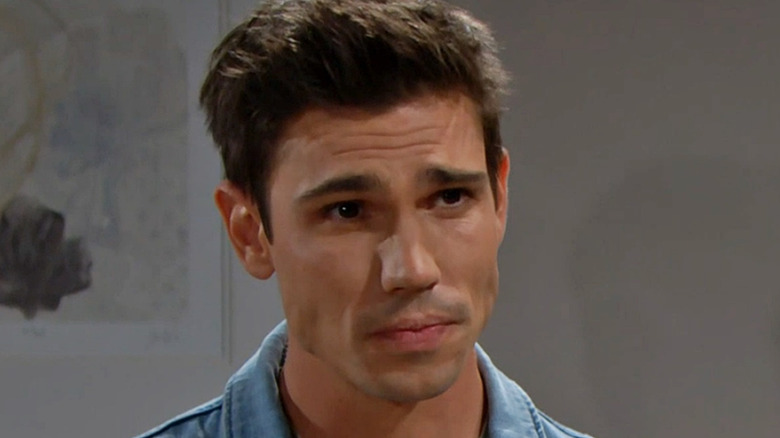 CBS
The rest of this article contains spoilers for recent episodes of "The Bold and the Beautiful."
Finn Finnegan (Tanner Novlan) came on the "Bold and the Beautiful" scene as a handsome doctor treating his future wife Steffy Forrester (Jacqueline MacInnes Wood) after a motorcycle accident. The doctor-patient relationship blossomed into love, even after Steffy's bout with drug addiction and a one-night stand with her ex, Liam Spencer (Scott Clifton), got in the way. That sexual encounter led to some brief "who's the daddy?" drama surrounding the paternity of Steffy's son Hayes, but the boy proved to be Finn's biological child. 
Finn's past has always been something of a question mark on the show, something that "B&B" has used to great advantage. When Sheila approached Finn after his wedding, fans' eyebrows rose skyward in a major way. Enter Kimberlin Brown, who's been portraying Sheila on and off ever since 1990. "She knows fully well going into this that maybe she can't be a part of his life, but she also wants him to finally know who his birth mother is," the actress told Soap Opera Digest.
Brown describes Sheila's approach as "very tentative." She doesn't want to hurt her son, after all. Brown elaborated: "In her mind, she really believes that he needs to know who she is — and, it's not all about her. It's really quite a nice moment."
Yet good-hearted Finn earnestly talked her into coming to the party, subsequently horrifying his new in-laws and leaving his bride caught between a rock and a hard place. Cue major drama, even though Sheila insists she just wants to be one of the family this time around.