The Rick Nielsen Guitar That American Pickers Got For Free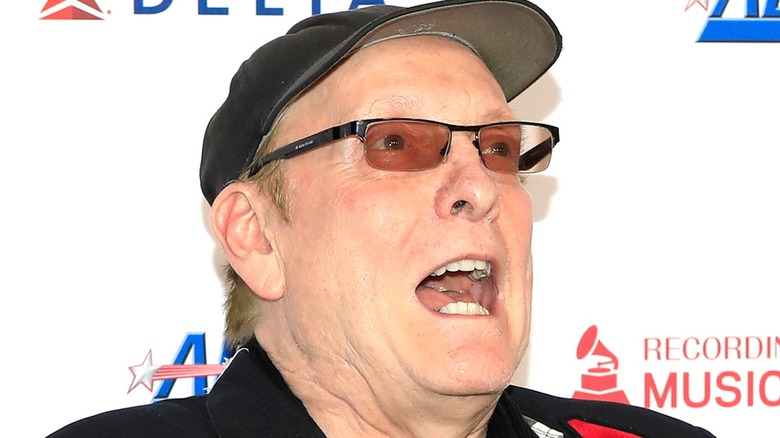 Kathy Hutchins/Shutterstock
Fans of History's "American Pickers" and "Pawn Stars" are used to seeing the stars haggle their way down to a lower price for any given item. Rick Harrison and his team at the World Famous Gold & Silver Pawn Shop normally do their best to acquire artifacts in tip-top shape (like a signed Spider-Man comic strip, for example). On the other hand, Mike Wolfe and Frank Fritz of Antique Archaeology have a slightly different business model and are happy to throw a bit of money at less-than-stellar-condition products. However, because both businesses require them to be able to resell purchased items, more often than not, they need as wide a profit margin as possible. 
During the course of both series' many seasons, their respective stars have become known for their hard bargaining techniques. The aforementioned Spider-Man comic strip that sold for $5,000 started with an asking price of $10,000. While such an offer was probably a good deal for the Las Vegas business, the team at Antique Archaeology has them beat with a guitar they got from a rock 'n' roll legend for free.
Rick Nielsen offered it to them on one condition
More than a few strange things have happened on "American Pickers," but Mike Wolfe and Frank Fritz don't normally just run into legends of entertainment on the streets. In Season 8, Episode 9, Mike and Frank took a detour from their routine of searching through junk for hidden treasure. Making a stop in Rockford, Illinois, the duo decides to check out a museum called Rick's Picks. The museum is centered on all things related to the classic rock band Cheap Trick and is named after the group's lead guitarist, Rick Nielsen. Frank is particularly excited about visiting the museum, saying "We're here! We've got to go!" 
While perusing the exhibit's artifacts (including a plethora of guitars, records, and other memorabilia), Nielsen introduces himself to the pickers and the two are immediately starstruck. Mike later describes Frank's reaction as "like a little schoolgirl who saw Elvis Presley" (via YouTube). Nielsen invites the two out to his warehouse where he promises to show them even more mementos that didn't make it into the main museum. 
Here, they find a genuine treasure trove of rock 'n' roll history, including one checkerboard guitar that Frank and Mike quickly decide they have to buy. However, Nielsen turns down one offer after another. In the end, Nielsen tells the two that he is actually willing to donate the guitar for their shop, so long as he can play it anytime he is in town.