Lizzy Caplan Dishes On What It Was Like Working With Clark Duke On Inside Job - Exclusive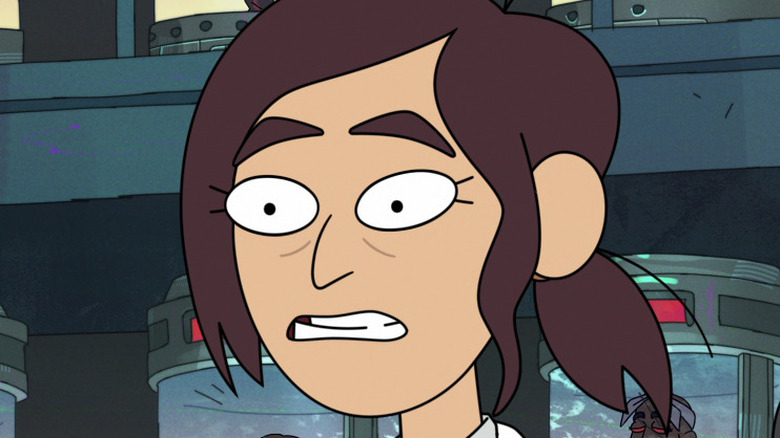 Netflix
It's no secret that the pandemic has put a pretty solid wrench in dozens of live-action projects that have been halted, postponed, or shut down since 2021. However, the issues don't stop with live-action. While actors can typically film their voice acting work from anywhere, the elimination of the standard face time voice actors usually get with their co-stars has been a significant loss for the voice acting community. Of course, like everyone else, they've powered on to give us some incredible content to binge during the pandemic, the most recent example of which is Lizzy Caplan (Reagan Ridley), Clark Duke (Brett Hand), and Christian Slater's (Randy Ridley) new project, "Inside Job." 
While the actors didn't get actually get a lot of opportunities to work together on Season 1, you'd never know it by watching the series. Some of that natural chemistry may be a result of the fact that "Inside Job" isn't Duke and Caplan's first rodeo together. In 2010, they both worked on the film "Hot Tub Time Machine." Now, over a decade later, they're at it again as workplace besties on "Inside Job." 
During an exclusive interview with Looper, Lizzy Caplan dished on what it was like working with Clark Duke again, whether or not she sees a romance brewing in their future, and how she managed to play Slater's daughter without ever meeting him.
Caplan has still never met Christian Slater, but she did reunite with Clark Duke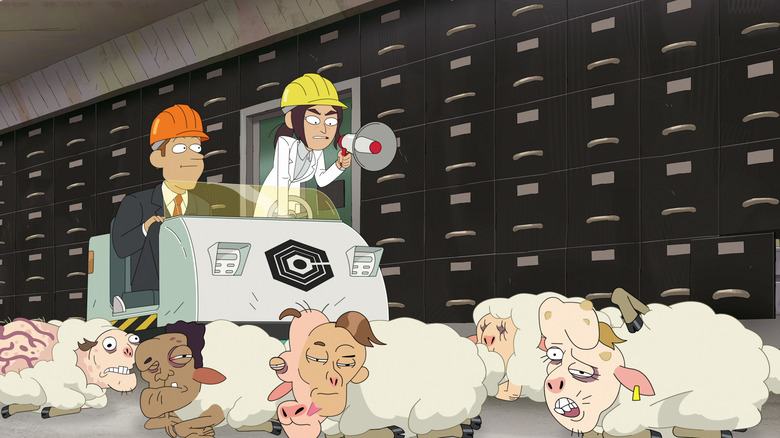 Netflix
In the series, Reagan and Randy go on opposite parallel journeys. As Reagan gets a little bit more grounded episode by episode, Randy gets a bit more chaotic and unhinged. On what it was like going on that journey with Slater while voicing their parts separately, Caplan explained, "Full disclosure ... First, you've seen more episodes than I have, so that's exciting. That's definitely what we were going for. I'm glad to hear that it succeeded, that it did that."
Noting the bizarre way they filmed the series due to the pandemic, she added, "Full disclosure number two, I've never met Christian. So we've been doing this all remotely, and it's wild to watch the episodes and see how seamlessly it turned out. And I don't see how it would sound any different if we were in a room together. Watching the show, you could never tell that it was filmed separately." Caplan continued, "And if anything, it just makes me really, really excited to be on the other side of all these COVID restrictions and get to be in the same room together." Here's to hoping this will happen in a potential Season 2.
Caplan did, however, get a chance to work with Clark Duke again in the flesh. "We were at table reads together for this. So yes, more so than with Christian, in the very, very early days. Yeah," she said. "And Clark's just one of those guys that I've known forever. It's great to get to work with him. Even though I never am in the same room as any of these people, but our souls are connected." She vehemently shot down the likelihood of a romance between Brett and Reagan, saying, "I hope not. I don't think they need to have a romance. I think their friendship is really sweet, and that would be my vote."
The first 10 episodes of "Inside Job" are now streaming on Netflix.