How Kit Harington Really Feels About Sharing A Scene With Richard Madden Again
Vittorio Zunino Celotto/Getty Images
As the back end of 2021 rolls on, Marvel Studios continues to pump out exciting new Marvel Cinematic Universe entries. Building upon the momentum generated by the likes of "Shang-Chi and the Legend of the Ten Rings" and "WandaVision," "Spider-Man: No Way Home" and "Hawkeye" will put a punctuation mark on the year's MCU offerings. However, before we get there, we get to check out "Eternals" from director Chloé Zhao — a nearly-three-hour ensemble movie that serves as the grand introduction of the titular team in both the blockbuster franchise and live-action in general.
Though it's not exactly blowing every critic away, "Eternals" will no doubt be a game-changer in the MCU all the same. Not only is its cast of immortal cosmic heroes set to do battle with an evil unlike anything we've seen in the series before, but it has enlisted an impressive crew of actors to make it happen. Talent like Angelina Jolie, Kumail Nanjiani, Salma Hayek, and Gemma Chan has signed on, in addition to Richard Madden and Kit Harington, who "Game of Thrones" fans would recognize as Robb Stark and Jon Snow, respectively.
Both Madden and Harington played pivotal roles in the HBO original, sharing the odd scene here and there to boot. Here's what the latter had to say about their "GoT" reunion by way of "Eternals."
Harington was thrilled about their reunion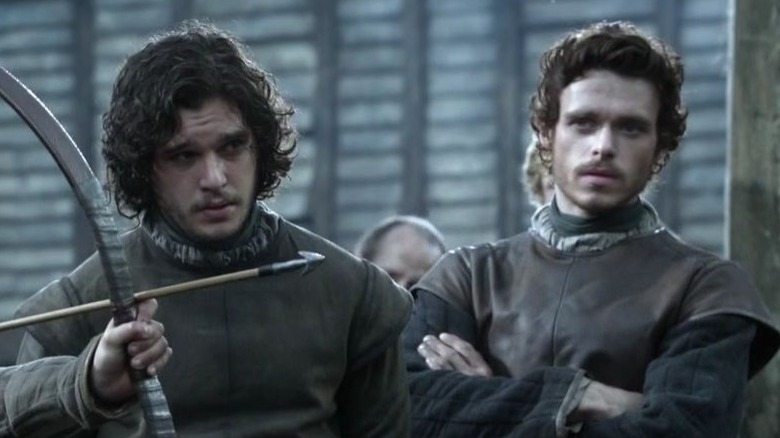 HBO
Comparatively, Richard Madden and Kit Harington play vastly different roles in the grand scheme of "Eternals." Madden portrays Ikaris: the powerful leader of the Eternals who has resided on Earth for roughly 7,000 years. On the other hand, Harington plays Dane Whitman, better known to comic readers as the wielder of the Ebony Blade, Black Knight. Nevertheless, the two heroes end up crossing paths at least once over the course of the film, and during an interview with Variety, Harington revealed his delight in joining Madden in front of the camera after all these years.
"We had a big hug. We've been close friends for a long time," he said, mentioning that even though they only shared the screen somewhere around four times on "Game of Thrones," they quickly bonded behind the scenes. "It sort of blew up and became this Goliath of a show...we were both 23. We'd kind of came up together...we have a very close friendship, but screen time doesn't reflect that." Harington also explains that Dane Whitman doesn't get a lot of play in "Eternals" when it comes to action, and he's uncertain of where the character will end up next...should he return to the MCU, of course.
As if there wasn't enough incentive to check out "Eternals," already, for "Game of Thrones" fans, surely witnessing a Robb Stark and Jon Snow reunion is worth the price of admission.