Florence Pugh Reveals What It Was Really Like To Wear That Midsommar Flower Dress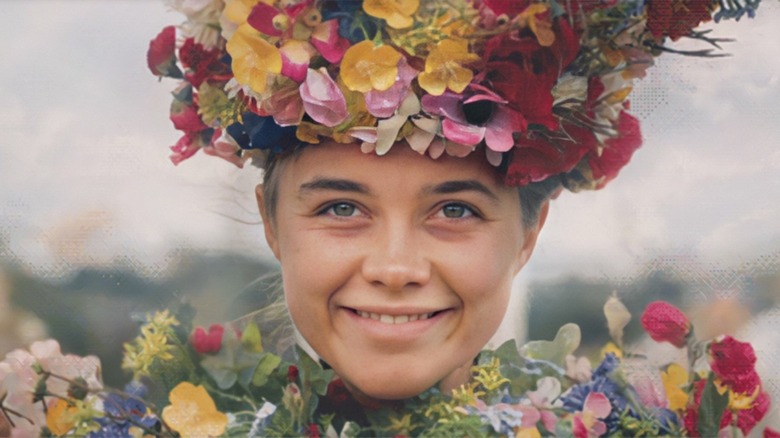 A24
Florence Pugh has had a meteoric rise to superstardom over the last few years. After underrated roles in the likes of "Lady Macbeth" and "Fighting With My Family," she had one solid hit after another, appearing in "Midsommar," "Little Women," and "Black Widow" back to back to back.
Today, she's one of the most instantly recognizable actresses in the world, and she's not going anywhere. She's officially entered the Marvel Cinematic Universe as Yelena, who looks like she'll take on the mantle of Black Widow moving forward. Next, she appears in "Hawkeye," where she'll reprise her butt-kicking role. However, that's not the only part that has the star looking back these days.
Pugh recently took to Instagram to showcase arguably her most iconic cinematic look to date, namely her May Queen dress in "Midsommar." She gave fans the inside scoop on what it was really like to wear such a massive costume for an extended period of time.
Florence Pugh says the dress was naturally hot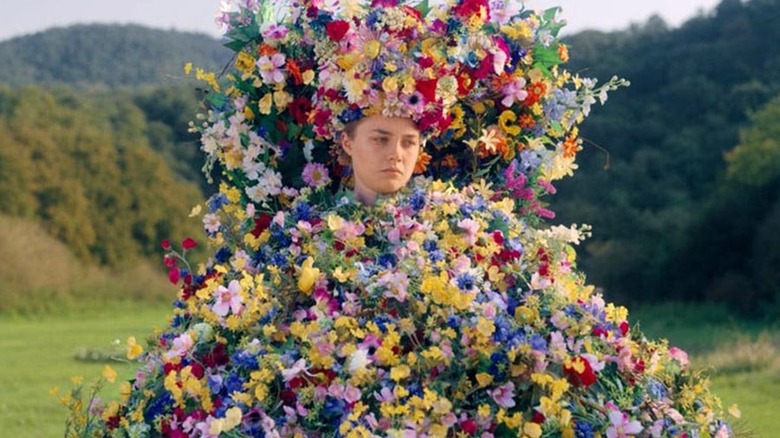 A24
As one might surmise, it wasn't exactly a fun time to wear such a heavy dress, especially in the middle of the day with the sun beating down. Pugh revealed as much with her recent social media post, where she also clarified, "Underneath the flower dress are pillows and stuffed bin bags to fill out the dress whilst I was sat. It got hot obviously, especially when the sun was out, hence my trusty hand fan always being easily accessible."
The picture in question does, indeed, show the actress with a tiny hand fan, which makes it fun to think about when rewatching the movie. The entire time she was gazing at the burning building her friends were locked in, she was sitting there laughing maniacally with a little fan in hand in case things got too hot for her personally. 
Fans loved the behind-the-scenes glimpse. People chimed in with words of praise like "ICONIC BRILLIANT LEGENDARY SHOW STOPPING SPECTACULAR" and "I just know I'd have to pee the instant I was put in there." Pugh hasn't revealed how often she had to go to the bathroom while wearing the dress, but maybe we'll get that Instagram post on a later date.