The Real Reason Jesse Eisenberg Sued This Horror Movie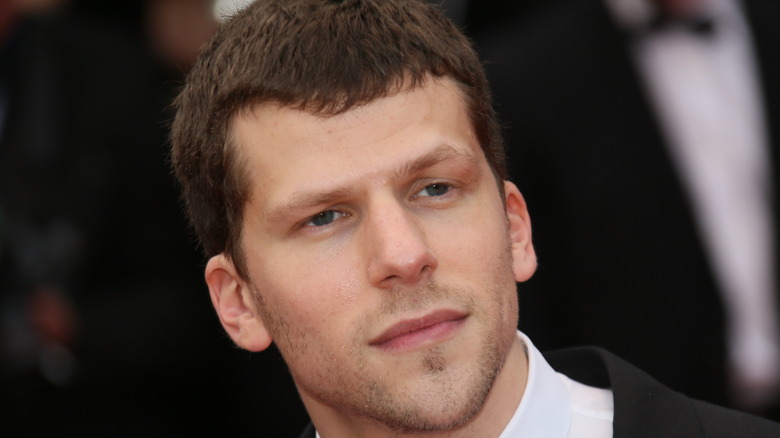 Denis Makarenko/Shutterstock
Jesse Eisenberg has come a long way since his acting career launched in 1999. Moving on from early parts in M. Night Shyamalan's "The Village" in 2004 and Noah Baumbach's "The Squid and the Whale" in 2005 to his breakout role in "Zombieland," it was 2010's "The Social Network" that truly cemented his reputation as a solid actor, when he brought to life a terrifying interpretation of Facebook CEO and founder Mark Zuckerberg. This role earned him an Academy Award nomination for Best Actor, and likely led directly to his casting as Lex Luthor in 2016's "Batman v Superman: Dawn of Justice."
Since then, Eisenberg has kept busy with films like 2019's "The Art of Self-Defense" and "Vivarium." He'll next be seen in a satirical sci-fi thriller called "Dual," written and directed by Riley Stearns.
Based on Eisenberg's prominence, it's logical that he's in high demand, and he has been for a long time. In fact, all the way back in 2007, his rising star status led to some of his producer friends asking him to act in their film, "Camp Hell." 
Eisenberg agreed — and this favor eventually led to a lawsuit.
Eisenberg's lawsuit is about the film's publicity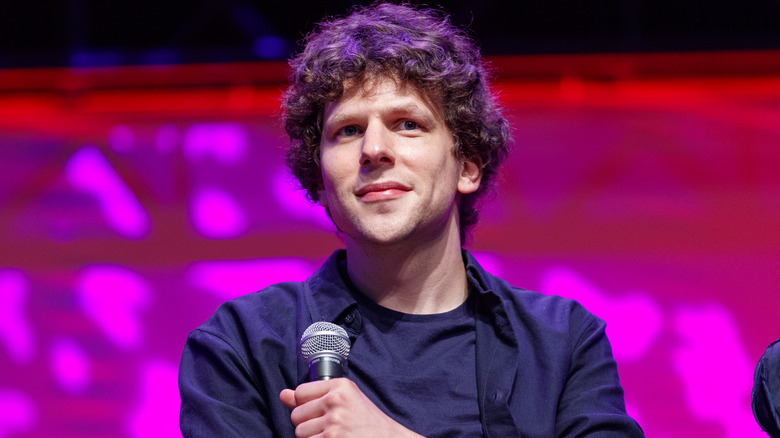 Rich Polk/Getty Images
As reported by The Hollywood Reporter, in 2007, while "Camp Hell" was filming, Eisenberg spent one day on set for minimum compensation of about $3,000 as a favor to his friends, the producers and directing the low-budget horror film. Then, "Camp Hell" came out in the same year as "The Social Network," which Eisenberg received immense critical acclaim for. So when the DVD release for "Camp Hell," distributed by Lionsgate, was approaching, the studio decided to utilize Eisenberg's rising fame to hopefully garner more sales, despite Eisenberg's role being a mere cameo. The DVD cover allegedly featured Eisenberg's name prominently above the title, and a large photo of his face.
In Eisenberg's lawsuit, filed by Marty Singer, the actor claimed exploitation of his name and image for financial profit. Further, the lawsuit claimed the artwork "[continued] to perpetrate a fraud on the public" and that the use of false advertising in regards to Eisenberg's role was a ploy to "fraudulently induce his fans to purchase a copy of the DVD of the Picture."
Eisenberg asked for $3 million in damages, which was more than the film's budget.
Eisenberg won the preliminary court case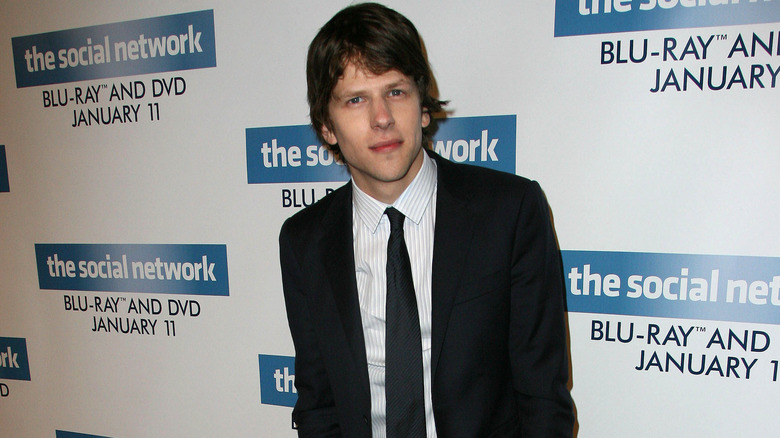 s_bukley/Shutterstock
After the lawsuit was filed in November of 2011, a ruling was issued about seven months later, bringing the dispute to a close. As reported by Digital Spy in June of 2012, Eisenberg won the preliminary court case against Lionsgate for the misuse of his image for "Camp Hell" DVD sales. Lionsgate had responded to Eisenberg's lawsuit with an anti-SLAPP motion (in attempt to strike the claim), asking for the suit to be dismissed as infringement on free speech.
In court, Judge Linda Lefkowitz denied Lionsgate and ruled in favor of Eisenberg. In her ruling, Lefkowitz said, "The content of the materials was commercial, by virtue of proposing a commercial transaction, despite perhaps falsely leading the consumer to believe that [Eisenberg] is the star of the film. The court thus finds that the speech at issue in this case constitutes commercial speech, which is not subject to protection under [the anti-SLAPP law]."