The Eye-Popping Amount A First-Edition Anne Of Green Gables Fetched On Pawn Stars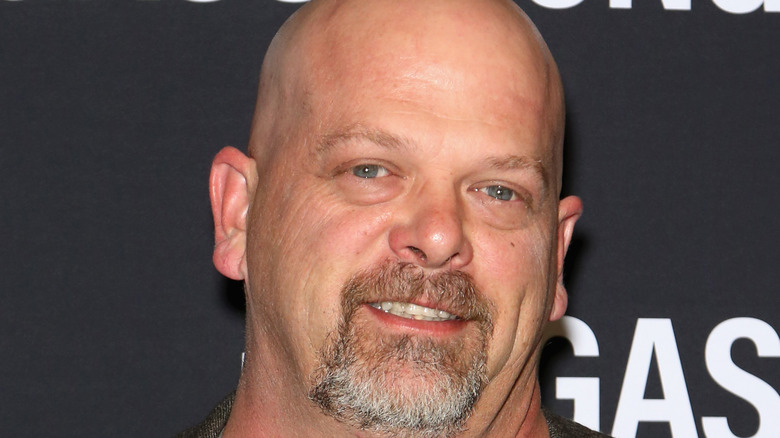 Gabe Ginsberg/Getty Images
Some expensive items have arrived at the doorstep of the World Famous Gold & Silver Pawn Shop in Las Vegas, Nevada on "Pawn Stars." While Rick, Corey, and Richard ("The Old Man") Harrison and Austin "Chumlee" Russell have walked away from some fascinating items on the History Channel program without buying them, including a guitar that belonged to Jimi Hendrix and an original recording contract signed by the Beatles, they've also made some incredible deals.
Such is the case of this first-edition copy of Lucy Maud Montgomery's "Anne of Green Gables." The beloved book for young readers, which follows the adventures of spirited orphan Anne Shirley as she settles into the home of siblings Marilla and Matthew Cuthbert, has become a classic in the years since its first printing in 1908 (per the official Anne of Green Gables website). It spawned a six-book series that follows Anne from her youth through her eventual marriage to childhood nemesis Gilbert Blythe and motherhood. Montgomery ultimately published two further novels set within the "Anne" universe about the adventures of Anne and Gilbert's children, "Rainbow Valley" and "Rilla of Ingleside," and a collected volume of short stories about the large Blythe family called "The Blythes are Quoted."
When Rick was presented with the novel during a Season 18 episode, he had no idea how much that particular edition of "Anne of Green Gables" was worth. The amount the customer walked away with — and the amount of money he originally asked for — might shock you.
The book pulled in over $8,000
Per a clip posted to the show's official YouTube channel, Rick's customer, Matt, hoped to make over $18,000 off of the book. He said that he'd picked it up at an estate auction for only $25 and planned to present it to his mother as a gift, but when he researched the tome's value he decided to sell it instead. 
Rick initially had no idea how much the first edition of the children's book might be worth, so he called in expert Rebecca Romney to appraise its value. After some careful examination, she determined that the book was in "better than average" condition but not pristine due to some wear and tear. The book's brown-colored jacket also made it a somewhat more unique and scarce find.
After the book was valued at about $17,500, Matt made an offer of $14,000. However, Rick countered with an offer of $8,000, to which Matt said he'd be willing to sell the tome for $10,000; Rick responded to this with a simple "nope." They then bargained their way to the $8,000 tier, and Rick ultimately bought the book for $8,400. That's a hefty chunk of change for a book that originally cost the customer a far smaller amount of money.