Was The Set Of Halloween 5 Cursed By A Fired Cast Member? - Exclusive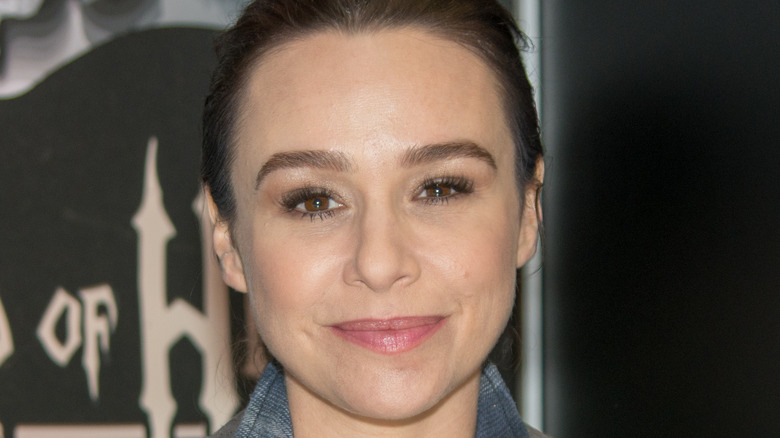 Markus Wissmann/Shutterstock
"Halloween Kills" is in theaters and streaming on Peacock. A new "Halloween" movie means an opportunity to get people on board with rewatching the old films in the franchise, too, even if they aren't connected to the current trilogy. As it happens, Scream Factory recently re-released the first five "Halloween" movies all on 4K UHD disc. With new releases of old movies, we get more than just fresh scans of old film material; we also often get never-before-seen content — and that's especially true for this new release of "Halloween 5: The Revenge of Michael Myers."
After the franchise took a break from Myers with "Halloween 3: Season of the Witch," the next two films focused on Jamie Lloyd (Danielle Harris), Myers' niece. In this iteration of the "Halloween" timeline, Laurie Strode (Jamie Lee Curtis) dies tragically leaving behind her daughter Jamie — and when Michael Myers wakes from a coma, he immediately sets after killing Jamie and everyone around her.
In "Halloween 5" a near-death Myers is nursed back to health by a Mountain Man (Harper Roisman) before continuing his killing spree one year after the events of "Halloween 4." However, there wasn't a Mountain Man in the original script. Instead, there was a character named Doctor Death (Theron Read). Footage was recently unearthed of Doctor Death prompting many to wonder why exactly this footage and this character was cut in the first place.
In an exclusive interview with Looper, Danielle Harris recalls the unusual circumstances following Read's firing from the film, some of which suggest that the actor may have even cursed the set upon his departure.
Doctor Death and the Halloween 5 curse you never heard of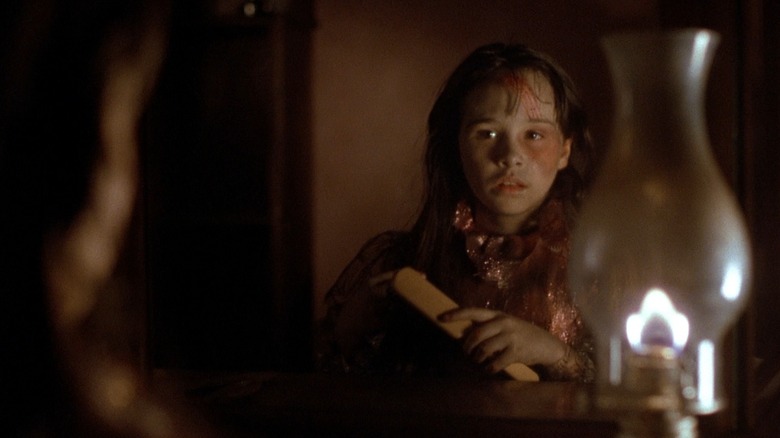 Galaxy Releasing
Following an announcement that the Doctor Death sequence had been recovered, Danielle Harris tweeted, "I remember what happened after they fired this guy!" The only official explanation given for the Doctor Death character not being used in the final cut of the film is that he and his scenes didn't fit with the tone of the rest of "Halloween 5." However, there's more to the story according to Harris.
"You know, I remember weird s*** happening after he was fired, to cameras and the set, and it was almost like he had put a spell on the set," Harris told us about Theron Read's departure from the film. "Awful things started going on that everybody was convinced had something to do with this original guy, because I think he was really a witch doctor. That was the story. Maybe he really did something, because bad things started happening. I remember cameras getting washed away and things falling apart and just unexplained things that would only make sense if he did something."
Curse aside, Harris also recalled Read's departure simply being right for the film. "He was creepy," Harris said of the character of Doctor Death, "and it just felt eerie. There's more empathy obviously when Michael kills some poor old man who's just trying to help him. So it sits better — there was still a wholesomeness back then in 'Halloween 5.' I think [the character of Doctor Death] was taking it to another level and the film was already artsy and it being so different from 'Halloween 4' so quickly thereafter, I think they wanted to go back and simplify it."
You can catch Danielle Harris now on the Shudder series "Creepshow," specifically in the animated episode "The Thing's in Oakwood's Past."