The Locke & Key Season 2 Scene That Had Fans In Tears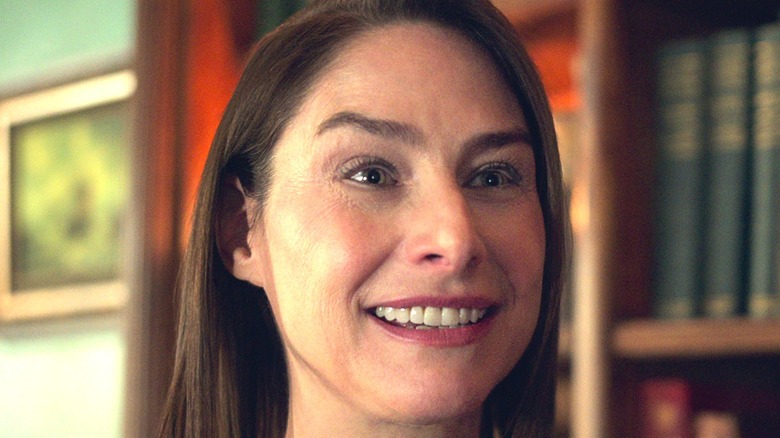 Netflix
With its recently released second season, Netflix's hit show "Locke & Key" has once again beguiled viewers with its twisty turns, compelling character arcs, and heartbreaking moral quandaries. Adapted from a popular graphic novel series by Joe Hill and Gabriel Rodríguez, the Netflix show follows the Locke family, who move into their father's childhood home in New England after experiencing an unforeseen tragedy. Once there, Kinsey Locke (Emilia Jones) and her two brothers, Tyler (Connor Jessup) and Bode (Jackson Robert Scott), discover mysterious keys hidden around the house. Soon after, they learn that each key endows them with magical abilities.
Along the way, the Locke siblings also meet Ellie Whedon (Sherri Saum), an enigmatic woman who previously knew their father when he was a young man. Quickly, Bode befriends her kindhearted son, Rufus (Coby Bird). However, at the same time, a demonic force named Dodge (Laysla De Oliveira) secretly stalks the Locke family in an effort to gain control of their magic. When Ellie warns the kids of the dark entity, she receives the unwelcome attention of Dodge. 
Near the end of "Locke & Key" Season 1, Dodge takes Ellie hostage and transforms her appearance to make her look exactly like the evil entity. As a result, the Locke siblings mistakenly push Ellie, not the villainous Dodge, through a portal. It's because of Ellie's disappearance at the end of the show's first season though, that one specific scene in "Locke & Key" Season 2 has left fans in tears.
Locke & Key fans love Rufus and Ellie's reunion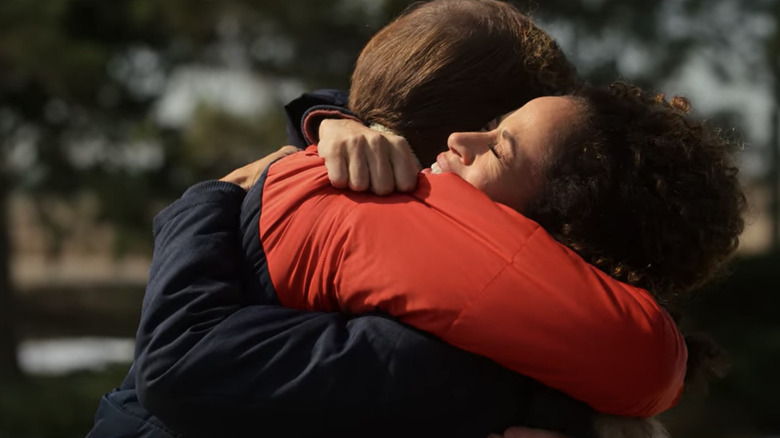 Netflix
Early on in "Locke & Key" Season 2, Bode struggles to come to terms with the loss of his best friend, Rufus, who has moved to Nebraska to stay with his aunt and uncle. Unfortunately, for most of "Locke & Key" Season 2, there doesn't seem to be much hope that Ellie will ever return either.
However, near the end of the season, Ellie miraculously manages to escape from the portal she was sucked into, which resides in an abandoned sea cave. After clambering out of the cave, she makes her way to the Locke house to find out where Rufus has gone, and the Locke siblings return her to her original form. Right away, Ellie travels to Nebraska to reunite with her son. Their subsequent reunion is undeniably emotional, with Rufus walking out of his house to find his mother waiting for him. The two immediately run into each other's arms, finally together again. 
It's a long-awaited, moving moment, which stands as one of the biggest highlights of "Locke & Key" Season 2. At least, that's the way most of the show's fans seem to feel, some of whom even took to Reddit to discuss the emotional scene.
Indeed, in a Reddit thread dedicated to Ellie and Rufus' reunion in "Locke & Key" Season 2, u/TheRealJFreese admitted that the scene made them "tear up a bit," while u/Jerrysgirl6226 revealed that, "It was the best part of this season for me, that Rufus got his mama back!" u/baileyt12345 had a similar reaction to the scene as well, writing, "I sobbed!!!!"
All of this is to say that, while fans may continue to debate the various strengths and weaknesses of "Locke & Key" Season 2, everyone seems to agree about the effectiveness of Ellie and Rufus' reunion.