The Real Reason Anya Taylor-Joy Sang A Capella For Last Night In Soho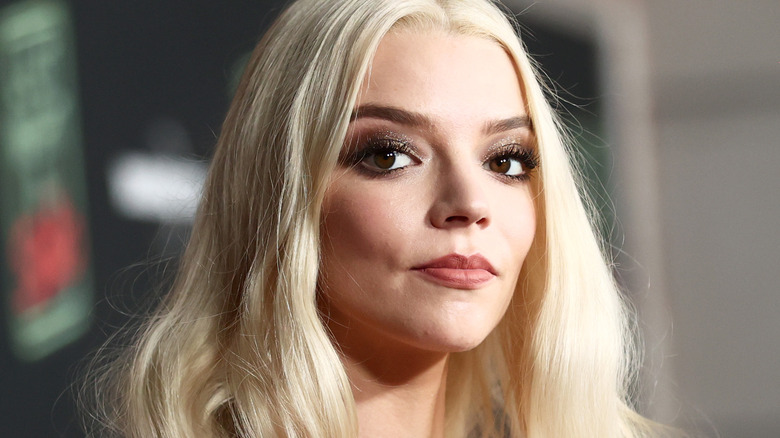 Matt Winkelmeyer/Getty Images
One of the most highly anticipated movies of 2021 isn't a superhero flick or a big-budget blockbuster with cars flying out of airplanes. It's a deep-rooted psychological thriller that sees Edgar Wright, the filmmaker behind the likes of "Shaun of the Dead," "Hot Fuzz," and "The World's End," tackle a genre he's never done before. "Last Night in Soho" comes out in theaters on October 29, and there are plenty of reasons why it's worth your time and attention. 
The film follows Eloise (Thomasin McKenzie), who has a passion for fashion design, realize she's being transported to 1960s London every time she goes to sleep. She wakes up in the body of famous club singer Sandie (Anya Taylor-Joy), and while it seems whimsical at first, she soon realizes she's witnessing the starlet's final days, and her murderer may still be at large. 
It's unlike anything director Edgar Wright has done before, but if you look closely, you may notice some of his trademarks hidden in plain sight. For example, Wright loves a good needle drop, and judging from the trailer, and the special teaser that highlighted Taylor-Joy singing "Downtown," "Last Night in Soho" will be heavily influenced by music. As such, fans may be surprised to learn that Wright didn't really know if Taylor-Joy could sing before casting her.
Anya Taylor-Joy wanted to 'bear [her] soul'
You can hear Anya Taylor-Joy sing a little bit during her 2020 film "EMMA" as she plays the piano, but you don't really get the sense that she could feasibly pass off as a professional singer from that role alone. Fortunately, from all of the "Last Night in Soho" promotional materials, she has the voice of an angel, but Taylor-Joy confirms to The Hollywood Reporter that Edgar Wright didn't know that upon casting her. She explained, "The first time he properly heard me sing was when we were doing the scene, and he was so gracious because he understands how I feel about characters."
Not only was Taylor-Joy expected to sing in the movie, but she was to do it a cappella. That means it's just her voice carrying the tune without any instruments backing her up. That's a tall order for any performer, but Taylor-Joy knew how important it was for the sake of her character. The actress mentioned, "I just thought from an audience point of view hearing somebody bear their soul a cappella in a slower way, it adds vulnerability that makes [the audience] see her a bit more, and that way you care more about her as the film progresses."
Taylor-Joy didn't go through the process alone. She had a major cheerleader by her side the entire way in the form of Wright. "After I sang the song, [Edgar] loved it and said, 'We're getting you to the studio, and we're recording three different versions, and you're also going to sing 'You're My World,' she elaborated. "I was, like, 'Wow, let's go and do it!' I'm endlessly grateful for the support from someone who knows and loves music so much."
With that kind of praise, could Anya Taylor-Joy soon star in a full-fledged musical? No doubt Wright would support that endeavor.