A New Eternals Spot Name Drops Two More Avengers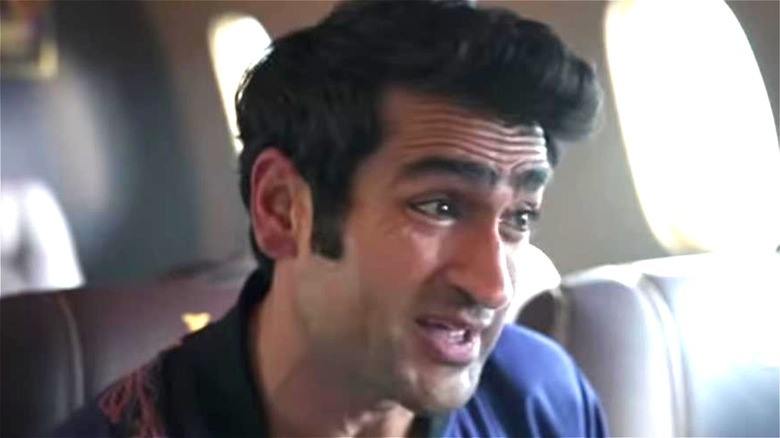 The latest and possibly most celestial addition to the Marvel Cinematic Universe, Chloé Zhao's "Eternals," is almost here. This, of course, can only mean one thing: As the movie's November 5 release date approaches, more and more interesting information is starting to come in. Reviews of the movie are out, critics have had their say, and the rest of the world is aching to get in on the action. 
Now, eager MCU fans are once again one step closer to seeing what the "Eternals" hype is all about, thanks to the emergence of a brand new spot that offers a welcome bite-sized sample of the movie. Interestingly, this one isn't all about the stunning visuals earlier "Eternals" trailers have brought you. Instead, it splits its runtime with high-octane action and low-key moments — and, just in case you needed more reassurance that this is a Marvel movie, it drops a few lines to reference the Avengers. The "Eternals" teaser trailer already did this with Captain America (Chris Evans) and Tony Stark (Robert Downey Jr.), but now, the Eternals name-drop two more Avengers. 
Thor and Spider-Man get the Eternals seal of approval
The new 30-second clip posted on the Marvel Entertainment YouTube page is titled simply "Fun," and it focuses pretty heavily on Thena (Angelina Jolie). In fact, before the requisite quick clips from the movie and the hype about the premiere date being only days away, Kumail Nanjiani's Kingo introduces her in a mighty confident manner. "We are the Eternals," he says. "The Avengers have Thor, Spider-Man — but we have Thena." As Kingo utters their names, the clip shows the two Avengers in action, only to cut to the woman of the hour. Thena then proceeds to utter a cool "Hello," and rains absolute hell on various monsters. "I'm sure it was fun for you," Brian Tyree Henry's Phastos comments. "It was," Thena agrees. 
The clip establishes the fact that Thena is a force to be reckoned with, but it's interesting that Kingo chooses to compare her to these two particular Avengers. Chris Hemsworth's god of thunder is an understandable enough comparison point, since Thor has always been a rather more powerful and cosmic character than most other Avengers. Name-dropping Tom Holland's friendly neighborhood Spider-Man is a rather more inspired choice from Kingo, though. Perhaps the Bollywood star is simply a fan of the web-slinging hero ... or maybe he knows something about Peter Parker's true potential that the audiences don't. 
"Eternals" premieres exclusively in theaters on November 5.