Here's What Critics Are Saying About Eternals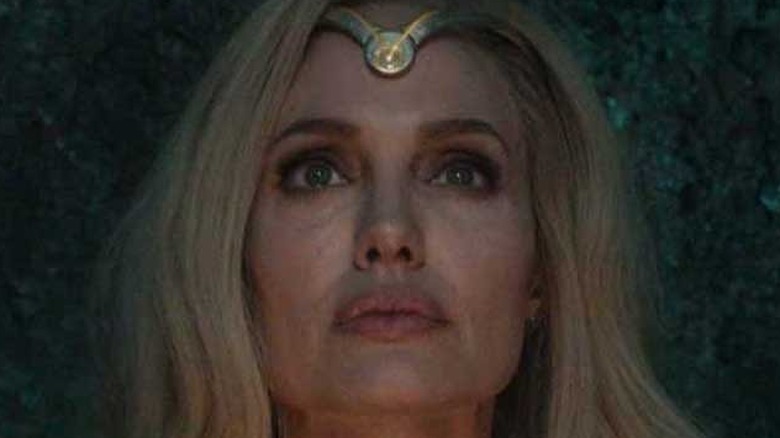 Disney/Marvel Studios
"Eternals" is closer than ever to debuting in theaters after fans of the MCU have waited well over two years for its arrival. The highly anticipated feature was first announced at San Diego Comic-Con in 2019 when Marvel Studios head Kevin Feige revealed the all-star cast and director attached to the project.
From the beginning, it was clear this would be a film unlike any other in the Marvel Cinematic Universe. Fans are being introduced to a whole new group of heroes, none of whom have appeared in an MCU movie before. With Chloé Zhao attached to direct, many suspected a visual masterpiece was on its way, especially after she nabbed an Academy Award for best director earlier this year for "Nomadland." With superstars like Angelina Jolie, Richard Madden, and Salma Hayek front and center, it seems like "Eternals" will be the MCU's next big thing.
With just a few weeks to go before its release, critics are revealing their thoughts on the movie, which they could preview a week ago. Thanks to these spoiler-free reviews, we can better understand what the rest of us are walking into when we view the film. Reactions to "Eternals" are all over the map, and here are what some of the most prominent critics and outlets in the business are saying on the MCU's newest project.
Some reviews for the Eternals are glowing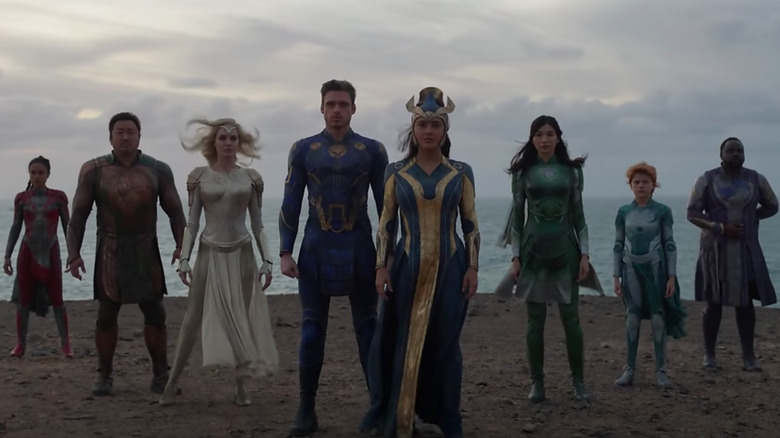 Disney/Marvel Studios
At the time of this publication, reviews were still pouring in for "Eternals," which changed its Rotten Tomatoes score regularly throughout the day. It'll be at least a week before the number holds firm, but a large part of critical response suggests the movie is going to be a spectacle. If there's one big takeaway from the "Eternals" reviews, it's that the movie is much different than its 20+ MCU predecessors.
"Utilizing [Chloé] Zhao's penchant for naturalistic environments, 'Eternals' looks unlike any other Marvel movie and is perhaps the most welcoming for MCU neophytes in forever," Brian Truitt of USA Today wrote of the feature. Wendy Lee Szany of The Movie Couple added that the film is "Visually stunning. Marvel's most ambitious film to date. Leans a bit heavier on the exposition. The most different film in the entire MCU which is refreshing."
If there is anything we can definitely take away from "Eternals", it is going to be a visual masterpiece, according to many critics. "Eternals is beautiful in its visuals and its storytelling," Josephine L. of Geeks of Color wrote. "Eternals is visually elegant thanks to Zhao's creative sensibilities," added Matt Donato of The Gist.
Other reviews for Eternals are rather disappointing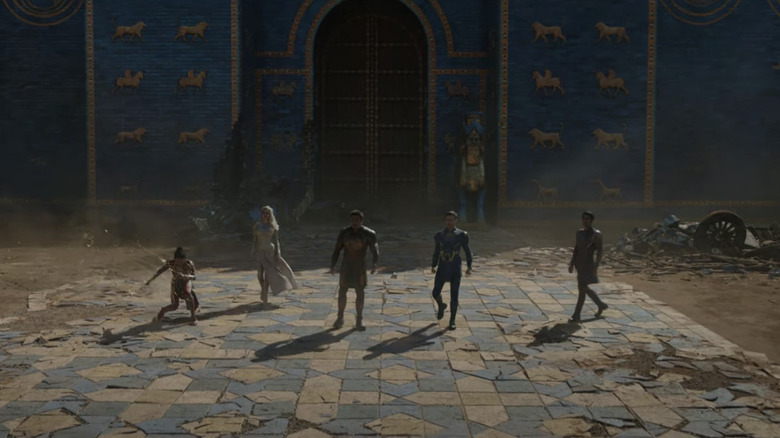 Disney/Marvel Studios
As to be expected, not all of the reviews for the film were positive. Plenty of critics had negative things to say about Chloé Zhao's latest venture. The consensus among critics who didn't like the film seems to be that while it's mediocre, it's definitely not at the bottom of the MCU library. "Eternals may not be the worst of Marvel's movies, but it's undoubtedly the most disappointing," Nicholas Barber of the BBC wrote. Did we mention those who disliked "Eternals" weren't shy about it?
It looks like "meh" all across the board from critics who felt melancholy about the feature. Steve Rose of the Guardian writes, "It's not exactly boring – there's always something new to behold – but nor it is particularly exciting, and it lacks the breezy wit of Marvel's best movies." Well, that's uh, something. To make matters worse, it looks like the film is way too long, according to several reviews. "Boy, does this patchy, paceless film go on for an eternity," Dulcie Pearce of The Sun wrote.
The negative reviews for "Eternals" shouldn't worry loyal MCU stans as there are plenty of former films in the studio's catalog that have mixed reviews from critics but are loved by fans — we're looking at you "Avengers: Age of Ultron." For now, it doesn't look like the film will boast a high score like "Black Panther," "Iron Man," or "Avengers: Infinity War." However, if its current rating number holds (73%), "Eternals" will serve as one of the MCU's lowest-rated films ever. Fans can expect that number to fluctuate a little bit in the coming days.
"Eternals" lands exclusively in theaters on November 5.