Sandra Bullock Is No Miss Congeniality In The Unforgivable
This content was paid for by Netflix and created by Looper.
After taking the streaming world by storm with her eye-opening work in the 2018 thriller "Bird Box," Sandra Bullock is bringing another powerful performance to your Netflix queue this fall in "The Unforgivable." Bullock headlines the upcoming film as Ruth Slater, a woman who struggles to return to society after serving a long prison sentence for a violent crime. Ruth faces severe judgment in the place she once called home, and her lone hope for redemption is to find the little sister she had to leave behind all of those years ago.
This gritty and emotional drama is an adaptation of the hit 2009 British television miniseries that was written by Sally Wainwright, and alongside Bullock, the film features a ton of A-list talent both in front of and behind the scenes. Here's a look at what you need to know about "The Unforgivable" before it hits theaters on November 24 and then arrives on Netflix on December 10.
A killer lead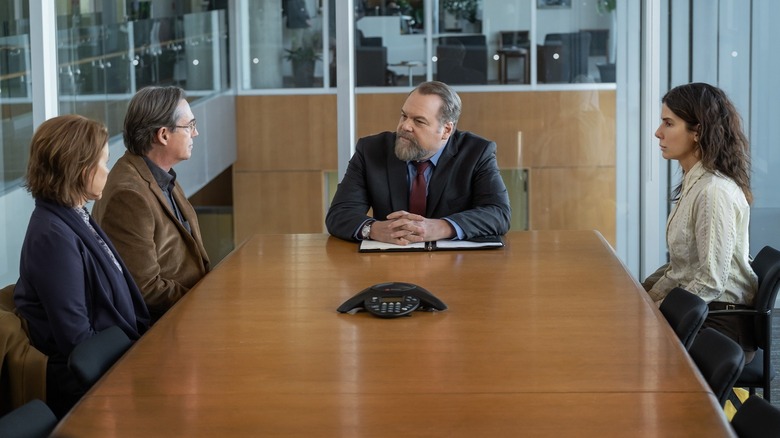 Kimberley French/Netflix
Sandra Bullock is, of course, one of Hollywood's most revered talents, with the gift of being both hilarious and heartbreaking in equal measure. The actress won an Oscar in 2010 for her uplifting work in the 2010 sports biopic "The Blind Side" and was nominated for her gutting performance in the lead of the 2013 space drama "Gravity." In both films, Bullock was a dramatic force and impressed critics and audiences alike.
But Bullock has also been a household name for decades, thanks to her breakthrough roles in unforgettable '90s action films like "Speed," "Demolition Man," and "The Net," along with some beloved romantic dramas of the era like "Love Potion No. 9," "Hope Floats," and "Forces of Nature." Even before being recognized by the Academy, Bullock proved her dramatic chops in films like "A Time to Kill" and "28 Days," and she officially became America's sweetheart thanks to her lovable leading roles in films like "Two Weeks Notice" and "Miss Congeniality." Put simply, Bullock is a top-tier actress in any genre, and any movie featuring her name in the marquee is a must-see.
The formidable co-stars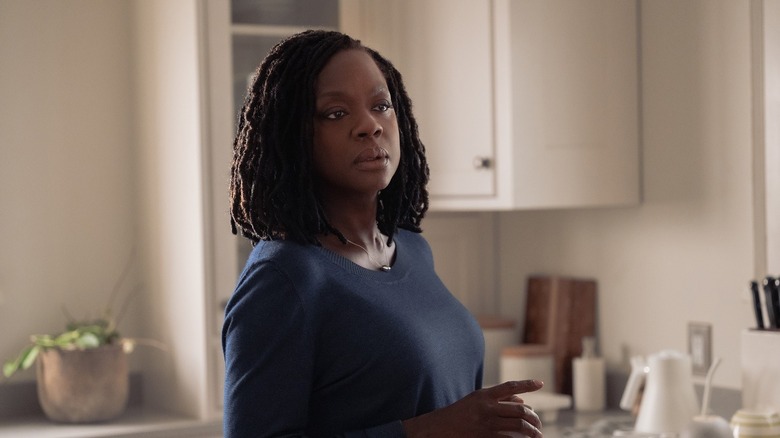 Kimberley French/Netflix
Bullock is joined in "The Unforgivable" by actor Vincent D'Onofrio, who portrays John Ingram in the film. D'Onofrio is a prolific film and television star who first made a splash in late '80s films like "Full Metal Jacket" and "Adventures in Babysitting." D'Onofrio may also be known for his big-screen work in films like "JFK," "Ed Wood," "Men in Black," and "The Cell," along with his television roles in series like "Law & Order: Criminal Intent," "Daredevil," and "Ratched."
And starring as Blake is Jon Bernthal, who's one of the most in-demand actors of the modern era. After stunning (and sometimes scaring) audiences with his breakthrough role as Shane Walsh in "The Walking Dead," Bernthal became a big-screen sensation, with standout roles in films like "The Wolf of Wall Street," "Sicario," "The Accountant," and "Baby Driver." Bernthal also continued to command the small screen in shows like "Mob City," "Daredevil," and "The Punisher." Plus, he stars in "The Sopranos" prequel film "The Many Saints of Newark."
Seminal screen star Viola Davis portrays the character Liz Ingram in "The Unforgivable." Davis is one of the most celebrated working actresses today, having earned an Oscar for her work in the 2016 film "Fences," along with nominations for her roles in "Doubt," "The Help," and "Ma Rainey's Black Bottom." She also won a Primetime Emmy for her starring role in ABC's "How to Get Away With Murder" and may also be known for her work in films like "Widows" and "The Suicide Squad."
The film's cast also features "It" and "The Americans" actor Richard Thomas as Michael Malcolm, "Lodge 49" star Linda Emond as Rachel Malcolm, and "Game of Thrones" actor Aisling Franciosi as Katherine Malcolm. There's also "Daredevil" and "Stranger Things" actor Rob Morgan as Vincent Cross, "Where'd You Go, Bernadette" star Emma Nelson as Emily Malcolm, Will Pullen as Steve Whelan, and Tom Guiry as Keith Whelan.
The behind-the-scenes team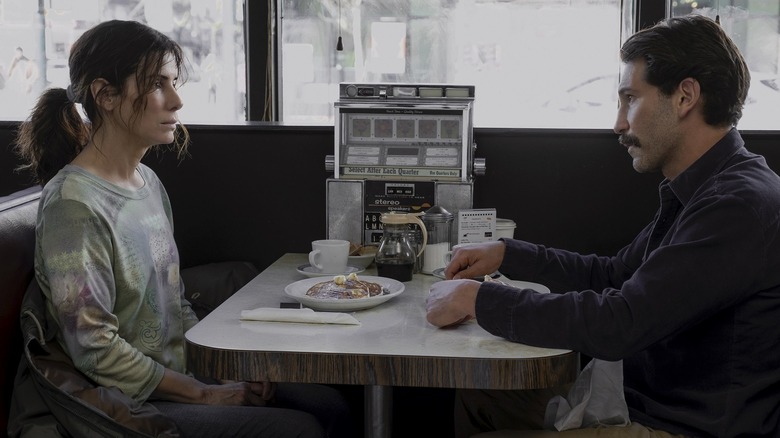 Kimberley French/Netflix
In addition to being a major screen star, Bullock has also become a major producer on many of her most notable films, and she does just that with "The Unforgivable." Meanwhile, the film is directed by Nora Fingscheidt, the German auteur who is known for films like "Boulevard's End" and "System Crasher."
The script for "The Unforgivable" was co-written by some of the most intriguing screenwriting talents as well. First up, there's Peter Craig, who may be known for his work on scripts like "The Town," "The Hunger Games: Mockingjay," and "Bad Boys for Life." There's also Hillary Seitz, who wrote movies like "Insomnia" and "Eagle Eye" and has been tapped to adapt the best-selling thriller novel "The Woman in Cabin 10." Plus, there's Courtenay Miles, who previously wrote several of the riveting scripts for the second season of "Mindhunter."
So, not only is "The Unforgivable" stacked with on-screen talent, but the film boasts some major muscle behind the scenes as well, and fans won't want to miss this gripping drama when it hits theaters and Netflix this fall.