Sarah Paulson And Lizzo Recreate An Iconic AHS Scene On TikTok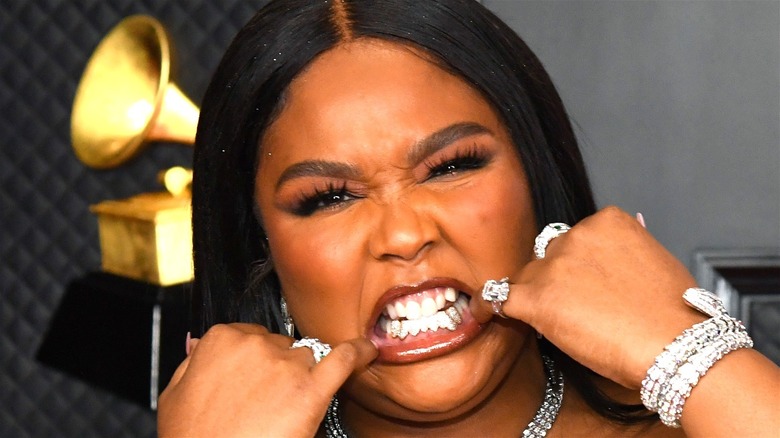 Kevin Mazur/Getty
Horror anthology series are many and varied, but few have been able to last as long and make as big an impact as "American Horror Story." For 10 seasons and a spin-off, Ryan Murphy's FX scare-fest has thrived on great characters, outlandish plots, and a borderline supernaturally talented lineup of great actors. Now, "AHS" has been running for so long and featured so many memorable characters that you might be hard-pressed to point out your favorites. However, when it comes to the best actors to repeatedly grace the series with their presence, there are certain names that are very difficult to drop from the list. 
The "American Horror Story" faithful are well aware that Sarah Paulson is one of the absolute MVP's of the show. In fact, she's been such a mainstay that you may have a hard time ranking her many "AHS" characters from worst to best. Singer Lizzo, on the other hand, might not strike you as an "AHS" regular. So, what circumstances have conspired to team up Sarah Paulson and Lizzo in order to recreate this iconic "American Horror Story" scene on TikTok? Let's find out!
Sarah Paulson and Lizzo brought Lana Winters' famous line to life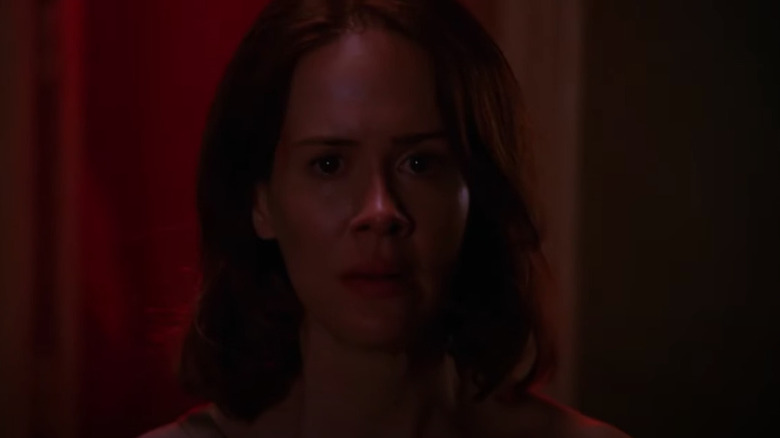 FX
The scene in question is from the second episode of "AHS: Asylum," in which Sarah Paulson's journalist character, Lana Winters, attempts to attract attention to an escape attempt by Kit Walker (Evan Peters). Lana foils the attempt with an enthusiastic and loud scream: "Help! He's escaping! The killer is escaping! Help me!"
Per Insider, the "Killer is escaping" scene has become something of a TikTok phenomenon as of late. While some actresses might take umbrage to their delivery's sudden elevation to meme status, Paulson is apparently pretty fine with the situation — so fine that she just recreated the scene with "Truth Hurts" and "Juice" singer Lizzo on the latter's TikTok. In fact, she did it no less than two times. 
The first post — which Lizzo labeled "This one?" — shows the duo lip-syncing the famous line excitedly and animatedly. The second TikTok post is labeled "Or this one?" and shows Paulson and Lizzo do the line again, only this time they look extremely bored and barely bother to open their mouths. Judging by the likes the two posts have been getting, the second post is winning by a landslide.