The Ending Of Succession Season 3 Episode 2 Explained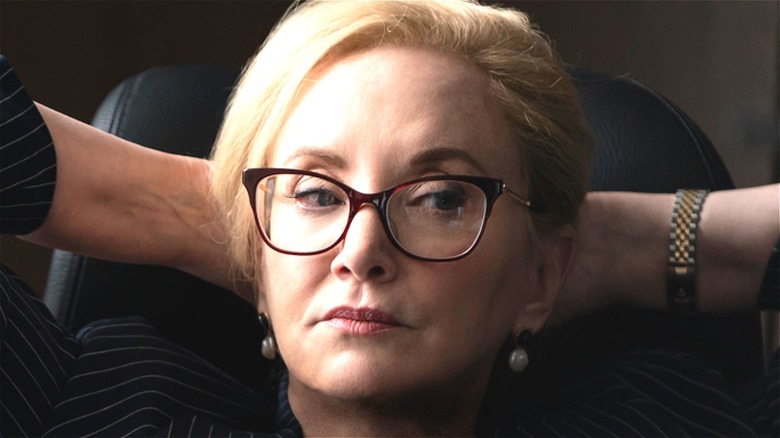 HBO
"Succession" is the critically acclaimed HBO series about a fictional family who runs one of the world's largest media companies, Waystar-Royco, and their endless struggle to determine who will take over for their ailing patriarch, Logan Roy (Brian Cox) — if Logan doesn't destroy them all first.
In the "Succession" Season 3 premiere, which aired last week, the members of the Roy family all reacted to Kendall's (Jeremy Strong) shocking decision at the end of Season 2, when he announced that Logan was aware of the sexual harassment and coverup at Waystar-Royco cruise line division. By the end of the Season 3 premiere, Kendall had outmaneuvered his father to secure the services of top lawyer Lisa Arthur (Sanaa Lathan). Meanwhile, Logan chose his general counsel, Gerri Kellman (J. Smith Cameron) to be the interim CEO after he steps down amid the scandal — slighting his son Roman (Kieran Culkin) and daughter Siobhan (Sarah Snook).
But Kendall's victory was short-lived. In Season 3, Episode 2, "Mass in Time of War," the story picks up with Kendall holding a meeting with his Roman, Siobhan, and Connor (Alan Ruck) to try to persuade them to join his side and declare their father mentally unfit to continue as the CEO, all while Logan tries to manipulate events from the outside. In the end, Kendall can't sway his siblings, leaving him in a more vulnerable position than he was before. 
A box of doughnuts isn't just a box of doughnuts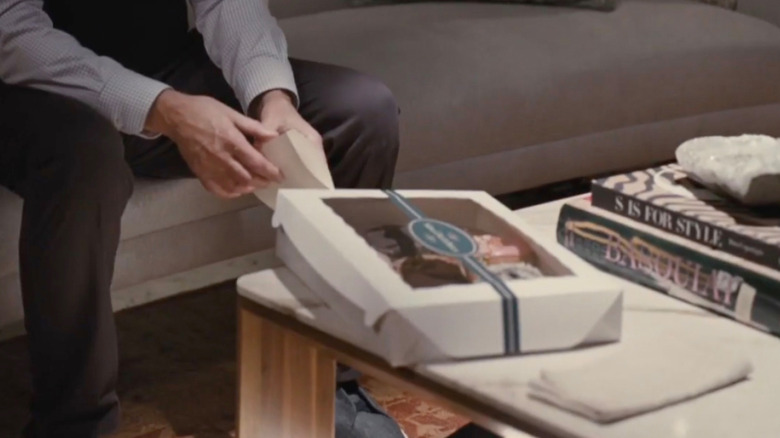 HBO
After Kendall makes his pitch, Shiv and Roman consider their options. But what finally pushes them to turn down their brother is the arrival of a box of doughnuts, courtesy of their father. It comes with a note encouraging them to "enjoy their tea party."
As Roman says moments later, these aren't just doughnuts, they're "relevant" doughnuts. The Roy kids joke that the doughnuts probably aren't poisoned, but this is a way to defuse the tension that the doughnuts make them all feel. These doughnuts are a symbol of the power that Logan holds over his children, both literally and psychologically. By ordering them fancy doughnuts all the way from Bosnia, Logan is demonstrating his long reach and his perpetual vigilance. Nothing escapes his notice. The Roy kids all realize that their father must know exactly what they're up to, even though he's thousands of miles away.
The accompanying note is just the icing on the rancid pastry. Logan is once again belittling his children by treating their behind-the-scenes machinations as one big game. Logan has always bullied his children, and this is just the latest example. As critic Emily VanDerWerff at Vox pointed out, the Roy children are all shaped by decades of abuse at the hands of their father. This box of doughnuts and its note are one more put-down, a reminder of that trauma. This reminder is the reason why Connor, Shiv, and Roman ultimately back down, no matter what actual reasons they give.
Kendall shows who he really is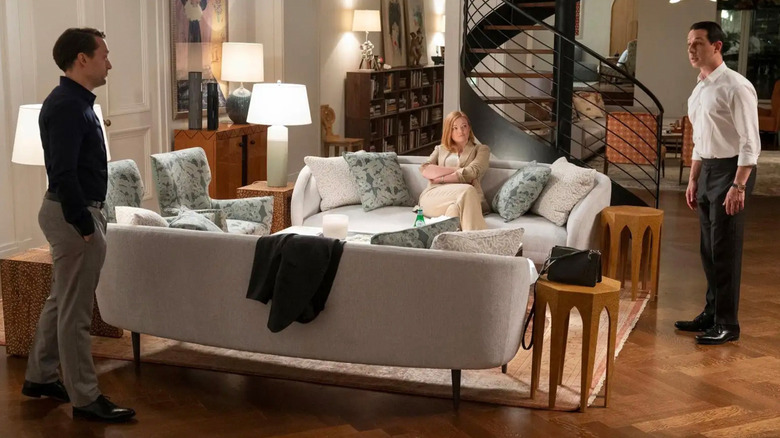 HBO
Earlier in this episode, while making his pitch to his siblings, Kendall tries to sell them on the possibility that they'll reform Waystar-Royco's sordid reputation. He imagines the future of the company as an "omni-national" information hub that works to make the world a better place. Of course, Kendall's noble experiment comes with the caveat that he has to be the one in charge when they take over the company, making it clear that this is about power, not idealism.
Later, when his siblings turn down his offer, he berates and bullies them just like his father would. The language Kendall uses is not coincidentally very similar to how Logan belittles all of his children. Kendall calls Connor "unwanted," which is how Logan constantly makes Connor feel. Kendall calls Roman a moron, which Logan has called Roman verbatim before. Finally, Kendall spews hateful misogyny at Shiv, telling her that she's only valuable for the sake of inclusivity. Even Logan has never been this direct with his misogyny, but Kendall makes it explicit.
And this is why his pitch ultimately fails. Contrary to his lofty words about Waystar-Royco's future, Kendall is proving himself to be just another version of their father.
Cousin Greg does Cousin Greg things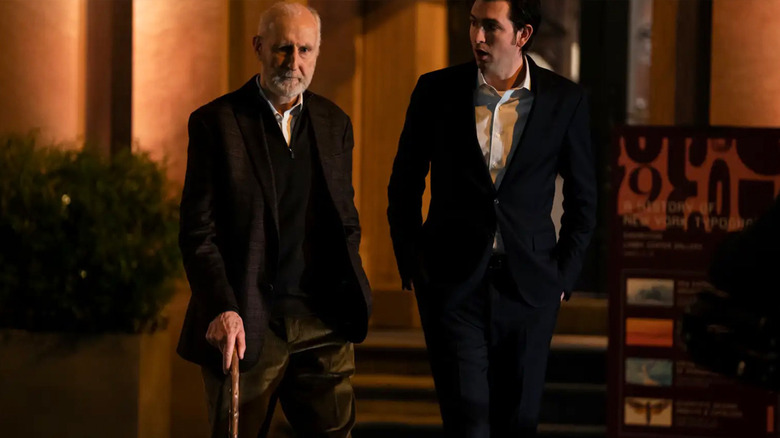 HBO
In the B-story of this week's episode, Cousin Greg (Nicholas Braun) flails around trying to protect himself in the wake of Kendall's revelation about Logan. Back in Season 2, Greg played an unwitting role in helping Tom (Matthew Macfayden) cover up the Waystar-Royco cruise line scandal. Now, realizing he's in jeopardy, he looks for legal protection. After considering working with lawyers provided by both Kendall and Logan, Cousin Greg ultimately turns to the only person he thinks he can trust, Ewan Roy (James Cromwell), his grandfather and Logan's brother.
Ewan has been watching the whole scandal unfold from the sidelines. His politics tend to run liberal, so he's always been opposed to what his brother and his company stand for. However, he also doesn't approve of Kendall's decision, which he correctly believes Kendall did for selfish reasons. And in this episode, we learn that Ewan can be just as ruthless and manipulative as Roy.
Ewan introduces Greg to a lawyer friend, Pugh (Peter Riegert). Pugh tells Greg that his top priority is Greg's wellbeing, but in the next breath says that their other priority is to expose the "structural contradictions of capitalism, as reified in the architecture of corporate America."
Pugh and Ewan basically tell Greg to his face that they're going to use him to bring down Logan, and that they don't care if he loses everything in the process. Greg, hapless as ever, goes along with it. It's not new information to discover that Greg has no idea what he's doing, but this storyline is shaping up to be a big factor in the rest of Season 3. Kendall isn't the only Roy that Logan has to worry about, and Greg might be the most important character as the scandal unfolds. 
Shiv's position improves. Or does it?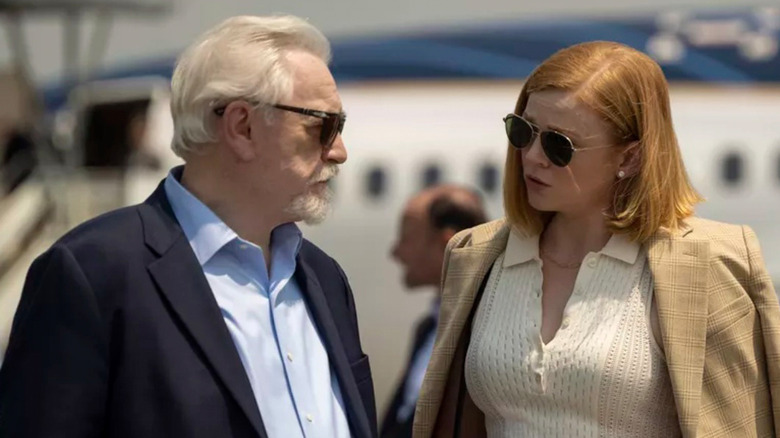 HBO
The episode ends with Logan returning to the United States from his brief self-exile to Bosnia. After snubbing Gerri by refusing her handshake on the tarmac, he tells Shiv that he's making her the president of Waystar-Royco.
This is a major reversal of Shiv's position from last week, when Logan denied Shiv the interim CEO position after she failed to secure Lisa Arthur's services. It also seems like Logan is giving Shiv the one thing she's always wanted — a position of authority at the company, but really, to be treated like an equal. 
But this might not be the coup that it appears. Shiv isn't being rewarded for competence or loyalty — the failure to bring in Arthur is fresh in Logan's mind, and she ultimately chose to stick with her father knowing Kendall's cause was doomed. 
Based on how Logan just treated Gerri, he's made it entirely clear that he views her as disposable, someone to be cast aside when the political climate is better. Logan tries to reassure Shiv that her position won't be ceremonial and that she'll avoid being tainted by scandal. But he also tells her that he needs to put a member of the family in charge for the sake of accountability. That makes it likely that Shiv is being set up, too. It wouldn't be the first time Logan tries to sacrifice one of his children. He just did the same thing to Kendall at the end of Season 2, which is how the current mess started.

If you or anyone you know has been a victim of sexual assault, help is available. Visit the Rape, Abuse & Incest National Network website or contact RAINN's National Helpline at 1-800-656-HOPE (4673).