Twitter Is Freaking Out Over The New Logo For Ant-Man And The Wasp: Quantumania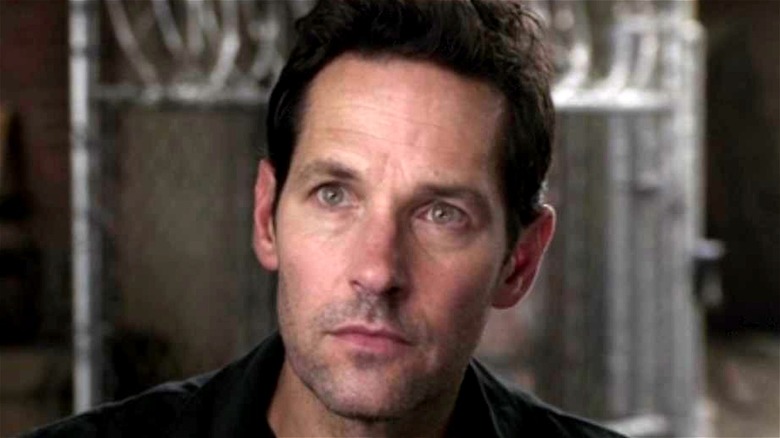 Marvel Studios/Disney+
The upcoming third "Ant-Man" movie is going to be called "Ant-Man and the Wasp: Quantumania," but you would never know that's the title from a new set image showing what's purported to be the film's logo.
"Ant-Man and the Wasp: Quantumania" is slated to come out in the summer of 2023. Paul Rudd and Evangeline Lilly will return as Scott Lang and Hope van Dyne, and will be joined by Jonathan Majors as Kang the Conqueror, the iconic Marvel villain introduced into the MCU in the series "Loki." Production on the film is underway now.
An unconfirmed image from the set sent from a since-deleted account supposedly belonging to a crew member started making the rounds on Twitter over the weekend. The photo is of a director's chair with the "Ant-Man and the Wasp: Quantumania" logo printed on the back. And according to CBR, Marvel fans have been having a laugh over the incomprehensible way "Quantumania" is written on the chair. We haven't seen a movie title this hard to read since Tom Holland's "Cherkk" — nor have we seen Twitter roast a movie logo so savagely.
Ant-Man and the what?
Twitter users have been cracking jokes about the "Quantumania" logo, which looks to us like it was written by someone who lied on their resume about being fluent in Georgian. It's a string of lines and circles that kind of looks like letters.
"I'm so excited to see Ant-Man and the Wasp: Ooobuboboo," joked Orville Atari.
"Yeah can I get two tickets for Ant-Man and the Wasp: ⌘︎◆︎♋︎■︎⧫︎◆︎❍︎♋︎■︎♓︎♋︎ please," cracked @AriRELK.
"Ant-Man and The Wasp and The Kid Who Just Figured Out What Fonts Are On Microsoft Word," wrote @Timemaster131. He's right — it looks like it's written in Wingdings.
There's obviously a reason why "Quantumania" is written this way. Fan account @bestofwasp astutely pointed out that it could mean the language of the Microverse from the comics will be in the film. The Microverse is the tiny parallel universe known as the Quantum Realm in the MCU that's so small it's not part of our universe. Scott Lang can shrink down small enough to access it.
We don't know much about the plot of "Quantumania" yet, but projecting that this language will appear in the film seems reasonable.