Isekai Quartet Season 3 - What We Know So Far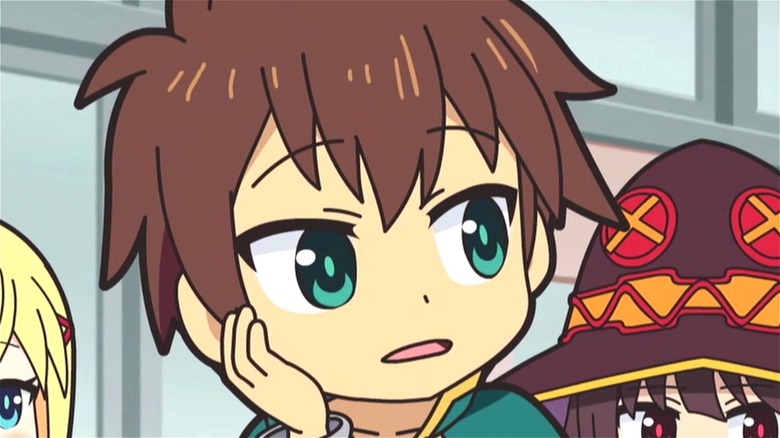 Studio Puyukai
One defining feature when it comes to the world of modern anime is the prevalence of the isekai genre. When normal people from our world are transported to a fantasy realm, there are many potentially interesting stories just ripe for the picking. Shows like "Re:Zero," "KonoSuba," and "Overlord" are all based on the fantasy of traveling to another world, yet all of them bring something unique that sets them apart from the legions of other isekai that surround them. However, these shows have only scratched the surface of their true potential.
As the makers of these anime (plus "The Saga of Tanya the Evil") discovered in 2019, you can get exponentially more value out of these franchises if you simply combine all of them into one ensemble cast. It is the same concept that peanut butter and jelly have been proving for decades. The power of crossovers should never be underestimated. Thus, "Isekai Quartet" was born, a crossover series featuring cutesy little chibi versions of anime's most popular isekai characters.
Both the first and second seasons of this spinoff series resulted in resounding success, so much so that the series is receiving its own movie, "Isekai Quartet: Another World." On top of that, Season 3 is well on its way. Although not much is known about the third season, there is still plenty of room for viable speculation. With that in mind, here is what we know so far about "Isekai Quartet" Season 3.
What is the release date for Isekai Quartet Season 3?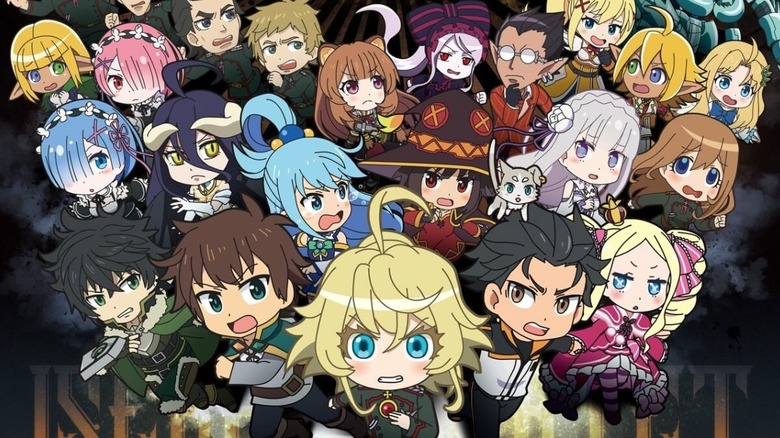 Studio Puyukai
Unfortunately, the animation studio behind "Isekai Quartet," Studio Puyukai, has not revealed when Season 3 of the series will be released. However, this is likely to reserve fan hype for the upcoming "Isekai Quartet" movie, which is set to release sometime in 2022 (via Anime News Network). In all likelihood, fans will learn more about Season 3 leading up to, and possibly after, the movie's release. This means that Season 3 could come out as early as late 2022, or sometime in 2023.
Thankfully, the show's staff did confirm a third season during the final episode of Season 2 (via Funimation). Likewise, the aforementioned estimated release schedule is supported by the series' past releases, which included a roughly year-long gap between Seasons 1 and 2. Assuming the "Isekai Quartet" film is treated as another season, that allows for one entry in the series per year. Of course, things could always happen to disrupt that delicate process. However, it is a safe assumption to make until Studio Puyukai says otherwise.
Who are the characters in Isekai Quartet Season 3?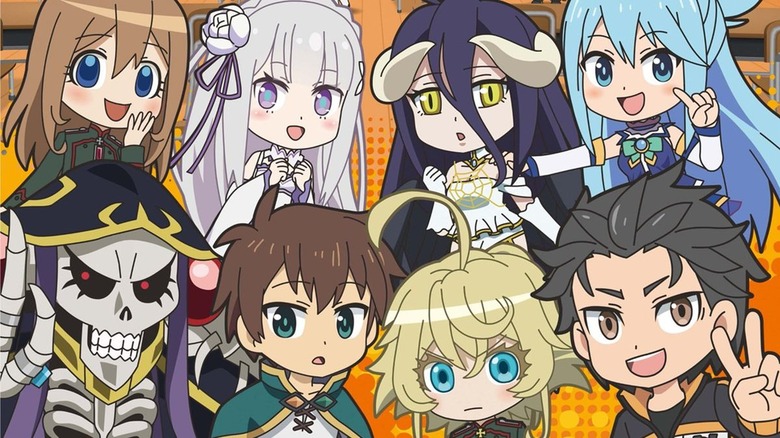 Studio Putukai
The original first season of "Isekai Quartet" features the main cast of four different isekai franchises, hence the term "quartet." These are "KonoSuba" (which includes protagonist Kazuma and the three main girls, Aqua, Darkness, and Megumin), "Overlord" (Ainz Ooal Gown, along with companions such as Albedo and Shalltear), "The Saga of Tanya the Evil" (the eponymous Tanya and her allies from the Imperial Army), and "Re:Zero" (Subaru, Emilia, Ram, and Rem). Various other characters from each series also appear throughout certain episodes.
Even with that extended cast, the series still has room to grow. Season 2 of "Isekai Quartet" upgrades the show into more of a quintet by adding characters from the series "The Rising of the Shield Hero," including protagonist Naofumi and his raccoon-lady companion, Raphtalia. Certain characters from the series "Cautious Hero" also make cameo appearances.
What these previous additions prove is that Season 3 has the opportunity to involve even more popular isekai characters in the series. While Studio Puyukai has not confirmed if the show's cast is set to grow again, many fans would be happy to see characters from franchises like "Jobless Reincarnation" or "That Time I Got Reincarnated as a Slime."
What is the plot of Isekai Quartet Season 3?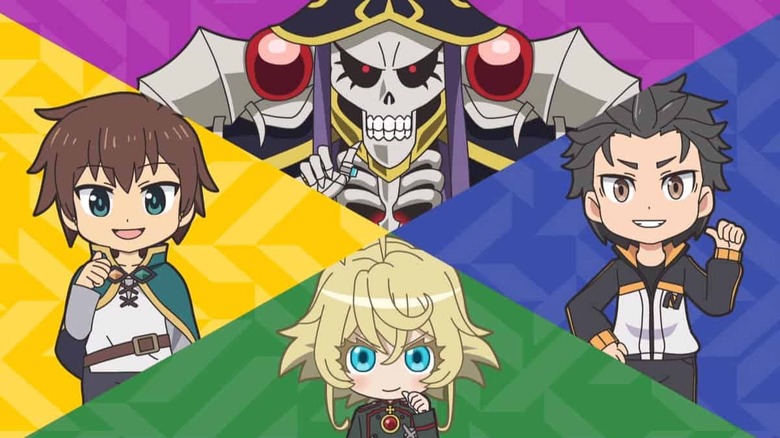 Studio Puyukai
As a lighthearted spinoff series, "Isekai Quartet" doesn't necessarily have one strict plotline. The show begins with each of the protagonists happening upon a mysterious button that, upon being pressed, sends them to another brand-new world. This time, most of their adventures take place within the confines of a high school. As such, many of the episodes revolve around common high school anime tropes.
In Season 2, the mixed medley of isekai heroes find themselves preparing for their new school's yearly festival, trading Valentine's cards, and swiping booze from their principal's office. One can expect similar shenanigans to go down when all of the crews come together once more in Season 3. Whatever the case, the adventures of the "Isekai Quartet" gang will be as fun and lighthearted as ever, a far cry from the dismal tragedies of their previous worlds.