What Lavender From Matilda Looks Like Today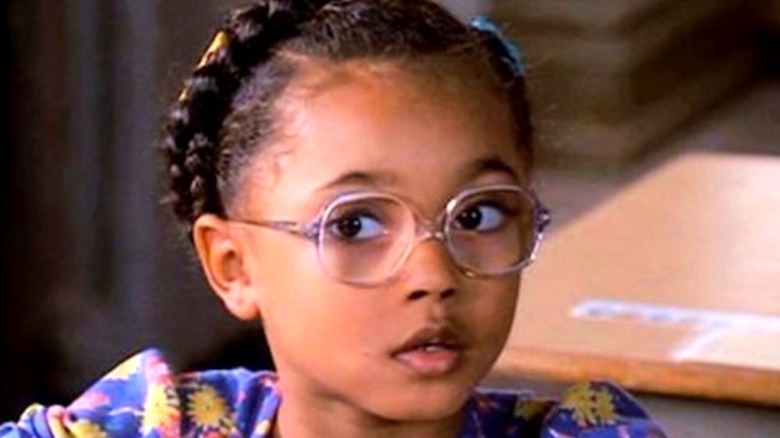 Sony Pictures
"Matilda" is a childhood favorite for many, thanks to its sense of childhood wonder and its oh-so-lovable star. The film debuted in theaters in 1996 and was based on the classic children's novel of the same name by Roald Dahl. Directed by the internet's beloved Danny DeVito, "Matilda" starred Mara Wilson in the titular role alongside Rhea Perlman, Embeth Davidtz, Paul Reubens, Pam Ferris, Kiami Davael, and DeVito. The film did not leave that big of a mark at the box office, making only $33.4 million domestically off of a $36 million budget (via Box Office Mojo). However, it has since garnered a huge following of fans, and the classic story has gone on to become a hit Broadway musical that even has a film adaptation in the works at Netflix, with "No Time To Die" star Lashana Lynch and Emma Thompson in the cast (via Variety).
While many still know Wilson's name despite the fact that she isn't acting as much as she used to, many have wondered about what Davael, who played Matilda's precocious best friend and classmate Lavender, has been up to since she appeared in the film.
Matilda's Kiami Davael has changed a lot through the years
"Matilda" was Kiami Davael's first major role, and after the film's release, she mostly stuck to guest spots on television. After "Matilda," she guested on "Moesha" and "The Steve Harvey Show," among other programs. Her last acting appearance was in the 2000 comedy "Bruno" opposite Alex D. Linz; since then, she has mostly stepped away from the limelight. 
Davael no longer sports those large glasses and the red hair bow that she wore in "Matilda," as can be seen on her frequently updated Instagram account. On the platform, she shares posts about her career as a rising stand-up comedian, as well as pictures of her doting nieces and nephews. Davael is also making her way as a singer and songwriter, model, and writer. Additionally, she's outspoken about her strong Christian faith, which she often discusses on social media. In 2015, she reunited with her "Matilda" co-star Wilson, sharing a cute selfie with her (via Twitter). Even if she's not in front of the camera anymore, Davael is clearly living her best life.