The Character Everyone Forgets Abigail Breslin Played On Grey's Anatomy
Ga Fullner/Shutterstock
Throughout the 18 seasons of "Grey's Anatomy," some impressive actors have played characters who have been admitted to Grey Sloan Memorial Hospital — or Seattle Grace Hospital as it was originally known. For instance, in Season 3, Episode 3, "Sometimes a Fantasy," Academy-Award-nominated actress Abigail Breslin impressed "Grey's Anatomy" fans with her portrayal of an elementary school student named Megan Clover, whose foster parents take her to the hospital. 
The girl's foster mother informs Dr. Alex Karev (Justin Chambers) that she sustained an injury on her leg after she "fell on the playground." After Dr. Karev dismisses her foster parents, he realizes that she has a few other injuries, including a deep laceration, which she had stapled in an attempt to heal it. The doctor immediately suspects that her foster parents inflicted these wounds. However, Megan asserts they would never cause her any harm. The girl then reveals that she "can't be hurt" and demonstrates her high pain tolerance by ripping her staples out before sharing she believes she possesses "superpowers."
Abigail Breslin's Grey's Anatomy character had to be operated on
In the episode, Dr. Miranda Bailey (Chandra Wilson) instructs Dr. Karev to "run a cold pressor test ... to test her response to pain." After Breslin's character does not react to the ice water, the doctor realizes she is not lying about her lack of pain response. The child then shares that she recently had to prove herself to her classmate by allowing him to "punch [her] in the stomach 25 times ... and once with a baseball bat."
Megan's admission regarding the baseball bat alarms Dr. Karev, who demands a CT scan. During her scan, Dr. Bailey and Dr. Addison Montgomery (Kate Walsh) diagnose the child with a "chronic intolerance to pain" and realize that she is "bleeding internally." Before they can prepare her for surgery, however, Megan goes missing. Once Karev finally locates Megan, she explains that she is concerned her diagnosis will cause her foster parents to "send [her] back" into the system. The doctor assures her that the notion "is stupid" and that "nobody sends back a superhero." The child ends up going through with the operation, which is successful.
Abigail Breslin has starred in numerous projects since playing Megan Clover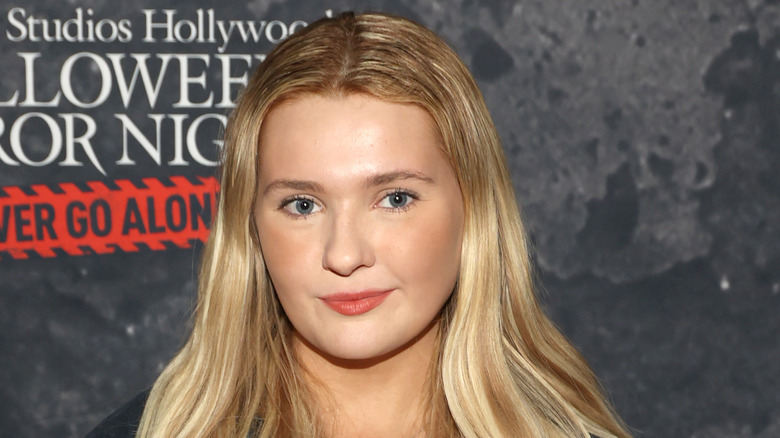 Rich Polk/Getty Images
According to IMDb, Abigail Breslin had been working in the entertainment industry for seven years before securing a guest spot on the "Grey's Anatomy" episode, which aired in 2006. Since playing Megan Clover, the 25-year-old has shown off her acting skills on popular projects like "Definitely, Maybe," "Zombieland," and "Scream Queens." Her most recent role was that of Allison Baker, a young woman who is believed to have murdered her French girlfriend, in "Stillwater." The actress discussed the film during an August 2021 interview with Entertainment Studios. Breslin shared that she "was so excited to work with Tom [McCarthy]," who co-wrote and directed the movie, as well as Matt Damon, who portrayed Allison's father, Bill Baker. She noted that she was also drawn to "the story," which she described as "very complicated."
While speaking to Entertainment Studios, Breslin noted that she found certain aspects of her character relatable. "I think it's just her, you know, trying to stay hopeful in the midst of such a crazy experience and such difficult circumstances was I think that a lot of people can relate to," she said.