The Lizzy Caplan Workplace Comedy That Has Netflix Subscribers Cracking Up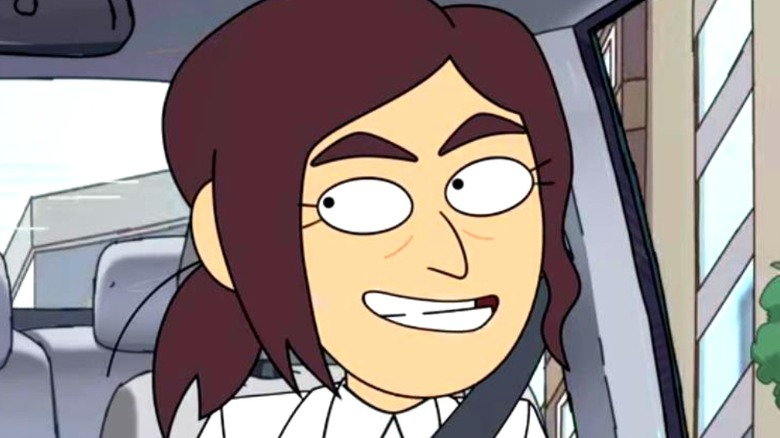 Netflix
Thanks to a little thing called the internet, conspiracies are more rampant than ever before. Sure, you always had your classics, like how the moon landing actually didn't happen, but it took quite a while and a lot of convincing for a conspiracy to spread before Reddit forums existed devoted to how lizard people run the world. Conspiracies, and people's readiness to believe them, can become dark quickly, so it's nice that the latest animated sitcom on Netflix takes a more lighthearted approach to the world of deception.
From executive producer Alex Hirsch, the creator behind "Gravity Falls," comes "Inside Job." As the name suggests, the show takes place in a world where every conspiracy theory is true. It's up to an elite team of professionals to prevent the world from figuring out they're confirmed by any means necessary. Leading the charge is Reagan Ridley (Lizzy Caplan), who has her hands full more often than not with her cabal of coworkers. For anyone with a twisted sense of humor, "Inside Job" is must-see T.V. if for no other reason than it's the only show currently on the air that's made Mothman a recurring character.
Inside Job makes paranoia fun
Reagan doesn't exactly have the best people skills in the world. Still, she's a genius who takes the job seriously. It often puts her in charge of her irresponsible associates, including Dr. Andre (Bobby Lee), who gets high off narcotics regularly, and Magic Myc (Brett Gelman), a psychic mushroom that's a real jerk to everyone in the office. The voice cast also includes the likes of Christian Slater, Clark Duke, John DiMaggio, and Tisha Campbell. 
The best part about "Inside Job" is that it looks and feels like "Gravity Falls," provided it was made for adults. We could always use more "Gravity Falls" magic in life, so that's absolutely a good thing, and critics seem to agree. The show has earned praise upon release, including this passage from Chris Vognar's review on The San Francisco Chronicle: "It's emotionally wise and sincere, and completely bonkers in a free-associative way that makes you wonder if Dr. Andre was hanging out in the writers' room. But it absolutely works."
Netflix has seen great success with adult-oriented animated comedies along the lines of "Big Mouth" and "F Is For Family," and "Inside Job" absolutely deserves to be in those ranks. Netflix has ordered 20 episodes of the series (via Time Out), but you can watch the first 10 on the platform now.