Why Alexander Ludwig And Lucy Fry's Scenes Were So Charged In Night Teeth - Exclusive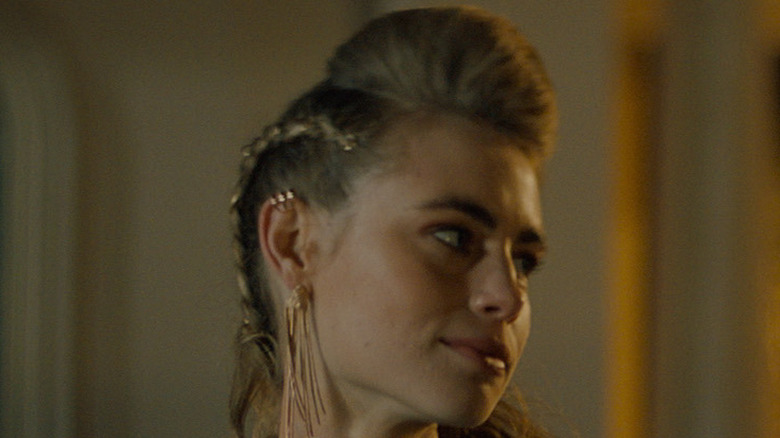 "Vampire Academy" alum Lucy Fry is donning another set of fangs in her new Netflix film, "Night Teeth," but she isn't the only star taking her biting charm to the undead. When Fry's character Zoe isn't tearing open the throats of unsuspecting humans, she trades in her bloodlust for straight-up lust with characters like Alfie Allen's Victor and Alexander Ludwig's Rocko. 
Zoe's love life may consist of murky shades of drama and subterfuge, but things on set were a whole lot more carefree. In fact, ad-libbing wasn't only tolerated but encouraged — and some of the best lines in the film came from spur-of-the-moment acting choices from the cast.
During an exclusive interview with Looper, Lucy Fry dished on what it was like working with Alexander Ludwig and Alfie Allen and which actor ad-libbed the most on the "Night Teeth" set. She even revealed which impromptu moment spawned a cast-wide inside joke during the rest of filming. 
A fang-studded cast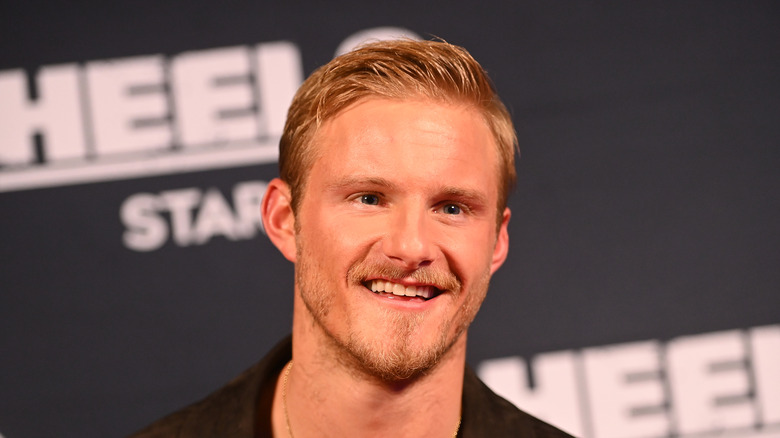 Paras Griffin/Getty Images
On what it was like working with Alexander Ludwig and Alfie Allen, Fry said, "Amazing. They're both incredible actors, and they both really brought a lot to their characters, who are so different. And yeah, I had so much fun filming the scenes with Alexander Ludwig. We actually have the same acting coach and work in the same method." Who says Hollywood is a big town? She added, "So when we had our scenes together, they were really charged because we were both using the same process. And it felt like so much fun to have that shorthand understanding together. And he made a lot of jokes and things that weren't originally in the script. We all loved that." Well, the final product certainly boasts of some delightfully cheeky ad-libbed dialogue. 
Fry reminisced, "The four of us, Debby, Jorge [Lendeborg], and Alex, and I, had a blast. And with Alfie too, he came and the scenes where he was there, he was just so poised, and so kind, and so prepared, and so powerful in what he brought to Victor and such a kind, kind human. And yeah, I really, really loved working with him."
Alexander Ludwig is not that kind of girl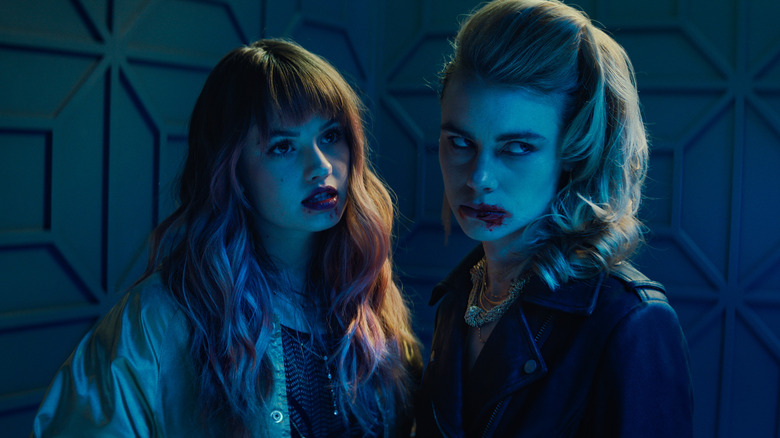 Netflix
On specific ad-libbed scenes, Fry was ready to spill the tea. She explained, "Well, I feel like Alex, he just had some one-liners. His line 'surprises are tight' — when I read it in the script, I was like, 'How's that going to work?' And the way he did it, it just really took off." No one can rattle off a one-liner quite like Ludwig, Fry confirmed.  "And it's such an eccentric film, and the way he did it, I was like, 'Oh, that's amazing. That's so fun.' And so for the rest of filming, we all would make jokes about 'surprises are tight.'" It's always impressive when an improvised line because an on-set inside joke for the rest of filming. Well done, Ludwig.
That wasn't the only ad-libbed line. "And there's even one where they rocked up in the middle of the night, and he's like, 'I'm not that kind of girl.' As if we're all there to take advantage of him," Fry noted. "And we're kind of like the characters are in a way, so the joke worked into it. And yeah, he just was very present. In the way that he worked, it was very much just like 'let's see what happens' and ... yeah."
Fans can watch "Night Teeth" on Netflix now.