The Ending Of American Psycho 2 Explained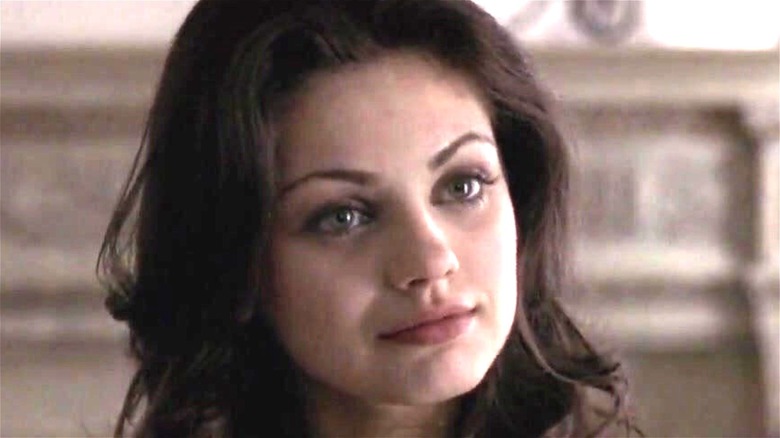 Lionsgate Home Entertainment
With a 0% on Rotten Tomatoes and a slew of scathing reviews, the oft-forgotten "American Psycho 2," aka "American Psycho II: All American Girl," is considered one of the worst sequels of all time. A follow-up to Mary Harron's critically-acclaimed adaptation of Bret Easton Ellis' "American Psycho," this film stars Mila Kunis as a young woman known as Rachael Newman, who, as a child, effortlessly put an end to Patrick Bateman's murderous reign.
Kunis' character is studying criminology with the end goal of getting into Quantico and joining the FBI. Determined to become the T.A. of Professor Robert Starkman (William Shatner), a former detective who worked on the Bateman case, Rachael begins to kill anyone who stands in her way.
When Dr. Eric Daniels (Geraint Wyn Davies), the school psychiatrist, recognizes her as a sociopath, however, her plans begin to go awry. After a series of student killings end with Starkman going missing, Daniels works with the police and nearly catches Rachael in a car chase.
"American Psycho 2" ends with Rachael presumed dead after her car goes over a cliff and catches fire with the bodies of Starkman and the real Rachael Newman in tow. Two years later, Daniels is on a book tour for his research on the killings when "Rachael" reappears as Agent Elizabeth McGuire at Quantico. She coyly reveals her crime to him, musing about how unfair it would be to commit the perfect crime without a witness.
Who is Rachael Newman?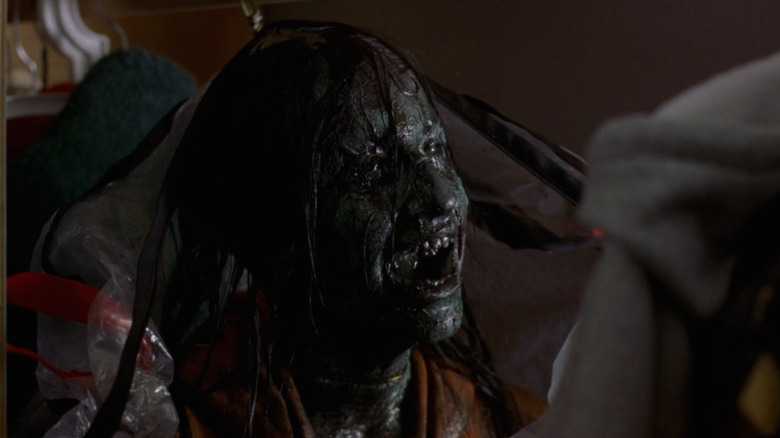 Lionsgate Home Entertainment
Throughout most of "American Psycho 2," all we know about Rachael Newman is that she killed Patrick Bateman with an ice pick when he was dissecting her babysitter and that, as a result, she's a fiercely devoted criminology student with rigid goals. She'll do whatever it takes — even if it means microwaving a cat named Ricky Martin and strangling a classmate with a condom.
However, toward the end of the film, it's revealed that "Rachael" isn't who she says she is. Her true identity is unknown, but the real Rachael Newman was an orphan who had yet to make friends in college. Kunis' character befriends her and kills her, leaving the body rotting away in what becomes their dorm closet.
The questions around Rachael's identity are a nod to the confusion around Bateman's identity, though "American Psycho 2" is much less trippy than its predecessor. It's also more on the nose, with Rachael's parents asking why Daniels kept calling her by the wrong name when he bumped into them over spring break.
By stealing this unknown young woman's identity, Rachael sets someone else up to take the fall for her murder spree. When she faked her death, burning the car was necessary so that the bodies of Starkman and the real Rachael had to be identified through dental records. That way, she could walk away and continue on her journey toward Quantico.
What was the killer's motivation in American Psycho 2?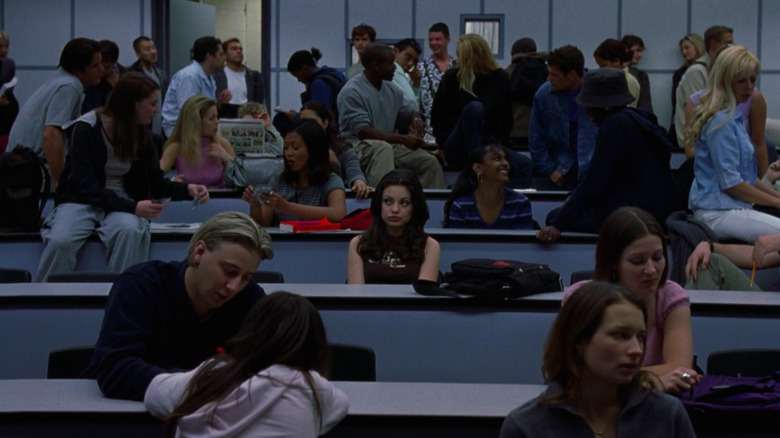 Lionsgate Home Entertainment
Beyond exposing Rachael's natural inclination to kill, the opening scene of "American Psycho 2" becomes more significant once she tells Starkman what she was doing at Bateman's apartment in the first place. As the professor spirals into a drug-fueled daze over the death of his mistress, Rachael reveals that her now-dead babysitter, Clara, was one of Starkman's other mistresses.
Clara had looked through Starkman's case files and found herself drawn to Bateman's looks and wealth, apparently thinking she could fix the deranged serial killer. Of course, that wasn't the case, and the girls found themselves on the verge of being murdered. While Clara became one of his many victims, something came over Rachael, and she escaped.
"As soon as I was free, I got really p***ed. I mean, he was about to make a real mess of my babysitter. So, I did what I believe many of you would do in similar circumstances. I took matters into my own hands, and it changed my life forever," she narrates in a flashback.
This sparked her lifelong obsession with serial killers and Starkman, who gave up on his FBI career after learning who the final victim was when the case fizzled out. When the plan to get the T.A. position doesn't materialize, she reroutes and presumably murders, then assumes the identity of Elizabeth McGuire, Starkman's current T.A. and an incoming student at Quantico. Rachael relishes being able to commit foolproof crimes, believing this will make her an impressive FBI agent.
How does this sequel connect to American Psycho?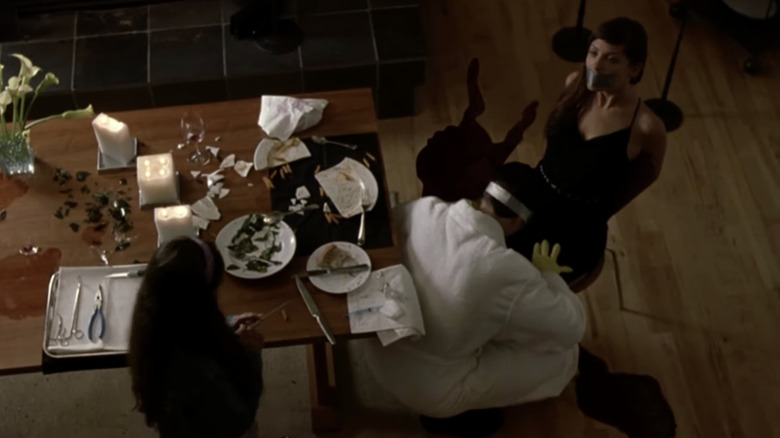 Lionsgate Home Entertainment
According to Mila Kunis, "American Psycho 2" wasn't meant to be a sequel to "American Psycho." In a 2005 interview with MTV, she admitted that she was embarrassed by the film and was upset at the prospect of a third film. "When I did the second one, I didn't know it would be 'American Psycho II.' It was supposed to be a different project, and it was re-edited, but, ooh ... I don't know. Bad," she told the outlet.
Director Morgan J. Freeman has said the Patrick Bateman storyline was added to the film during production to capitalize on the success of the original film. The initial script was titled "The Girl Who Wouldn't Die," which seems more in line with Rachael's ever-shifting identity and ability to fake her death (via The Guardian). "To be honest, it was a good paycheck and I had a lot of bills," the "American Psycho 2" director would go on to say.
Unsurprisingly, the author of "American Psycho" was also unimpressed by the sequel. "If they're not careful they could end up with something like The Pink Panther movies. I've sold the rights, but I really don't know how they ended up with all of these rights," Bret Easton Ellis told the New York Post (via IGN).
He went on to say that he views his book as separate from their adaptations. "So far, none of these movies has blotted out the book for the reader," he said.