The Real Reason Andy Is Missing From These Parks And Recreation Episodes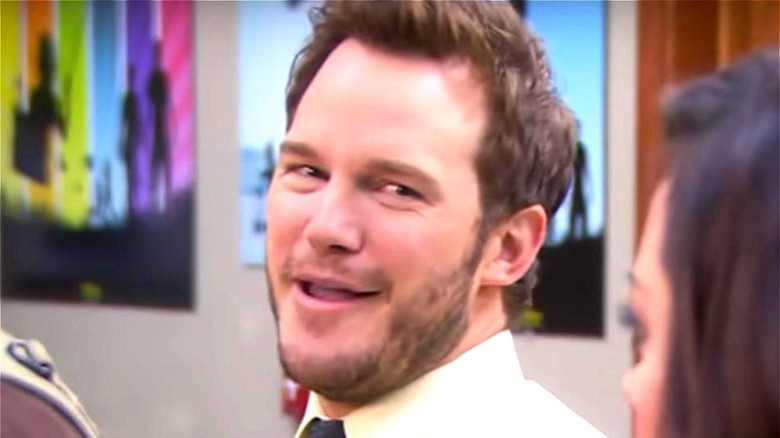 NBC
It's easy to deal with an actor who wants to leave your television show for good: You just hit their character with a car. 
Okay, fine, there are technically myriad ways in storylines to get rid of cast members — they can take a new job, or move to be with a love interest — but vehicle collisions have proven a dependable method across a range of different shows. Marissa (Mischa Barton) in "The O.C.," Derek Shepherd (Patrick Dempsey) in "Grey's Anatomy," George O'Malley (T.R. Knight) in "Grey's Anatomy," Matthew Crawley (Dan Stevens) in "Downton Abbey," Rayna Jaymes (Connie Britton) in "Nashville," and countless others all had their time on their series ended via car/bus/truck/whatever. It's effective and (mostly) final. There's little opportunity for wiggle room.
But what do you do if your actor has to leave but wants to come back? That, depending on the type of show, can be tricky. "Parks and Recreation's" lovable goofball Andy Dwyer (Chris Pratt), for all his strengths, was an unlikely candidate to land a big job overseas, though, at the time, so was Pratt. So when the actor accepted the opportunity of a lifetime that would prevent him from appearing in a portion of "Parks and Recreation's" sixth season, the show's writers decided to give Andy a similar chance, one that laid the groundwork for his eventual return. 
Why did Chris Pratt leave Parks and Recreation for part of Season 6?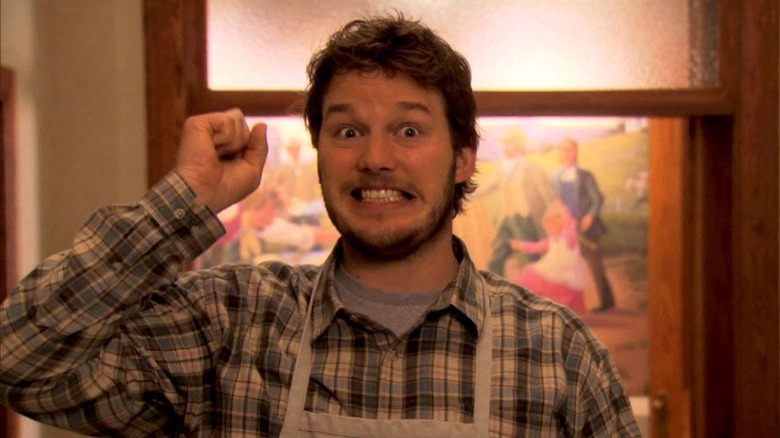 NBC
The trouble came after Pratt landed the biggest role of his career up to that point, playing Peter Quill in Marvel's comedic space opera "Guardians of the Galaxy."
Putting on Star-Lord's jet boots would require a transformation from Andy's doughy physique, but Pratt didn't exactly jump straight from Pawnee to Xandar. He had lost weight in order to appear in key supporting roles in films before, as Oakland Athletic player Scott Hatteberg in 2011's "Moneyball" and a Navy SEAL in "Zero Dark Thirty." Still, "Guardians" was a big step up, especially for an actor who told Entertainment Weekly that he thought he had blown his chance at being a leading man when he had poor auditions for the lead roles in 2009's "Star Trek" and "Avatar." At the time, he seemed an unlikely choice for a part that Deadline reported had everyone from Joel Edgerton to Lee Pace to Eddie Redmayne on its shortlist.
But he wasn't ready to give up on the sitcom that had boosted his profile. A car crash was a poor fit for the world of the show anyway; without Andy, who would sing a funny song about the car crash afterward? So the show's producers and writers had to work out a plan for how to explain both his weight loss and his temporary absence.
How did the Parks and Recreation writers explain Andy's absence?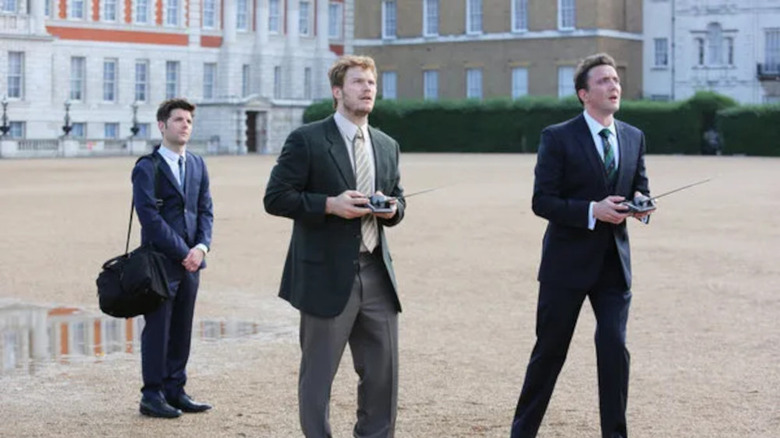 NBC
The former gave rise to a memorable joke where Andy explains to Ben (Adam Scott) that he lost 50 pounds in one month simply by cutting out beer from his diet. The latter birthed a plotline that allowed the "Parks and Recreation" crew to shoot the first two episodes in London, where Pratt was already filming "Guardians of the Galaxy," according to a HuffPost interview with creator Mike Schur.
In London, Andy joins Ben (Adam Scott) for a meeting with a the head of an English foundation, Lord Edgar Covington (Peter Serafinowicz) in the hopes of securing more funding for an after-school music program in Pawnee. But, to the surprise of Ben, Lord Edgar proves to be an English man-child every bit as immature as Andy, The personal rapport they establish proves crucial to securing Lord Edgar's support, and he invites Andy to stay with him in London while they get the project off the ground; or maybe just fly model planes around the center of London. 
Pratt would rejoin the regular cast for the 10th episode of the sixth season and continue on the show through its final season the next year.