The Defenders Face Off In New Motion Posters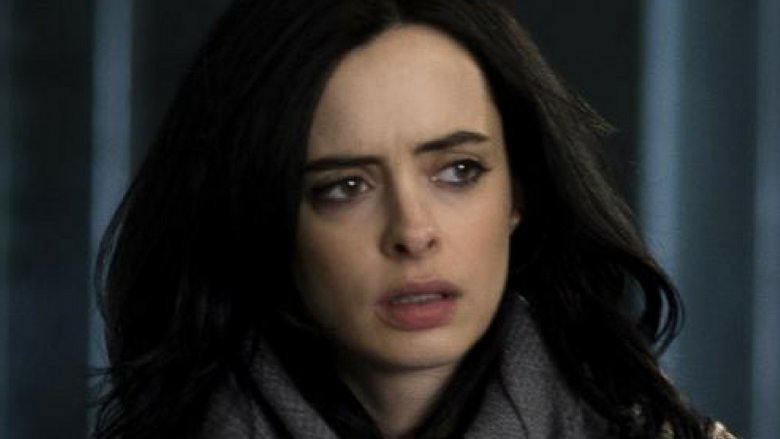 The new motion posters for The Defenders hint that the team definitely won't be one big happy family when they join together in their upcoming miniseries. The eight-episode series will see Daredevil, Jessica Jones, Luke Cage, and Iron Fist uniting to take down a common enemy, but, as the stars have teased, it won't be smooth sailing for the newly minted foursome.
"Longtime listener," reads the caption on Daredevil's poster, which sees him sitting on a bus bench decked out with an ad for Trish's radio show. Daredevil is also featured in a poster released on The Defenders' account, showing him twisting his cane in an elevator at Rand Enterprises. The caption cautions him to be "careful," which is going to be important, considering Luke Cage is waiting for him to go "a round or two" in his motion poster. Jessica's poster shows her standing outside Rand reading a newspaper, with the caption, "You could use a bar, @MarvelIronFist." Iron Fist, meanwhile, is using his time in his poster meditating while waiting for a late Jessica Jones outside her Alias Investigations.
The motion posters, which you can view at the bottom of this article, provide a few more hints about what audiences can expect to see in the series, while also teasing the tenuous relationship between the budding team. "It's very difficult when you all have such strong, passionate viewpoints, to kind of reconcile and make sure that everybody's on the same page," star Mike Colter previously said about the foursome. "It doesn't work that way, but we'll do the best we can."
The Defenders, which also stars Charlie Cox, Finn Jones, Krysten Ritter, Rosario Dawson, Sigourney Weaver, Simone Messick, Elodie Yung, Scott Glenn, Jessica Henwick, Rachael Taylor, Deborah Ann Woll, Carrie-Anne Moss, Elden Henson, and Eka Darville, will hit Netflix on August 18. While we wait, get some clues about what to expect by reading up on the superhero team's untold truth. 



Longtime listener. pic.twitter.com/jFNjsvg8bw


— Daredevil (@Daredevil) May 9, 2017



Careful @Daredevil. pic.twitter.com/znGagC0hgo


— The Defenders (@TheDefenders) May 9, 2017



Hey @Daredevil, let me know when you want to go a round or two. pic.twitter.com/4D822eIAkV


— Luke Cage (@LukeCage) May 9, 2017



Your lobby could use a bar, @MarvelIronFist. pic.twitter.com/BLAojOeC4j


— Jessica Jones (@JessicaJones) May 9, 2017



Meditation tip: Make plans early with @JessicaJones. She's always late. pic.twitter.com/Rn2wPwwlGD


— Iron Fist (@MarvelIronFist) May 9, 2017