Thomasin McKenzie's Eloise Gets The Spotlight In A New Clip From Last Night In Soho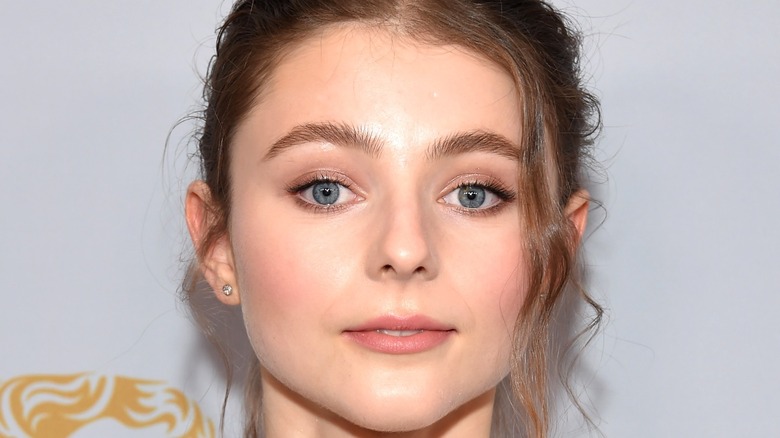 DFree/Shutterstock
Director Edgar Wright's newest project is nearing its release date, with "Last Night in Soho" hitting theaters on October 29. The upcoming psychological thriller is Wright's latest directorial outing, following films like 2004's "Shaun of the Dead," 2010's "Scott Pilgrim vs. the World," and 2017's "Baby Driver."
"Last Night in Soho," co-written by Wright and Krysty Wilson-Cairns, follows Eloise Turner (Thomasin McKenzie), an aspiring fashion designer who finds herself mysteriously able to travel back in time to 1960s London. When she does, Eloise not only discovers that she's in a completely different time period but also in the body of a nightclub singer named Sandie (Anya Taylor-Joy). While inhabiting Sandie's body, Eloise finds herself living Sandie's life and even falling in love with a man named Jack (Matt Smith). However, both Eloise and Sandie's lives quickly begin to take turns that are increasingly mysterious and horrifying.
With the film's release date fast approaching, fans of Wright's previous movies are only getting more excited to see the mysterious new psychological thriller. Luckily for them, a brand new clip from "Last Night in Soho" has just been released ahead of the film's theatrical premiere.
Eloise moves into her room in the newest Last Night in Soho clip
As Eloise, Thomasin McKenzie takes center stage in the newly released clip from "Last Night in Soho." In the clip, which is less than a minute long, Eloise arrives at the home of someone named Ms. Collins (the late Diana Rigg, in her last screen role).
As Ms. Collins leads Eloise up the stairs of a house that looks like it was pulled right out of the 1960s, she lets Eloise in on the rules of the house, which include no smoking and no boys over after 8 p.m. Ms. Collins then opens up the door to what will be Eloise's room, a mostly dark, small space with a pink wall at the back and a window that barely lets in any light. "It's a bit old-fashioned for some, but I won't do nothing to it," Ms. Collins says of the room. "If you don't like it, you can find somewhere else." Eloise, with a big smile on her face, calls it "perfect," and declares that she loves it.
Those who have seen the first "Last Night in Soho" trailer will know that both Ms. Collins' house and Eloise's pink-walled room are the settings for some pretty terrifying things to come. We'll have to wait to see, however, how Eloise's arrival at the home fits into the larger narrative of "Last Night in Soho" when the film is released next week.