Movies To Watch If You Can't Get Enough Of YOU Season 3
This content was paid for by Netflix and created by Looper.
After two seasons of deadly obsessions, Joe Goldberg (Penn Badgley) finally gives the simple suburban life a whirl in "YOU" Season 3. Having discovered his twisted match in Love Quinn (Victoria Pedretti) during Season 2, the new season finds the couple married, with their newborn baby boy and Love's mother living alongside them in their cushy new digs in the cozy but nosy town of Madre Linda, California. 
It doesn't take long for their efforts at eking out an ordinary existence to take a turn, though. Soon, they're back to their usual routines of stalking unsuspecting strangers, taking prisoners in a glass cage, stacking up a bunch of dead bodies, and worst of all, lying to each other. The question becomes not whether these two will ever change their weirdo ways to truly settle down but whether such equally dangerous and unhinged individuals can actually live together.
The third season of "YOU" has everything we've come to love about the series, plus a few new jaw-dropping developments. So if you're left wanting more before Season 4, here's a look at some movies you should watch if you can't get enough of "YOU." But if you haven't fully finished the new season just yet, save this list for later because there are some spoilers below!
Malcolm & Marie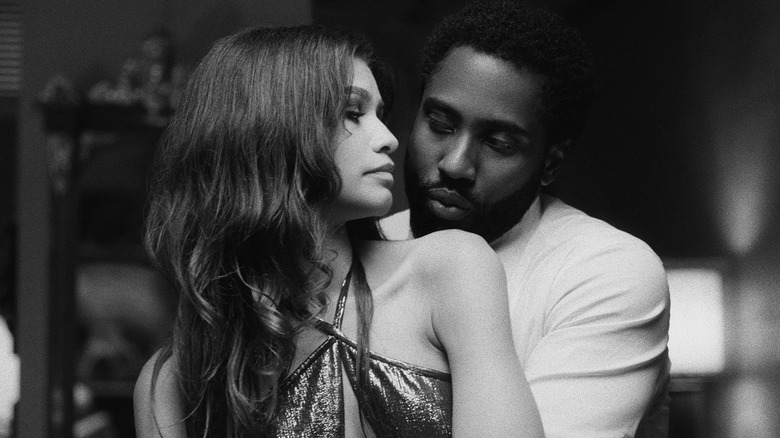 Netflix
Joe and Love's house may be made of wood and nails just like everyone else's, but it's built on a foundation of lies. From the very beginning of their relationship, these two have been secretly deceiving each other, and the consequences of that toxicity come through in full force throughout "YOU" Season 3. As action-packed as it is, some of the most intense and electric moments of the show arrive when the two are simply talking to one another, exchanging their loaded and leading words with increasingly different intentions behind them.
If you enjoyed watching that complicated dynamic reveal itself in careful conversations, "Malcolm & Marie" offers another dizzying dance of dialogue between its titular characters (portrayed by John David Washington and Zendaya, respectively). The film follows the two as they return home from the premiere of the movie Malcolm has just directed, and they slowly get into an argument that ultimately becomes an airing of some very deep grievances between them. With every new utterance and accusation, we learn more about their flawed history together and how they really feel about one another now. While there aren't quite as many actual skeletons in their closets as with Joe and Love, Malcolm and Marie certainly have their own troubling secrets that spill out during the course of their conversations.
Frank & Lola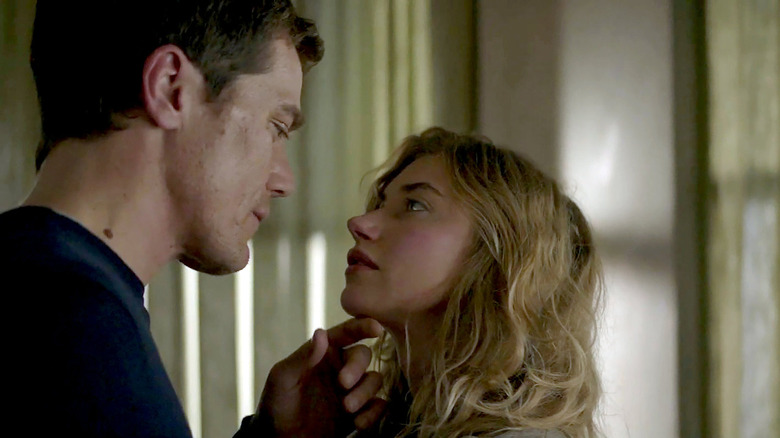 Paladin
In those precious moments when Joe and Love do manage to embrace one another for all of their faults and work as a team, they find some real embers of fire and desire still burning between them. And when that layer of mutual respect and admiration is there, they also go to great lengths to help one another overcome — or at least cover up — their worst impulses ... or at least they try to for a while.
A similarly compelling blend of passion and action can be found in the 2016 erotic thriller "Frank & Lola" (featuring Michael Shannon and Imogen Poots in the title roles). Like Love, Frank is a talented chef with a bit of an impulse control problem. And while Lola has very little in common with Joe, she does have some trauma in her past that continues to affect her actions now, and this revelation results in Frank setting out on a deadly mission for revenge that only gets wilder and wilder as he discovers the truth about the person he's become so obsessed with.
Till Death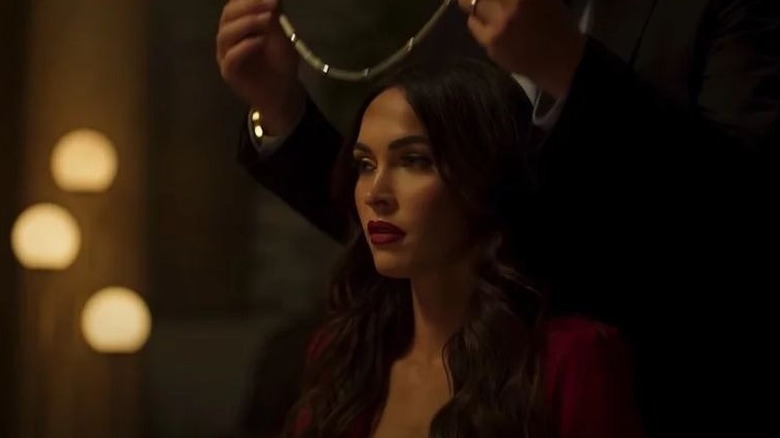 Screen Media Films
Of course, the biggest takeaway from "YOU" Season 3 is that falling in love with Joe Goldberg — or worse, having him fall in love with you — is definitely still deadly. Love Quinn is undoubtedly the most fitting partner and formidable opponent Joe will ever have, though, so their final confrontation is more evenly matched than anything we've seen from Joe's menacing journey so far. In the end, after all of their many sordid secrets have come out, the two play a very literal game of chicken at the dinner table that puts an end to their not-so-blissful union once and for all.
Another story that features a very lethal matrimonial fallout is the 2021 thriller "Till Death," which, as the title hints, centers on a married couple who give new meaning to the most morbid part of those vows. At the center of the story is Emma (Megan Fox), a woman who's been cheating on her controlling husband Mark (Eoin Macken) with his colleague. However, she decides to end the affair and embrace a new chance to make her marriage work with a romantic getaway to their remote lake house. However, Mark has other plans, and soon, Emma has to fight for her life as his sick scheme is set into motion in the snowy wilderness.
The Woman in the Window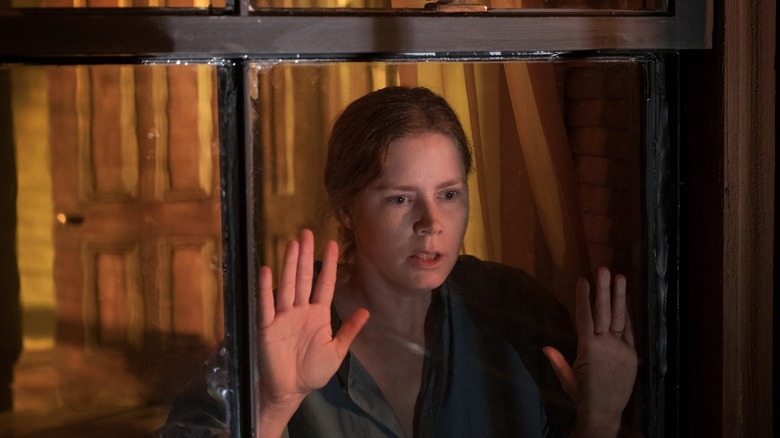 Melinda Sue Gordon/Netflix
One of the most fascinating turns in the newest season of "YOU" is the fact that at least one person quickly sees through the delicate façade that Joe and Love try to put on for the folks in town — but no one else believes him. After next-door neighbor Natalie (Michaela McManus) becomes the newest object of Joe's obsession, she disappears, and her husband, tech guru Matthew (Scott Speedman), suspects foul play right away. His tireless search for the truth leaves him increasingly isolated and angry, as everyone around him just wants him to move on and stop digging. Matthew's all-consuming detective work becomes an essential element that drives the action of the new season, with Joe and Love scrambling to cover up the tracks of their many misadventures from his prying eyes.
Similarly, "The Woman in the Window" also features a frenetic freelance investigation effort that emerges after a mysterious disappearance. The film centers on an agoraphobic woman named Anna Fox (Amy Adams), who routinely keeps tabs on all of her neighbors and, one night, witnesses the violent murder of the woman who'd just introduced herself as Jane Russell (Julianne Moore). When Anna calls for help, she learns that the real Jane Russell (Jennifer Jason Leigh) is alive and well, and no one is convinced by Anna's account of what she saw. As with Matthew in "YOU," though, Anna refuses to back down and breathlessly insists on getting to the bottom of this mystery, unraveling a plot that's much thicker and darker than she could've ever anticipated.
Earthquake Bird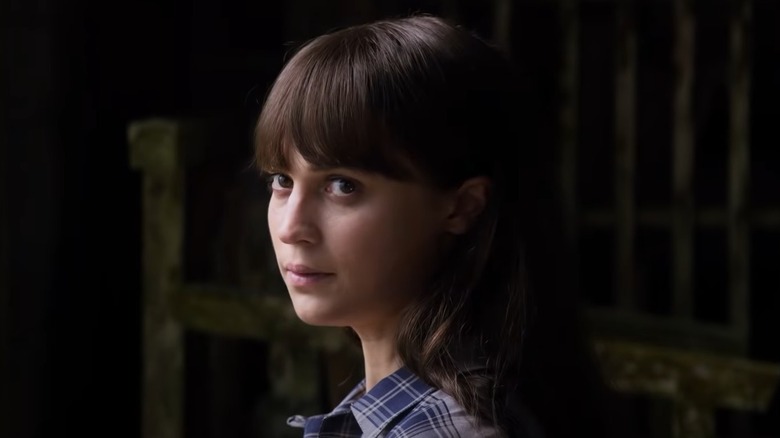 Netflix
"YOU" certainly shows us all just how hazardous a broken heart can be, as both Joe and Love are known to act on some pretty terrifying tendencies when they feel betrayed. Sometimes, they do things that even they don't know they're capable of until it happens in a moment of jealousy or fear.
So if you're looking for some more screen characters who also have deadly dealings with duplicity in romance, you can check out "Earthquake Bird," the 2019 adaptation of Susanna Jones' hit novel of the same name. The story is set in late 1980s Tokyo and follows a Swedish translator named Lucy Fly (Alicia Vikander) as she falls for a hunky photographer named Teiji Matsuda (Naoki Kobayashi) and soon finds that her friend Lily (Riley Keough) has also enjoyed his affections. When Lily suddenly disappears, the authorities look to Lucy for answers, but the mystery only deepens from there.
Nocturnal Animals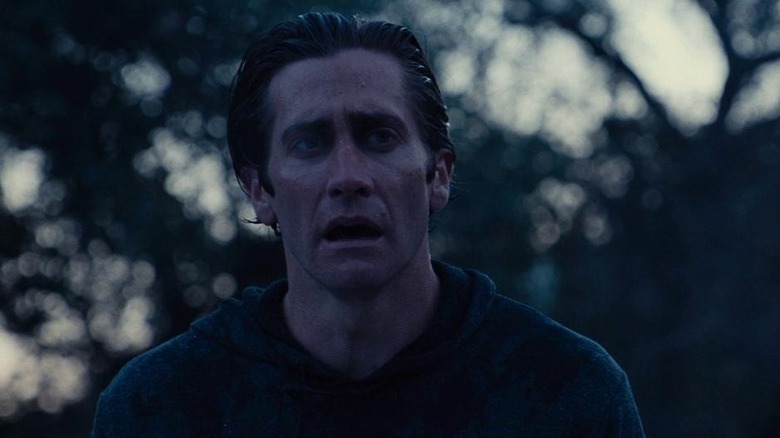 Focus Features
Having not one but two unreliable narrators at the center of the story in "YOU" Season 3 certainly makes things even more invigorating. That's especially true when we get to dive into the recesses of the characters' minds and witness the experiences and perspectives that really shape and motivate each of them deep down.
Tom Ford's searing 2016 psychological thriller "Nocturnal Animals" offers a similarly eerie and introspective storyline, as an unhappy gallery owner named Susan Morrow (Amy Adams) receives the manuscript for her ex-husband Edward Sheffield's (Jake Gyllenhaal) novel and becomes enraptured by the raw, emotional, and violent narrative in its pages. Susan, who left Edward in order to be with someone much wealthier but isn't exactly happy in her marriage, soon finds herself revisiting her own past decisions while picturing Edward's story in motion, and it becomes intensely personal for her to the point of obsession. As the gritty fictional layer of the film plays out, a quieter but still quite twisted plot is unfolding between Susan and Edward in the real world as well.