Harry Potter Behind-The-Scenes Footage That'll Change How You Watch The Movies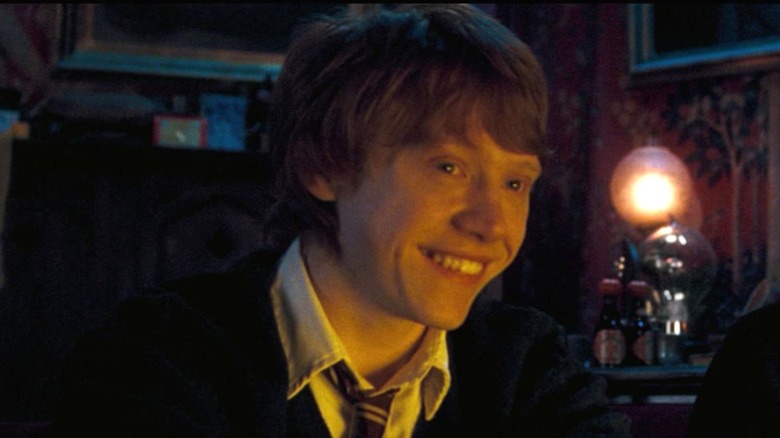 Warner Bros. Pictures
Okay, Potter fans, time to test your knowledge of Harry Potter lore. You might already be familiar with some of the most famous bloopers. Who hasn't heard of the prank Michael Gambon played with the fart machine? But chances are, you haven't seen everything that went on behind the scenes. Have you ever wondered which Hogwarts House Tom Felton (Draco Malfoy) would fall under in real life? Or how one of the actors in "Harry Potter and the Goblet of Fire" bruised the director? You'll never guess which cast member managed to forget the name of one of the film's leads, or what Helena Bonham Carter said when she first saw the costume design for her character.
We managed to dig up some surprising facts about the cast members, as well as some glimpses of behind-the-scenes shenanigans. From the Tattoo Man to the "towel girl," these anecdotes will make sure you never see the Harry Potter films the same way.
Daniel Radcliffe thinks the Hogwarts school song is lame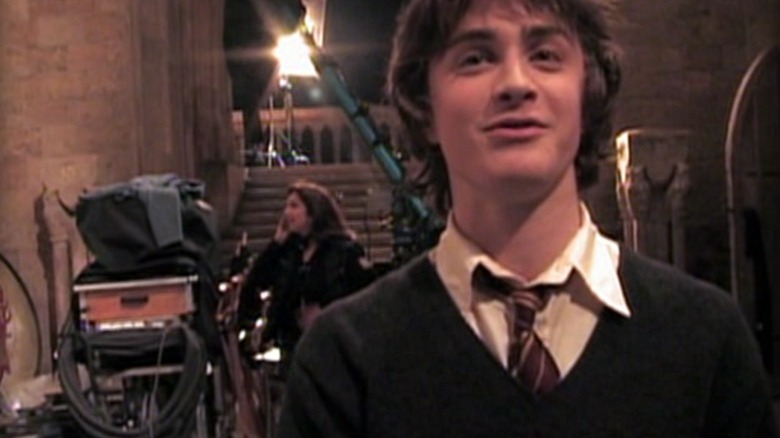 Warner Bros. Entertainment
Believe it or not, Daniel Radcliffe doesn't like the Hogwarts anthem. But he doesn't feel this way due to a lack of school spirit. If anything, it's because he loves Hogwarts so much. In a behind-the-scenes outtake, Daniel tells the camera that the students from Durmstrang and Beauxbatons get to make a much grander entrance than the folks at Hogwarts. "I'm p***ed off about this," he says.
He is referring to the scene from "Harry Potter and the Goblet of Fire" where the students from Hogwarts' two rival schools come striding into the Great Hall, each performing the wizarding world's equivalent of a marching band number. And if you look at the awesome music and choreography that accompanies Durmstrang and Beauxbatons, it's easy to see what Daniel means. The female pupils of Beauxbatons sweep in gracefully in a shower of butterflies; they even have an acrobat doing backflips. Meanwhile, the Durmstrang boys strut into the room twirling their staffs and slamming them to the floor in perfect rhythm. Oh yeah, and one student breathes fire.
All Hogwarts gets is a rather ridiculous school song, which contains lyrics such as "Learn until our brains all rot." Radcliffe sarcastically delivers the first few bars of the Hogwarts anthem to emphasize how silly it sounds. Clearly he feels that Hogwarts deserves better.
Alfonso Cuarón made the actors write essays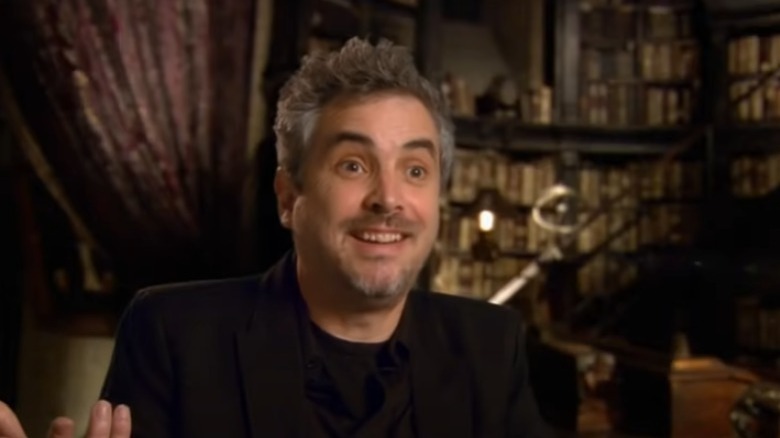 Warner Bros. Entertainment
When Alfonso Cuarón came on board as director for "Harry Potter and the Prisoner of Azkaban," the first thing he did was assign homework to the actors.
Up until this point, Daniel Radcliffe, Rupert Grint, and Emma Watson had received a lot of coaching from Chris Columbus, the director of the first two films. They were young and relatively inexperienced actors, and they were happy to take guidance; however, the new director wanted to give the three leads more sovereignty. Cuarón knew that the characters and the overall tone would be much more mature than in the first two films, so he felt like Radcliffe, Grint, and Watson should decide some things for themselves. These three knew Harry, Ron, and Hermione better than anyone, so Cuarón asked them to each write an essay about what made their character tick.
Unsurprisingly, the three actors responded to the essay exactly how their characters would've responded. According to Cuarón, Daniel submitted a simple essay that cut straight to the heart of his character. "I felt really so pleased with myself," said Radcliffe. "And the next day, Emma comes in with all 16 pages of hers." True to character, Emma Watson was a bit of an overachiever. And Rupert Grint? He never turned his in. Cuarón asked him what happened to his "homework," and Rupert's only reply was that Ron wouldn't have done it either. The director gave Ron a good grade nonetheless. "Okay," he said, "you understand your character. It's perfect!"
Emma Watson denied she was like Hermione (and fooled nobody)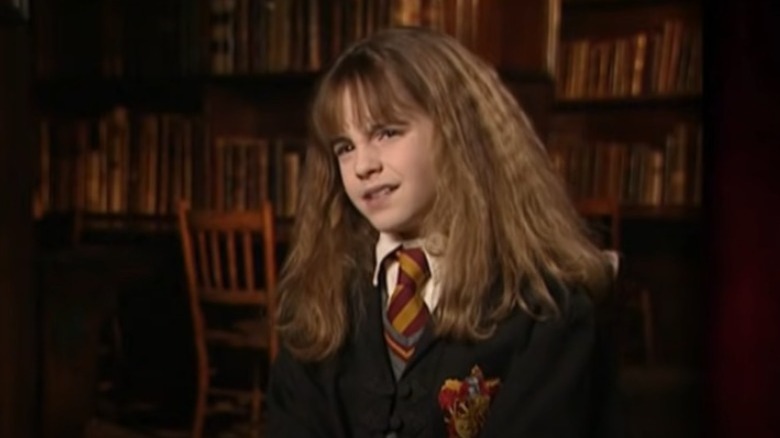 Warner Bros. Entertainment
All these years after the release of the "Harry Potter" movies, it's plain to see that Emma Watson was a one-in-a-million casting choice. Aside from her academic work ethic, there are a lot of traits she has in common with Hermione. Emma describes herself as bookish, self-conscious, and "kind of a tomboy," exactly like the character she played.
When she was younger, however, Watson was in denial about her real-life similarities to the Harry Potter character. After "The Sorcerer's Stone" was released, she told interviewers, "I've never been top of the class, and I've never read loads of books" — y'know, just in case anybody got the wrong idea. Instead, she insisted, "I've always been totally the opposite, really." Riiight. And we suppose she got the part because she was a natural athlete ...
Emma Watson recalls she was really self-conscious about being compared to Hermione and was always trying to set the record straight. But after playing Hermione for ten years, she can laughingly tell viewers, "I've just accepted it now."
Helena Bonham Carter wouldn't stick to the script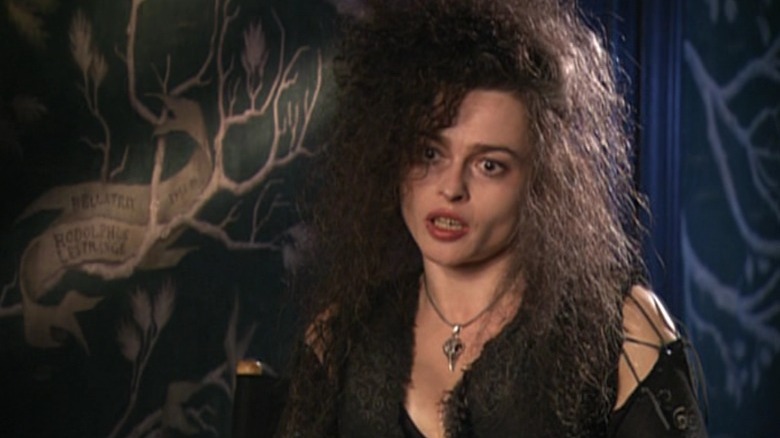 Warner Bros. Entertainment
In an early version of the script for "Harry Potter and the Order of the Phoenix," Helena Bonham Carter says she was only given a few lines. In spite of this, she pushed to get more screentime. Knowing that Bellatrix didn't even appear until the film's climax, Carter decided, "I gotta make an impact somehow." She gave her character such a huge stage presence that the filmmakers just had to give in, and it's a good thing that they did. Bellatrix Lestrange's larger-than-life personality makes her one of the most memorable villains from Harry Potter.
There are several Harry Potter bloopers included in the Ultimate Edition that show Helena improvising and goofing off. Rather than facing off against Sirius (Gary Oldman) in the Department of Mysteries, Helena swung her wand theatrically and said, "To be / or not to be." Another clip shows Helena walking behind director David Yates making a "blah blah blah" gesture with her hand.
Carter even butted in with suggestions for the costume design. Bellatrix's costume was essentially going to be a "black sack," said Carter in an interview for "Creating the World of Harry Potter, Part 2: Characters." Her immediate reaction, understandably, was "I don't want a black sack." The way she envisioned the character, Bellatrix used to be glamorous and attractive, until more than a decade in prison made her a bit frayed around the edges. If you look at Bellatrix's costume in the final film, it reflects the character's history perfectly.
Emma Watson hit Daniel and yanked out his hair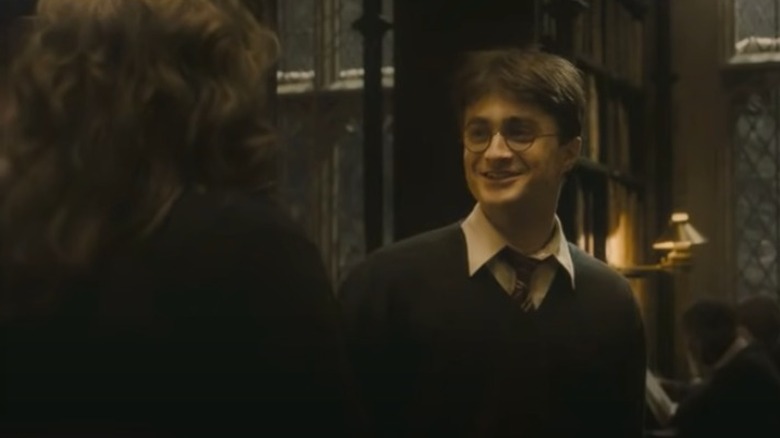 Warner Bros. Entertainment
Emma Watson's performance has sometimes highlighted a surprisingly savage side to Hermione's character. Take, for instance, the scene in the library from "Harry Potter and the Half-Blood Prince." When Harry's ego gets a bit inflated by his "Chosen One" status, Hermione whacks him on the head with a scroll. Emma might have been a bit too enthusiastic when filming this scene, because in one blooper she hit Daniel a bit too hard. Watson was unable to contain a giggle, to which Radcliffe replied, "You're laughing because you hit me so hard, aren't you?" The loud crack in the outtake is unmistakable, and in a later interview Radcliffe joked he was "concussed."
This isn't the last time Emma got rough with her co-star. In "The Deathly Hallows: Part 1," she was supposed to yank a hair from Daniel's head to be used for a Polyjuice Potion. But she neglected to tell Radcliffe that she was going to be yanking one out for real, so when the take ended, Radcliffe was rubbing a sore spot on his scalp. In both cases, Watson gave him an apologetic hug afterward.
Rob Pattinson couldn't remember Emma Watson's name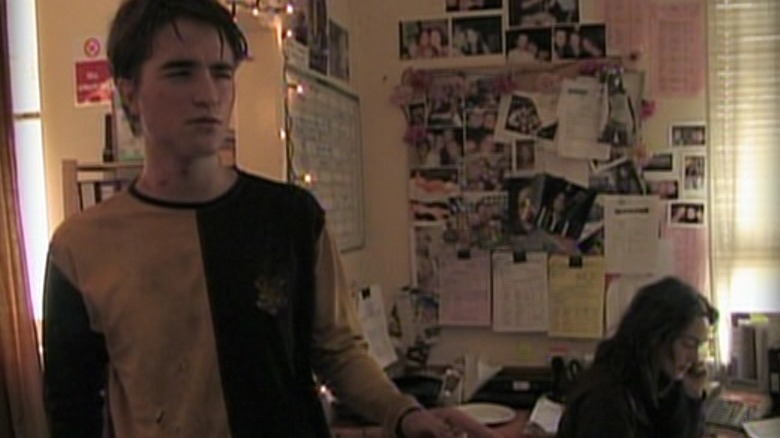 Warner Bros. Entertainment
Emma Watson is a household name and it's common knowledge that she's the actor behind Hermione, but one member of the Harry Potter cast couldn't seem to remember who played the character.
One Harry Potter blooper in the Ultimate Edition shows Emma Watson with Robert Pattinson (Cedric Diggory). The crew member holding the camera puts Pattinson on the spot; they ask him who's standing across the room from him. Pattinson hesitates, while Emma urges him "Come on, get it right!" But for some reason Emma's name keeps eluding Rob, though it's obviously on the tip of his tongue. Ultimately, he just ends up calling her "that one," and then helpfully adds, "She's famous." Emma Watson pretends she is deeply offended.
To be fair, out of all the notable characters in the Harry Potter world, Cedric is arguably the one with the shortest stay. Since most of the major characters return in later movies (unless they die), and a lot of cast members were on board from the beginning, Pattinson was probably one of the first cast members that had to leave the set right after he came on (relatively speaking, of course). It's understandable that he wasn't on a first-name basis with the entire crew. You'd think, though, that he might recall the name of one of the most important performers in "Harry Potter," considering he auditioned for a part in it.
Robbie Coltrane had cold water pumped into his jacket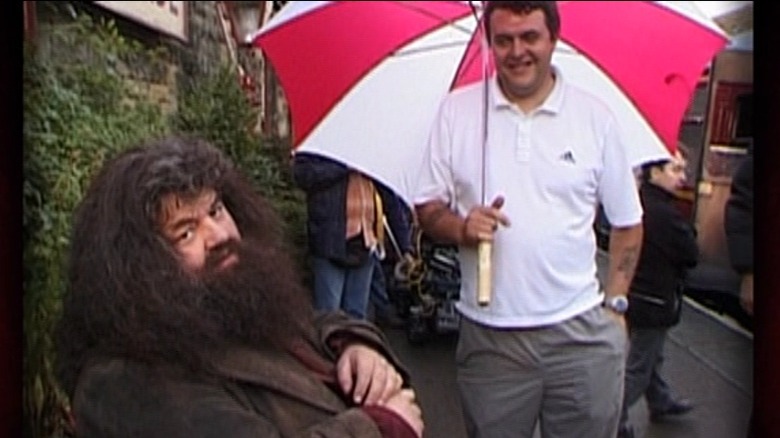 Warner Bros. Entertainment
In the Harry Potter films, you'll notice that Hagrid never throws himself down in a chair; he always lowers himself down gently. In fact, a lot of his motions are gentle and tentative. This is because Robbie Coltrane decided that Hagrid would move in a "ginger, rather delicate way, for fear of breaking things," according to an interview for "Creating the World of Harry Potter." But we can think of another reason why Robbie Coltrane's movements might have been so stiff.
Hagrid's costume must have weighed close to 90 pounds, said Coltrane, and it could get unbearably hot. In one scene, according to the actor, "It was a hundred degrees in the forest," so they designed a cooling system for the costume, which was demonstrated at the Warner Bros. Studio Tour "The Secrets Behind Half-Giant Hagrid." Running underneath Hagrid's vest in certain scenes was a network of plastic tubing that circulated ice-cold water; Coltrane likened it to a refrigerator. Whenever the filmmakers were concerned Robbie was getting too hot and sweaty, they just used a pump fashioned from a car's windshield wiper to send "a shock of freezing water" under his clothes. Robbie called it his "cool suit" — very cool indeed.
Daniel had to learn how to take off a bra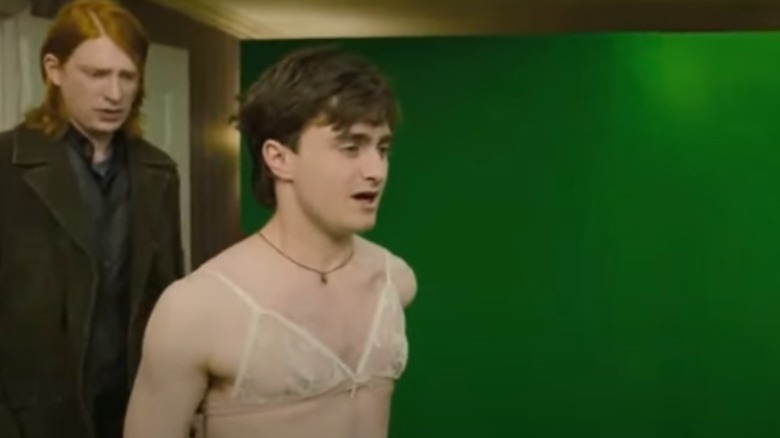 Warner Bros. Entertainment
There's a certain scene in "The Deathly Hallows: Part 1" that took over 90 takes to get right (a personal record for the crew). But it wasn't an elaborate action shot or an emotionally intense moment. Instead, it was a scene that seemed deceptively simple but was an incredible challenge to make: the moment when Harry's friends all disguise themselves as Harry. It was a nightmare for the VFX department to compose the shot with seven superimposed Daniel Radcliffes. Perhaps the biggest challenge for Daniel, however, was taking off his bra.
Radcliffe was only wearing a bra to begin with because he was playing Fleur after she transformed into Harry using the Polyjuice Potion. The potion doesn't change the drinker's clothes, so Daniel (as Fluer) needed to take off Fluer's clothes and change into Harry's. Radcliffe admitted he rather enjoyed that part of the scene. "I [looked] fantastic in women's clothes," he said. "I [looked] like a rock star." Domhnall Gleeson, who played Fluer's boyfriend, recalled that Daniel really struggled with unhooking the bra. "But that was only because it was on him," he was quick to assure viewers. "If he had been taking it off me or a girl, I'm sure it would've been fine."
Eventually Radcliffe got the hang of it, and he even managed to do it with one hand, though they didn't use that particular take in the final film.
Emma Watson got a Dark Mark tattoo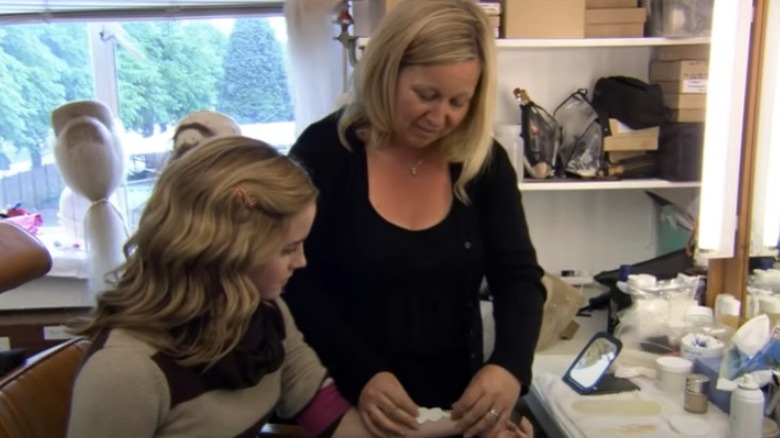 Warner Bros. Entertainment
Hermione doesn't seem like the sort of character who would get tattoos — let alone the Dark Mark, which is inked on the forearms of Lord Voldemort's followers. But Emma Watson, on the other hand, has no qualms about getting the Dark Mark.
As part of a series of Harry Potter bloopers and behind-the-scenes material released by Warner Bros. Entertainment, makeup artist Amanda Knight demonstrated how she gave the Death-Eater characters their tattoos. The lucky volunteer was Emma Watson. Knight applied the tattoo of a skull with a snake coming out of its mouth on Emma's forearm. Thankfully, it was only a temporary tattoo, otherwise the filmmakers would've had some major issues the next time Hermione needed to wear short sleeves.
As it turns out, giving Emma a tattoo wasn't the only extracurricular activity that the makeup artists did on set. Knight and her team inked a bunch of intricate designs onto the skin of a character known only as "Tattoo Man," and then positioned him in a shop window in Knockturn Alley. When Daniel and Rupert tricked Emma into peeking in that window, the shirtless Tattoo Man gave her quite a fright. Alas, Tattoo Man never made the final cut, but we're pretty sure Emma Watson won't forget him anytime soon.
The actor who played Dudley wanted to go to Hogwarts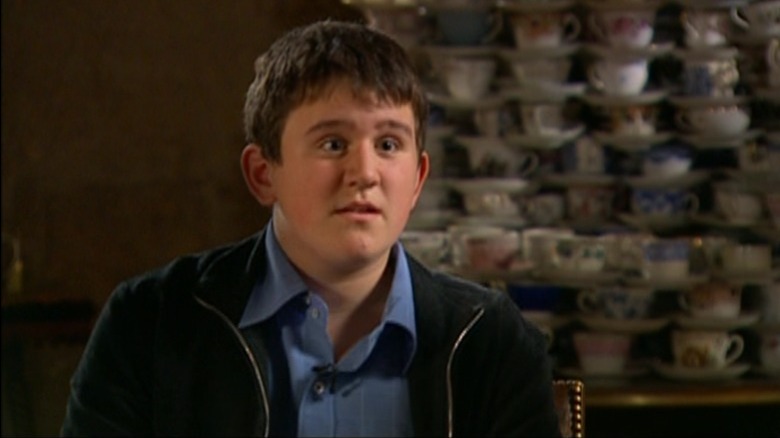 Warner Bros. Pictures
Harry Melling is one child actor from the "Harry Potter" films who's often overlooked. He played Dudley Dursley, and while these films were being made, he kind of missed out on the action.
When asked how participating in the Harry Potter phenomenon changed his life, Melling admitted that nothing much changed for him. Hardly anybody recognized him on the street, so the wave of fame that swept up Daniel, Rupert, and Emma seemed to pass him over. (This is no longer the case all these years after the interview. If you're wondering what happened to this Harry Potter actor, he's appeared on Netflix in "The Queen's Gambit" and "The Ballad of Buster Scruggs.")
More importantly, said Melling, "I wanna be in Hogwarts." Since he only filmed with Daniel Radcliffe on the Privet Drive set, he never really got a chance to explore the Hogwarts set with the other actors. Richard Griffiths, who played Dudley's father in the movie, once proposed a scene to J.K. Rowling in which the Dursleys get a chance to visit Hogwarts on Founder's Day. Needless to say, the author politely declined.
Which Hogwarts Houses the cast members really belong to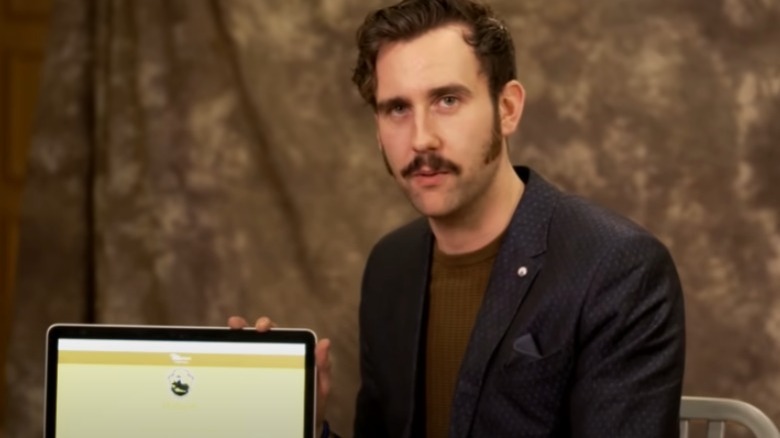 JKR/Pottermore Ltd. / Warner Bros. Entertainment
Most people agree that the casting choices behind Harry Potter were a good fit, but what would really happen if you placed the Sorting Hat on these actors' heads? Whenever these cast members took the Hogwarts Sorting quiz, they didn't always get the House of the character they played.
Pottermore (now known as Wizarding World) interviewed four actors who used to play Hogwarts students and then filmed them taking the Hogwarts Sorting quiz. Contrary to what he was expecting, Rupert Grint got sorted into Hufflepuff. "I kind of want a recount," he said afterward. Bonnie Wright (Ginny) felt that one of her sorting questions was unfair. When asked "White or black?" Bonnie replied, "There has to be both in the world." Still, she must've ultimately chosen "white," because her test results identified her as Gryffindor. Evanna Lynch (Luna) also ended up in Gryffindor, the same House as her character. She grew rather excited by the question asking her which pet she would bring to Hogwarts, on account of the wide selection of cats. On the other hand, Matthew Lewis (Neville) made it clear that he really didn't like cats and also steered clear of the "love potion" answer choice, instead opting for a potion that could give him wisdom. Whatever he chose, it led him to Hufflepuff.
Perhaps most surprising of all are the test results of Tom Felton, whose character, Draco Malfoy, was a poster child for the House of Slytherin. In real life, Felton would actually belong in Hufflepuff. (By now the House must be getting very crowded.)
Mike Newell got down on the floor and wrestled with the Phelps twins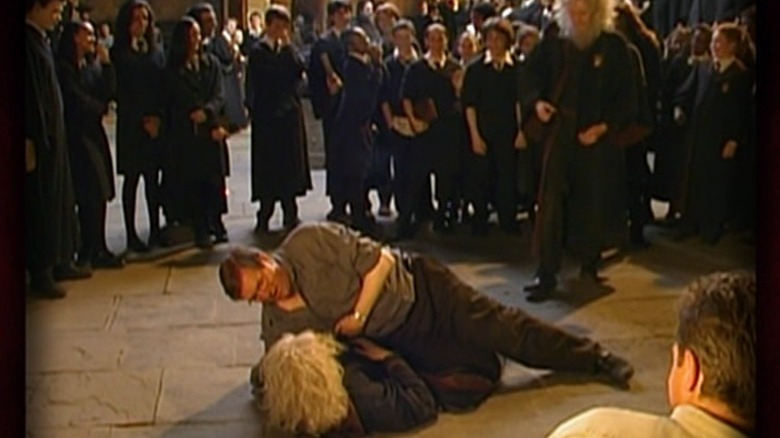 Warner Bros. Entertainment
When Mike Newell came on as the director for the fourth Harry Potter movie, the young cast members who had already been on the set for years were slow to warm up to him. Rupert Grint described the man as "quite scary sometimes" in an interview for the Ultimate Edition DVD release. But one particular incident broke the ice between Newell and the kids.
The scene in question involved Fred (James Phelps) and George (Oliver Phelps). When one of Fred and George's pranks backfires, giving them both white hair and beards, they turn on each other, each blaming the other for getting them into the mess. It quickly escalates into a full-blown fight. But when James and Oliver first filmed this part, Mike Newell just wasn't feeling it. To him, their performance seemed too much like play fighting, and it didn't capture the tooth-and-nail intensity of a fight between two brothers. Newell wanted them to fight like they meant it.
As Oliver recalled in an interview for the Ultimate Edition, the director stood up, strode over to the twins, and said, "Who wants to fight?" Not sure what Newell was getting at, Oliver volunteered. Newell then got down on the ground and began wrestling with him to demonstrate the kind of roughing-up he was talking about. (Oliver admits he might have given the director a good bruising.) According to Newell, "The rest of the children couldn't believe what they were seeing ... The director is rolling on the floor with so-and-so!" It wasn't long before everybody on the set was laughing.
After that, Newell said the cast treated him as one of the gang.
The most bizarre things that fans have done to cast members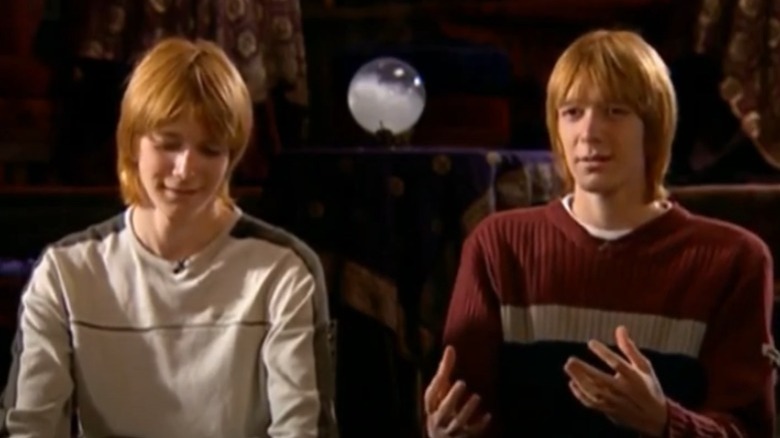 Warner Bros. Pictures
Truth is stranger than fiction, so it should come as no surprise that Harry Potter fans have shown their devotion in ways wilder than anything J.K. Rowling could have imagined. When interviewed by Johnny Vaughn for "Harry Potter and The Prisoner of Azkaban," the cast recounted their most unusual interactions with viewers.
Fans apparently asked Tom Felton (Draco Malfoy) if he was going to play the same character he played in previous films. (Um, who else would he play?) Meanwhile, Jaymie Waylett (Vincent Crabbe) was asked about his preferred choice of toothpaste. During the Collectormania convention, Matthew Lewis (Neville) was quite surprised to find that a fan had passed him a fresh pepper. The Phelps twins, on the other hand, received a generous but perplexing gift: a bra with two potatoes in it. (They should've just put their gift together with Matthew's and made some soup.)
Strangest of all, though, was the superfan that Daniel Radcliffe remembers as "the towel girl." She was waving a sign that said "Nothing comes between me and Harry Potter," and even though it was a chilly day in New York City, she was naked except for a Potter bath towel. As far as zealous fans go, said Radcliffe, the towel girl is "a legend."