Zoe Saldana Had A Much Bigger Role Planned On Law & Order: SVU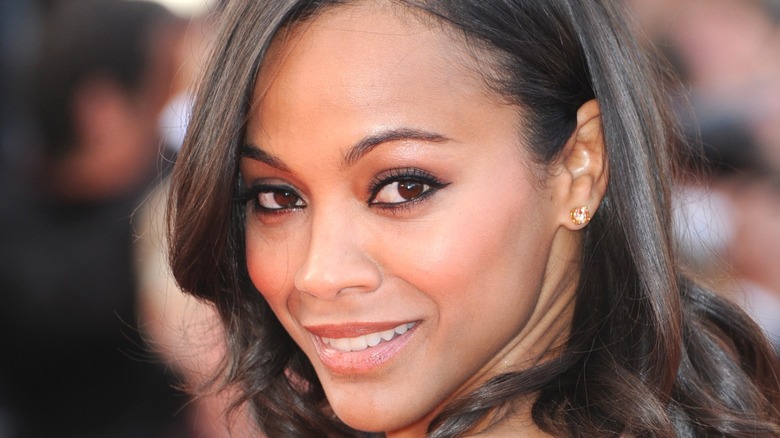 Featureflash Photo Agency/Shutterstock
Devoted fans of actress Zoe Saldana might remember that she appeared as Gabrielle Vega on "Law & Order: Special Victims Unit" during the 21st episode of its 5th season. Entitled "Criminal," the program focuses on Gabrielle's father, a criminology professor named Javier Vega (James McDaniel), who is one of a number of suspects accused of the rape and murder of a graduate student. Though Javier has a criminal record and had the means to do away with the now-dead collegiate, Gabrielle steadfastly maintains her father's innocence. Is Javier really guilty, or has a professional rival of his set him up to take a fall for the crime?
It's all powerful stuff, and well-acted to boot. But did you know producers had a much larger role planned for Saldana, one that would've made her a more frequent presence on "SVU"?  While a longer stay on the program didn't work out for the actress, here's the scoop on what had originally been planned out for her.
Saldana was supposed to be a regular
According to a 2014 interview posted on BuzzFeed with "Law & Order: SVU" casting director Jonathan Strauss, he had been looking to get Saldana on the show for some time. "There's no one like her," he said at the time. Strauss' hope had been to bring back Gabrielle as a regular character, even though she files a suit against the NYPD seeking reparations for her father's wrongful conviction at the conclusion of her only appearance on the show. Gabrielle mentions that she's going to law school during the episode, and Strauss' hope was to eventually bring her back in as the series' new assistant district attorney.
Unfortunately for the folks behind "Law & Order: SVU," fame knocked on Saldana's door soon after her sole appearance on the program. "In the end, it ended up not being practical because she became famous very quickly and the scheduling was too complicated," explained Strauss.
NBC's loss was definitely Hollywood's gain. Since doing the nighttime drama, Saldana has acted in two major franchises — as Nyota Uhura in J.J. Abrams' "Star Trek" cinematic universe and Gamora in the MCU. She will also be soon reprising her role as Neytiri in James Cameron's upcoming "Avatar" sequels. The actress has definitely come a long way, but "SVU" fans will always fondly remember her turn as Gabrielle Vega.