What Angelina Jolie's Kids Really Think Of Her Eternals Character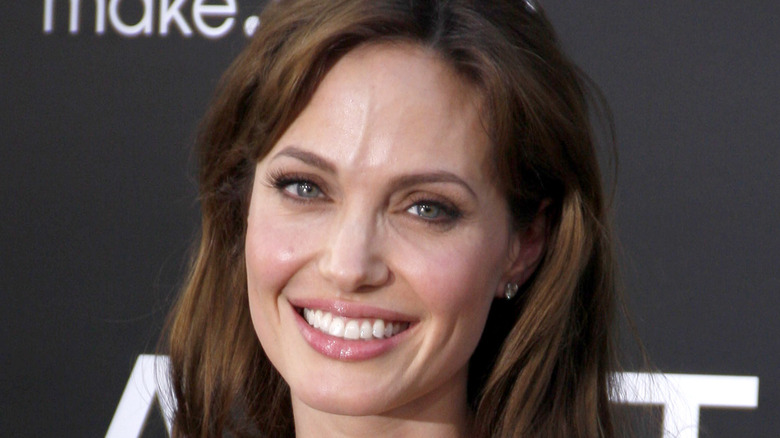 Tinseltown/Shutterstock
There are plenty of reasons to be excited about Marvel's "Eternals," and its star-studded cast is one of the biggest ones. Featuring A-listers like Angelina Jolie and Salma Hayek, as well as rising stars in the form of Richard Madden and Lauren Ridloff, Marvel's next cosmic blockbuster contains all of the right ingredients to be another modern-day superhero classic. Indeed, if the film's early reviews are any indication, it sounds like director Chloé Zhao's first foray into the superhero realm may even set a new bar for the genre.
Of course, there may be some people out there who wonder why so many respected actors have decided to lend their talents to so-called popcorn fare. That especially applies to the casting of Jolie. As one recent piece by The Guardian proves, there are some critics who feel that superhero movies are beneath the Academy Award-winning performer. Fortunately, Jolie doesn't seem to agree with that sentiment. In fact, her "Eternals" character, Thena, may be the role she was made for.
During a recent "Eternals" press event attended by Looper, Jolie opened up about why she decided to become a member of the Marvel family and even discussed how her kids really feel about her character in the film.
Angelina Jolie's kids think she has a lot in common with her Eternals character
Even the most acclaimed performers enjoy superhero flicks, and Angelina Jolie is no different. While speaking at the "Eternals" press event, Jolie said that she was already a fan of the Marvel franchise and director Chloé Zhao's work prior to being offered a part in the new film, which made accepting the role a no-brainer. "When they first talked to me about the story, really it was the cast, it was the idea of what this family would be. And I just wanted to be a part of this family before I knew very much about who I was going to play," said the actress.
Jolie went on to say that her kids think her "Eternals" character, Thena, is actually the most like who she is in real life. "She is maybe the most fantastic [character] I've played and a superhero, and yet my children said [they] thought [she] was the most like me that they've seen [me play]," Jolie revealed. That may not have been a coincidence either. In fact, according to Jolie, Zhao encouraged the entire "Eternals" cast to bring some realism to their characters, which also helped them discover new sides of themselves. "A lot of us were cast to bring out some of our own lives, something within ourselves that we maybe weren't even aware of, and then let it live and let it grow within the film," Jolie said.
Marvel fans can look forward to seeing Jolie's performance as Thena on the big screen when "Eternals" is released in theaters on November 5.