Y: The Last Man Might Find New Life On This Streamer
Fans of the FX on Hulu series "Y: The Last Man" received shocking news when it came out that the show would not be renewed for a second season. That likely means when the Season 1 finale airs on November 1, the show will end on a massive cliffhanger centered around the world-altering plotline. 
For those not in the know, "Y: The Last Man" follows an ensemble of characters who react to a deadly outbreak, killing every creature with a Y chromosome. The only cisgender man to make it out of the apocalypse alive is Yorick (Ben Schnetzer), who may be humanity's last hope to bring back all men. The show takes macro- and micro-level approaches to exploring this "What if" scenario as Yorick's mother, Jennifer Brown (Diane Lane), is the newly appointed President of the United States.
It's a show that feels timelier than ever with its exploration of gender identities and social stratification, even when the comic book series first came out in 2002. However, not all hope may be lost. There's still a chance the show could find another life on a different streaming platform, and based on what we know so far, there's one particular service that seems like the best fit. 
Y: The Last Man could feasibly continue at HBO Max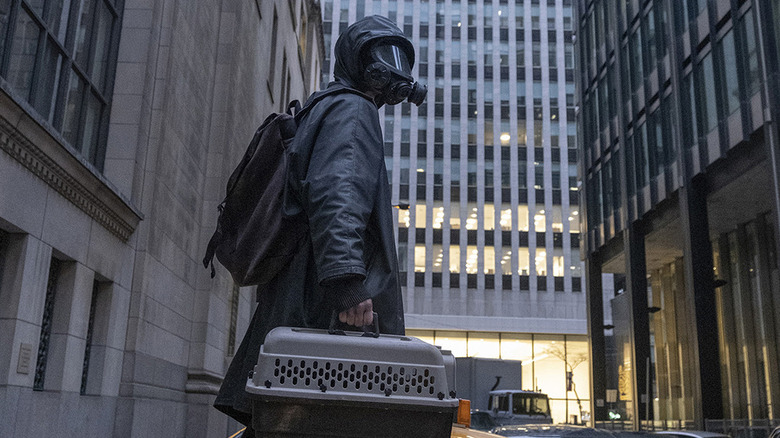 FX on Hulu
We live in a world where cancellation doesn't necessarily mean death for a TV series. Most recently, viewers saw that with the abrupt cancelation and subsequent Netflix renewal of the popular science-fiction series "Manifest." A similar fate could befall "Y: The Last Man" if all of the pieces fall into the correct places, and according to The Hollywood Reporter, the best place for the series could be HBO Max.
Based on what sources told the outlet, HBO Max makes the most sense because "its corporate parent, WarnerMedia, also owns DC Comics, whose imprint, Vertigo, published the 'Y: TLM' comic series from 2002-08." To give fans even more hope, THR reports that FX Productions apparently supports producers' efforts to give the show new life elsewhere. But there's no word on whether the first season would transfer to HBO Max, too. Disney ultimately owns FX Productions, and they may not want to give up readily accessible content so quickly. 
It's important to note that this is all merely speculation at this point. There's no indication that HBO Max is interested in the series, and the show could always land somewhere else entirely. But if you want to see more of this world, you can always go back and read the original comic book series. At least you know there will be a semblance of closure there.