The Gory Horror-Comedy Hidden Gem You Can Stream On Hulu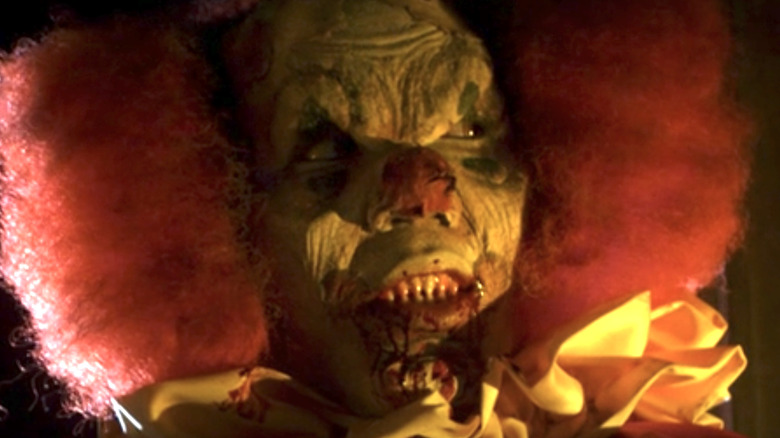 Gravitas Ventures
Vampire movies have existed for nearly as long as directors have been able to make feature-length films. Indeed, although it's nearly 100 years old, 1922's "Nosferatu" remains both one of the best vampire movies ever made and one of the most iconic films in the history of cinema. The vampire movie genre has, of course, carried into the present-day too, inspiring recent classics like "Let the Right One In" and "What We Do in the Shadows," among others.
Clown horror, meanwhile, is a relatively more modern invention. Nevertheless, the clown horror subgenre has already produced some iconic movies, like "Killer Klowns from Outer Space," which offers pretty much exactly what its title promises, and the recent "It" films that were based on the popular Stephen King novel of the same name.
Very few movies, however, combine the vampire and killer clown genres together. In fact, the list of films to do so may be limited to just one entry, titled "The Night Watchmen," which is currently streaming on Hulu.
The Night Watchmen is a bloody and fun horror-comedy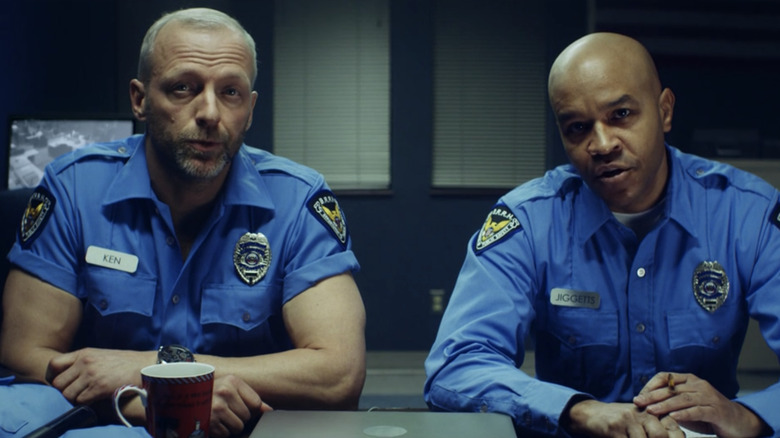 Gravitas Ventures
"The Night Watchmen" stars Ken Arnold, Dan DeLuca (both of whom also co-wrote the film), and Kevin Jiggetts as the movie's titular night watchmen, who guard the offices of a Baltimore newspaper. While they're initiating a new recruit, whom they dub Rajeeve (Max Gray Wilbur), a couple of deliverymen transport the corpse of a clown named Blimpo (Gary Peebles) to the office. Before long, the corpse comes alive and begins attacking and infecting those he comes into contact with throughout the building. The infected become vampires, leaving it to the building's night watchmen and a reporter named Karen (Kara Luiz) to fend off the growing attack.
While reviews for the film are scarce, "The Night Watchmen" holds an 86% critics score on Rotten Tomatoes. In a review of the film, The Blogging Banshee critic Molly Henery wrote, "I can say without a doubt that 'The Night Watchmen' is the most fun horror film they programmed [at the Phoenix Film Festival and International Horror and Sci-fi Film Festival]." The critic went on to praise the film for having "everything one could want from a gory horror-comedy; lots of laughs, awesome practical effects, hilarious actors, and a fun story."
"The Night Watchmen" is available to stream on Hulu.