The Raunchy Horror Comedy That's Cracking Up Netflix Subscribers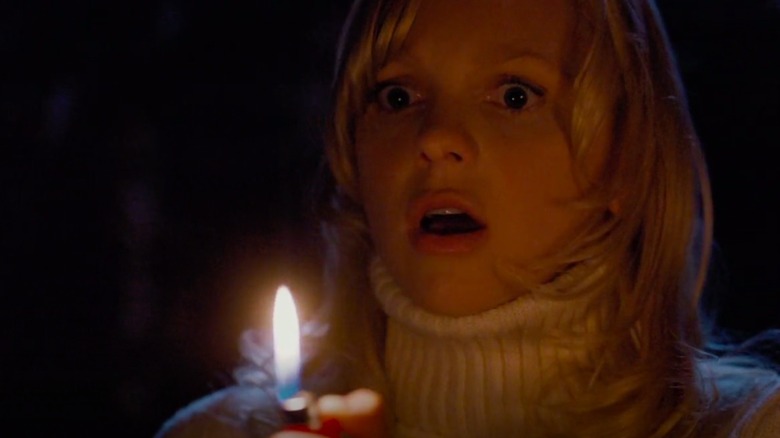 Miramax
In the 2000s, spoof movies were all the rage. With the likes of "Date Movie, "Disaster Movie," "Vampires Suck," "The Starving Games," and "Meet the Spartans," any '90s kid knows these were some of the most loved and most-quoted movies in the school cafeteria. And of course, who among us could forget a young Chris Evans in "Not Another Teen Movie?"
However, for many fans, it's the "Scary Movie" franchise that stands above the rest. Developed by the hilarious Wayans brothers, the film series' first installment was released in 2000 and mainly spoofed "Scream." Four more sequels were made, parodying both classic and new horror films, as well as other popular hits from other genres, including "8 Mile."
Now, Netflix subscribers are loving the fourth installment in the series, "Scary Movie 4."  Released in 2006, the movie is another humorous look at films that took themselves very seriously — through the eyes of a film that definitely does not.
Scary Movie 4 is another hilarious parody film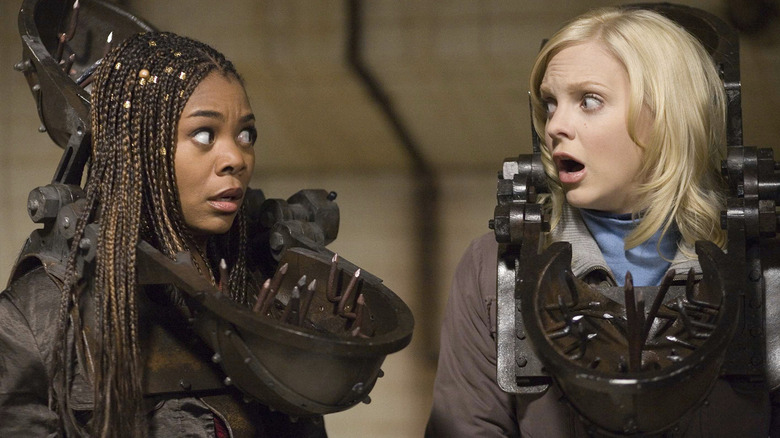 Miramax
The cameos throughout the "Scary Movie" franchise are part of what makes it so great, and "Scary Movie 4" is no exception. The movie opens with unlikely duo Dr. Phil McGraw and Shaquille O'Neal starring as fictionalized versions of themselves. A number of well-known musicians appear, too, including Lil Jon, Fabolous, Chingy, and Bubba Sparxx. And amusingly, James Earl Jones' recognizable voice provides narration for part of the movie.
"Scary Movie 4" is mostly a parody of "War of the Worlds," but "Saw," "The Village," "Million Dollar Baby," and "The Grudge" also get the classic spoof treatment. Like its predecessors, the movie makes fun of plenty of pop-culture moments of its era, including the release of the original iPod and Tom Cruise's famous couch-jumping on "The Oprah Winfrey Show." The movie also marks the last appearance of Regina Hall and Ann Faris as best friends Brenda Meeks and Cindy Campbell, respectively (pictured above), as the pair would not return for "Scary Movie 5."
"Scary Movie 4" was a reasonable success, grossing over $178 million worldwide against a $45 million budget, per Box Office Mojo. Conversely, it earned a dismal 35% Tomatometer score on Rotten Tomatoes. That said, audiences watching these spoof movies aren't looking for an Oscar contender — they want an enjoyable "so-bad-it's-good" viewing experience. If you're looking for a silly, mindless film to remind you of your favorite middle school humor, you can't go wrong with "Scary Movie 4," which is now streaming on Netflix.