The Scene In Loki That Had Fans Fuming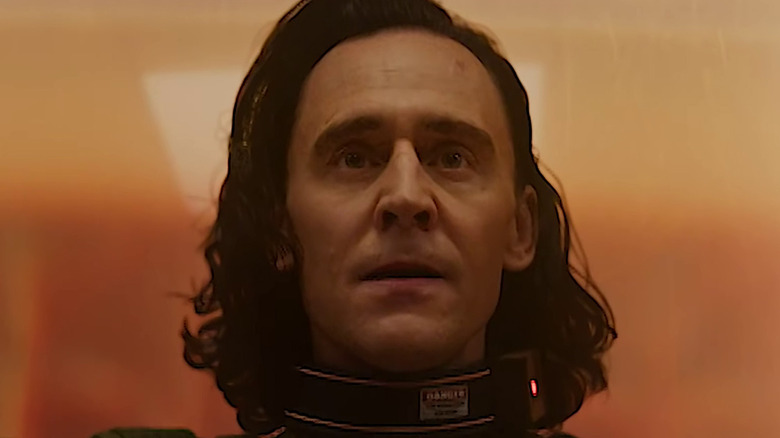 Disney+/Marvel Studios
What happens when you put Marvel's god of mischief (Tom Hiddleston) in a place that oversees all of reality, and where rank and file employees use Infinity Stones as paper weights? You get the mega-smash Disney+ series, "Loki." Featuring the aforementioned trickster and a whole slew of alternate reality versions of the character (called variants), "Loki" was a runaway success for everyone involved. The series currently maintains an exceptionally impressive 92% on Rotten Tomatoes, and the implications for the Marvel Cinematic Universe going forward have made this show essential viewing for any fan of Earth's mightiest heroes.
The series — which follows an alternate reality version of the rogue we saw in "Thor" and "Avengers" who escapes from his deadly fate on the main timeline by grabbing the Tesseract – features many insane twists and turns, and has Loki meet several different iterations of himself, including an older version in his classic comic book costume, a kid version, an alligator Loki, and even a female incarnation. And one scene involving two specific versions of Loki upset a number of fans in our "real life" timeline.
Some fans weren't thrilled with the Loki romance subplot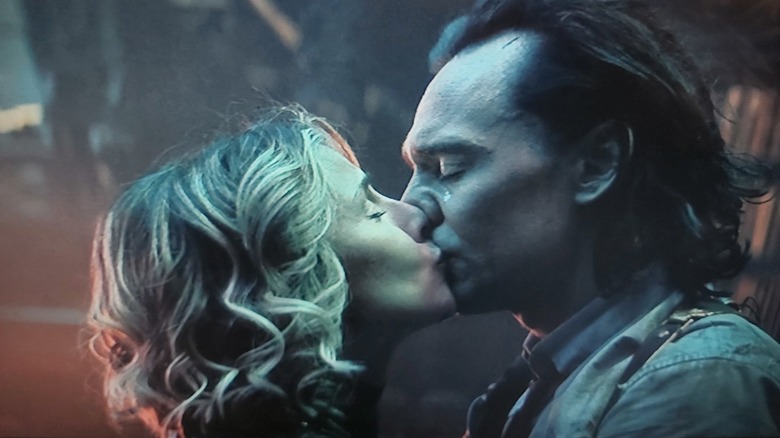 Disney+/Marvel Studios
The scene in question involves Loki and his female counterpart, Sylvie (Sophia Di Martino), during the final episode of the first season. The pair face off against a manic version of Nathaniel Richards, here known as He Who Remains (Jonathan Majors), who poses them a question that will change the future of the Marvel multiverse, going forward. After a fair amount of exposition (and desk-jumping), both Loki and Sylvie find themselves with opposing goals, but eventually embrace for a kiss — right before Sylvie betrays her counterpart. 
This moment caused the minds of some fans to explode, it seems, as people took to Twitter to express their disgust at — essentially — a scene that featured two Lokis kissing. Some fans pretended to hide their heads in the sand, many claimed a kind of bizarre extra-dimensional incest, while others jokingly threatened the writers with their own Miss Minutes. To be clear, even within the context of the show, it is pointed out how strange the whole thing is, as Agent Moebius (Owen Wilson) comments upon it with mockery. 
That said, those behind the series stand behind their decision to pursue this storyline, and it did prove to be a definitive element in "Loki" as a whole. While speaking with Polygon, director Kate Herron stated, "My interpretation of it is that they're both Lokis, but they aren't the same person. I don't see them as being like brother and sister. They have completely different backgrounds. I think that's really important to her character. They sort of have the same role in terms of the universe and destiny, but they won't make the same decisions." 
A second season of "Loki" is on the way, so hopefully we'll get some additional clarification.