The Character Everyone Forgets Taye Diggs Played On NCIS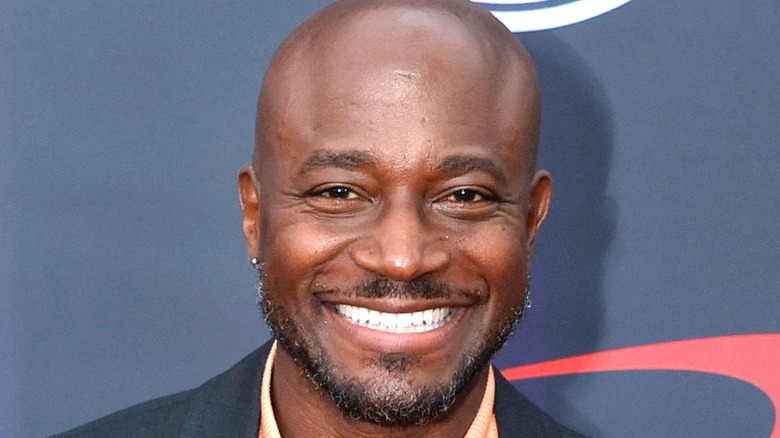 Michael Loccisano/Getty Images
Even casual fans of "NCIS" know that CBS's long-running hit show has featured some famous people as small characters over the years. In fact, TV Guide has a full list of who's shown up on the radar of Supervisory Special Agent Leroy Jethro Gibbs (Mark Harmon) and his investigative team, including stints by actors like Rico Rodriguez of "Modern Family" and Emilie de Ravin of "Once Upon a Time" before they got their big breaks, as well as bona fide star appearances from the likes of Michelle Obama and Jamie Lee Curtis.
However, even some of the most avid fans of the super-popular procedural can't recall exactly which character was portrayed by the talented Scott Leo "Taye" Diggs. Find yourself among those racking their brains about the part Mr. Diggs portrayed on the "NCIS" small screen? Don't worry, we know how hard it is to keep up with all the cameos, so we're here to fill you in on that character.
Taye Diggs' NCIS appearance is as a wounded soldier
When TV Line reported that Taye Diggs would be joining "NCIS" for its 300th episode, "Scope" — the 18th episode of Season 13 (via IMDb) — the publication promised his appearance would prove to be a "pivotal, musical role." The seasoned performer didn't disappoint, as his turn as Marine Gunnery Sergeant Aaron Davis gave him the chance to show off his singing abilities.
In the show, Diggs plays a Special Ops sniper whom Gibbs meets at Walter Reed Medical Center while investigating a murder. Diggs' character is a soldier battling PTSD and injuries after surviving an attack overseas. As Gibbs and Davis spend more time together, Gibbs learns that Davis has been participating in an innovative music therapy and rehabilitation program, and by the end of the episode, Davis — with the help of a real-life MusiCorps participant — gives a memorable performance.
Fans and critics loved Taye Diggs' NCIS character
Even though it seems like everyone forgets Taye Diggs played Sergeant Aaron Davis on "NCIS," it was a huge hit at the time among the show's viewers and behind-the-scenes team alike. Of Diggs' performance, executive producer Gary Glasberg told TV Guide, "Because there is a musical element to it, I needed someone with his talent, and he liked what he read." Glasberg also expressed how happy he and his team were with the episode, gushing, "It's got a little bit of everything for our fans; there's certainly some action, and then this very heartwarming, patriotic story as well. We're all very proud of it."
Fans loved the energy between Davis and Gibbs, with Twitter user @tweetsabouttv writing, "Mark Harmon and Taye Diggs were phenomenal in this weeks #NCIS." Another user, @RunStomp, summed it up for a lot of folks, tweeting, "Taye Diggs singing 'Halleluja,' not much better than that."
Aside from it being a great episode, we couldn't agree more with Entertainment Weekly's sentiment that it was a nice way to acknowledge a real program doing good things in the world — we can't wait to re-watch it!