Watch The First Trailer For George Clooney's The Tender Bar
Cinema has been host to several iconic watering holes over the years. From Rick's Bar to slightly more wretched hives of scum and villainy, they've been critical to some of our favorite storylines on film. Now it seems that Ben Affleck's new joint may earn a place among the ranks of favored drinking spots, after he's starring in George Clooney's upcoming coming-of-age drama, "The Tender Bar" which has just released a brand new trailer (via YouTube). Looking to be less dangerous than Mos Eisely Catina, it'll see Affleck giving some wise words to an up-and-coming writer, all while pulling a pint.
Adapted from Pulitzer prize-winning J.R. Moehringer's memoir of the same name, the film tells the author's story of growing up without a father figure and looking to his Uncle (Affleck) for guidance in his formative years. With a hectic home life living with his mother (Lily Rabe) and a curmudgeon of a grandfather (Christopher Lloyd), J.R. gets life lessons at his Uncle's friendly establishment and the numerous locals that visit it.
The Tender Bar looks like one big hug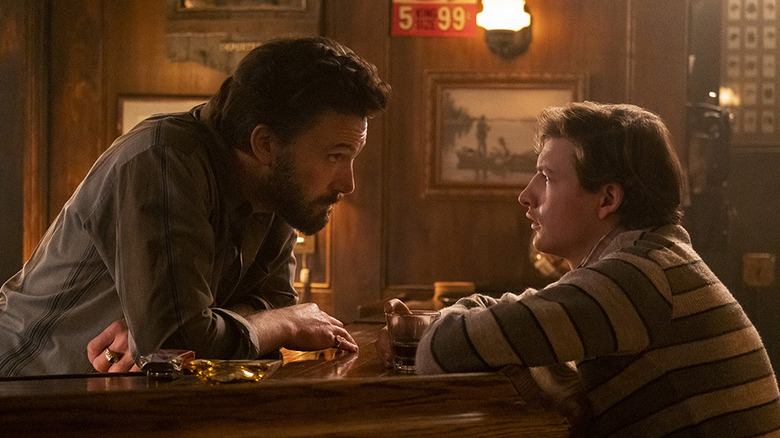 Amazon Studios
It feels like a very different kind of story we'd expect from Clooney, given his familiarity with the occasional thrillers and political pictures of the past. Having already been previewed to critics, a lot of the praise for the film has fallen to Affleck's performance as the dear old Uncle with "The Tender Bar" proving he's "capable of bringing fresh depth to his performances" (via Variety). The film also boasts the talent of Tye Sheridan as J.R. in his older years, along with Max Martini, Max Casella, Sondra James, and Briana Middleton. Also, if "Nobody" taught us anything, it's that Christopher Lloyd can't be in enough films right now.
Looking like one big friendly hug of a film, you can anticipate seeing Affleck's reassuring nod of approval when "The Tender Bar" arrives in cinemas nationwide on December 22, and lands on Amazon Prime Video on January 7, 2022. If you're shocked at just how close those dates are, don't fret, because you're not the only one. In fact, another round, please, barkeep.