Locke & Key Season 2 Teaser Is Actually A Trailer For Kinsey Locke's The Splattering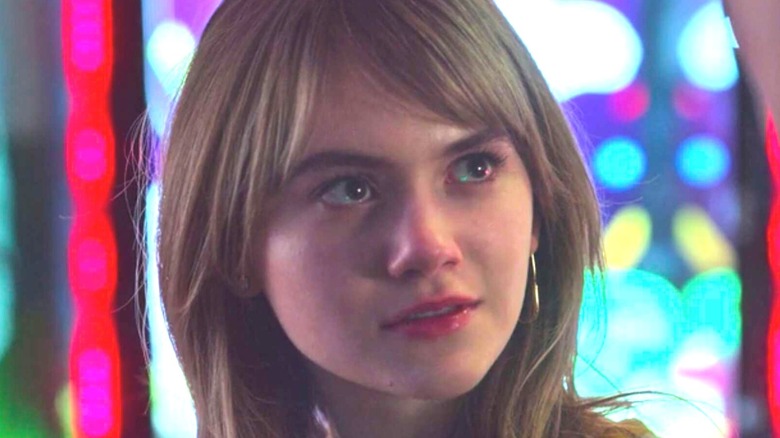 Netflix
If you haven't checked out Netflix's "Locke & Key" yet, you're missing out on a whole lot of something special. All 10 episodes of Season 1 debuted on Netflix in early February 2020. This supernatural drama — full of mystery, horror, and family tragedy — is based on an eponymous comic book by Gabriel Rodriguez and Joe Hill. Whether you're familiar with the comics or not, the show is an emotional roller coaster all its own.
Less than two months after its debut, Deadline announced that the show had already been greenlit for a second season. At the end of 2020, several months before the highly anticipated Season 2 premiere, it received Netflix's blessing to go ahead and start working on a third season. Netflix is going to release all 10 episodes of Season 2 near the end of the month. And they've recently released a very special trailer to give fans a peek at what is in store for them.
A cheesy meta-trailer almost overshadows something much more horrifying
The first minute or so of the new clip is a trailer-within-a-trailer for "The Splattering," a cheesy B-level horror movie that Kinsey Locke (Emilia Jones) stars in. The plot revolves around giant lobsters who terrorize a sleepy Massachusetts town, and there are some not-so-subtle context clues that this is an obvious tongue-in-cheek parody of the "Jaws" movies from the 1970s. It looks like such a fun, campy flick that it's a shame it's not actually being made.
After the faux trailer ends, though, the real horror begins. A bored Eden — who fans of the show know is newly demonically possessed, unbeknownst to many other characters — leaves the theater in order to binge at the snack bar. The clerk behind the counter makes some unsolicited remarks about the large food order she places, as well as some inappropriate ones about her figure. Demon Eden uses this as an excuse to trick him into kissing her and then proceeds to bite his lower lip off. The trailer ends with a horrified Tyler Locke (Connor Jessup) finding her on the floor behind the counter, the clerk's freshly mauled corpse at her side. With blood on her face, Eden munches on popcorn and cheerfully offers some to Tyler.
Season 2 of "Locke & Key" premieres Friday, October 22. If you haven't seen it yet, you can catch up on the first season right now on Netflix.