B.J. Novak Reveals His Biggest Regret About Being On The Office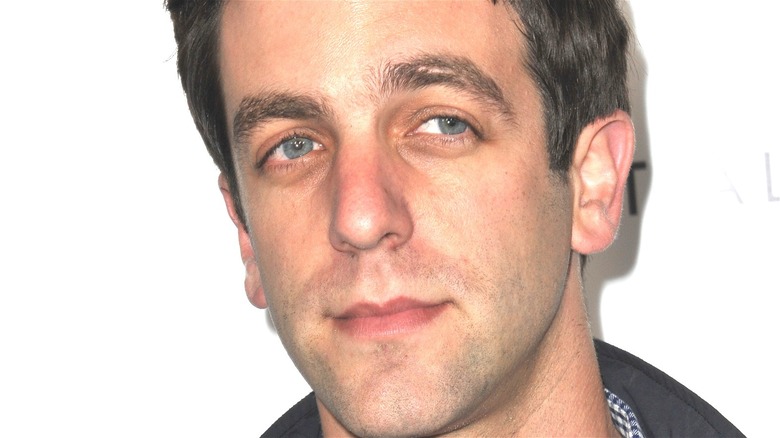 Featureflash Photo Agency/Shutterstock
B.J. Novak has worn several creative hats throughout his career in Hollywood. Depending on the project, he has served as an actor, a writer, a director, and a producer — and sometimes, he's juggled multiple roles. Per his IMDb profile, he has racked up nearly 30 acting credits and 11 writing credits since he started working in the industry in the early 2000s. However, there is one project that he is best known for: the ultra-popular NBC sitcom "The Office."
Novak was involved with "The Office" from the start; he was one of the first to be hired on the TV comedy. Beginning in 2005, the year the series premiered, Novak worked on "The Office" as both a writer and an actor. In front of the camera, he plays the overly ambitious Dunder Mifflin Scranton office temp Ryan Howard. After many career ups and downs, plus an often tumultuous on-and-off relationship with customer service rep Kelly Kapoor (Mindy Kaling), Ryan leaves after the Season 9 premiere (as did Novak, by extension) but dutifully returns for the series finale. Novak also directed five episodes of "The Office" during his time on the show.
Having "The Office" sit so prominently on one's resumé is quite the impressive feat. But, as it turns out, there's one aspect of Novak's overall experience working on the NBC show that he regrets, which he discussed during a recent appearance on the "Armchair Expert" podcast.
B.J. Novak wishes he had spent more time enjoying working on the show
On the October 11 episode of the "Armchair Expert" podcast (via YouTube), host Dax Shepard brought up B.J. Novak's time on "The Office." During this portion of the interview, Shepard asked Novak what he enjoyed most about the experience of making this hit NBC comedy. The comedy series alum chose to answer by reflecting on one major regret he has about his experience on the sitcom. He stated, "One of my biggest regrets was not enjoying any of it as much as I should have, now that I look back. And people say, 'Wasn't that incredible?' Like, you're never going to get that again — Steve Carell in the room, John [Krasinski], Jenna Fischer], Rainn [Wilson], those writers — like it'll never happen again. Maybe something special will happen in a different way, but at the time, I was just so insecure, nervous." 
Novak went on to describe his thought process at the time he was making the show, recalling, "'How long is this gonna last? Am I gonna get any lines in the next episode? Is my script gonna get rewritten? Am I gonna get fired? What happens when this show is canceled? Am I making the most of this moment?'"
Novak concluded by assessing his behavior at the time. He told Shepard, "I was so competitive and career-obsessed and self-obsessed. [...] I didn't just relax and just let myself be one with 'The Office.' I was still able to do some good work and enjoy some good times, but not nearly as much."