How Much A Tambourine Signed By Prince Was Really Worth On Pawn Stars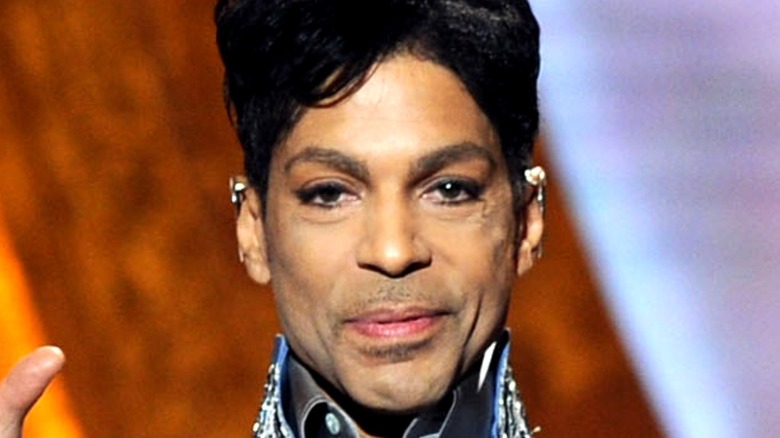 Kevin Winter/Getty Images
The "Pawn Stars" guys love rock memorabilia. If a seller walks into Gold & Silver Pawn with an item signed by a famous musician, Rick Harrison will probably buy it. As he explained when he bought a guitar signed by Crosby, Stills & Nash, autographed rock merch usually sells quickly.
So when someone came into the shop with a tambourine that had been used and signed by legendary rocker Prince, Rick jumped at the chance to buy it –- after working the seller down, of course.
On a recent episode, the seller, Justin, brought in the tambourine, which he said Prince had used onstage during the "Purple Rain" tour in 1985. The tambourine belonged to Justin's wife, who was 12 years old when she got it from her neighbor, a sound engineer who got it from Prince himself. The documentation Justin brought with him was a little bit questionable, and he wanted $50,000 for the tambourine, which Rick said right off the bat was probably too high. But Rick didn't know exactly what it would be worth, so he called up his "rock 'n' roll guy," Warwick Stone, aka "the Rock Collector."
Rick would buy 4 U
History/YouTube
Warwick agreed that it would be better if the tambourine came with an original letter of provenance and were from someone closer to the Purple One than a random crew member, but it was still pretty good.
Better still was the signature. It was signed "Love God," which was how Prince signed in the '80s. (Man, Prince was so cool.) In the late '80s, he would add the year, which meant the way this tambourine was signed — without the year — matched how Prince signed in 1985. And it was a plain wood tambourine that had been spray-painted purple, which is how the tambourines were on the "Purple Rain" tour. So by the Rock Collector's estimation, this tambourine was authentic. He estimated that at auction, the tambourine could go for up to $10,000, and the value of Prince memorabilia is only going up.
Then, Rick's autograph expert Steve Grad came into the shop to verify the signature. Steve said that authentic Prince autographs are actually pretty rare, so he needed to inspect the signature very closely. And when he looked at it magnified, he saw that the ink was purple. It was real, baby! He also valued the item at around $10,000.
So Justin wasn't going to get $50,000, and he didn't even want to go below $10,000. Rick offered him $6,000, but since Justin found that unsatisfactory, the deal fell apart. "Apparently I am not going to be partying like it's 1999," Rick quipped.